George Timothy Clooney is an American actor, filmmaker, and activist. He has received three Golden Globe Awards for his work as an actor and two Academy Awards, one for acting in Syriana (2006) and the other for co-producing Argo (2012).
George Clooney has been named PEOPLE's Sexiest Man Alive twice. The 55-year-old actor may be fast approaching old age, but it surely isn't the case when you look at him. Starring in several feature films, working out to keep in shape has become one of George's active lifestyle. But he doesn't need this reason to do so as his great workout habits is something that's part of his routine, not only for his career, but for himself personally.
So, how does the Academy Award-nominated actor keep himself fit and healthy? Surely, it has something to do with his healthy lifestyle instead of cosmetic procedures since his charm looks to be natural.
Not-so-extraordinary Workout Routine:
"I do a lot of Aerobics, a lot of dance, there is a lot of JAZZ-ERCISE, The AB-MASTER, there's the BUTT-BLASTER or whatever it's called. And also there's a lot of yoga. ANd I have also just finished doing a movie where I did football with a bunch of 21 year olds which I highly recommend. That's going to keep anyone in shape."
GEORGE CLOONEY on his FITNESS regimen
Avid Baseball fan: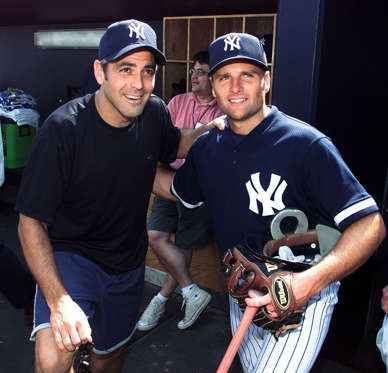 George Clooney (pictured with Chuck Knoblauch during a visit to Yankees' spring training) was a high school baseball and basketball player in Augusta, Kentucky. Before heading off to college he tried out for the Cincinnati Reds in 1977.
"I could catch anything. I was a great outfielder in high school. But I couldn't throw well," he told The Enquirer in 1990. "I wanted to play pro baseball. I thought that would be it."
His affinity for the Reds never waned and, in 2009, Ellen DeGeneres used Big Red Machine legends Joe Morgan and Johnny Bench to lure Clooney onto her television program at the behest of Clooney's fellow "ER" star, Noah Wiley.
Clooney's obsession with watching sports on TV has become a bit of an issue for his lawyer wife Alamuddin.
"I watch sports, and it kills her," the actor told Lopez. "I got her into March Madness a little, I'm a huge Kentucky fan, so she got into that, but it was enough," he said, of his wife's limits.
"So the next week was the Masters, and I'm watching that and she goes, 'So every weekend we're gonna be watching a sporting event?' I'm like, 'Actually that's how it works,'" the Tomorrowland actor said, laughing.
Amal's Diet plan for George Clooney:
George's diet primarily focuses on healthy food. He recently decided to go on a juice cleanse and eat better as part of his New Year's resolutions, having green juices and salads daily.
A friend of George Clooney was quoted as saying: "Amal told me there are five rules for George's new eating regime and healthy lifestyle that should get him back in shape as quickly as ­possible. The five rules include no alcohol, no fatty meat and less dairy products."
Check out: The Sporty Story Behind Bradley Cooper's Hot-Shot Physique
The views and opinions expressed in this article are those of the author and do not necessarily reflect the views of our Company, partners and other organizations. While any information provided on our blog is true to the best of our knowledge, we do not guarantee the veracity, reliability or completeness of the information presented. Any advice or opinion is purely for information purposes and should not be construed as an alternative to professional advice.
Comments
comments