That "Sachin Tendulkar" is cricket personified is an understatement. The man has his name inscribed in every cricketing record book in the known universe. But the most formidable milestone of them all came on this day 5 years ago.
Sachin Tendulkar has scored 100 centuries in international cricket – a monumental feat that features a whopping 51 centuries in Test matches and and 49 centuries in One Day International (ODI) matches – both world records for highest number of centuries by a batsman.
In celebration of this 5 year anniversary, we present 5 of the greatest knocks throughout Sachin Tendulkar's long and illustrious career.
# First international (test) century (119* v. England):
It was, in all means of the word, an outstanding innings. India had been set 408 to win against a bowling attack featuring Devon Malcolm, Angus Fraser and Eddie Hemmings. They proceeded to lose Navjot Sidhu (0), Ravi Shastri (12), Sanjay Manjrekar (50) and Dilip Vengsarkar (32). Tendulkar walked out at the fall of Vengsarkar's wicket with India 109 for 4. His skipper, Mohammad Azharduddin, was at the crease with only Kapil Dev and Kiran More to follow as recognised batsman. It was Tendulkar's ninth Test.
Azharuddin departed for 11 at 127 for 5, bringing out Kapil. He and the young Tendulkar put on 56 before Kapil danced out to Hemmings and was bowled for 26. Manoj Prabhakar joined Tendulkar at 183 for 6 with two and a half hours left to save the Test. On 10, Tendulkar was given a slice of luck when Hemmings dropped a simple return catch. The teenager never looked back.
Playing with a straight bat and with determination and application of a maturity that put to shame his illustrious batting team-mates, Tendulkar batted 224 minutes and 189 deliveries for an unbeaten 119 that, along with Prabhakar's dogged 67 not out, helped India claim a famous draw.
When Tendulkar hit his maiden Test century at Old Trafford in August 1990, he became the youngest player (17 years and 112 days) to score a ton in England.
"My ambition is just to play for my country as long as possible and to do my best," said Tendulkar after the match. England's captain Gooch said: "Tendulkar played an excellent innings. He is a superb player for his age, just like an old pro."
# First ODI century (110 v. Australia):
Although Tendulkar made his ODI debut in 1989 it was only after five years he made his first century in the format. After a long wait, India's Sachin Tendulkar finally got his maiden ODI hundred, in his 79th ODI, during the Singer World Series match in Colombo against Australia on 9th September 1994.
Opening the batting for India, the legend-in-the-making, Tendulkar, made his intentions clear when he clouted Craig McDermott for a jaw-dropping six over deep square-leg. Once he got set, Tendulkar handled the likes of McDermott, Glenn McGrath and Shane Warne with ease to bring up a fine 110 off 130 balls to help India to a total of 246/8. India managed to bowl out the team from Down Under for 215 to win the game by 31 runs.
# First Test Double Century (217 v. New Zealand):
Fifteen years ago, on this day, batting maestro Sachin Tendulkar brought up his maiden double-hundred in Test cricket, on Day 2 of the 3rd Test match against New Zealand at Ahmedabad.
Although he took his time to get going, 26 year old Tendulkar completed his hundred off 157 balls and also combined well with Sourav Ganguly, to add 281 runs for the fourth wicket, a record for India then in the longest format.
He resumed his innings on the second day and eventually completed his first double-hundred off 319 balls. 17 runs later, with 29 fours to his credit, Tendulkar was dismissed at 217, his highest ever score back then.
# First man to hit a double century in ODIs:
https://www.youtube.com/watch?v=wighE3phCtU
Sachin Tendulkar became the first male player to score 200 runs in One Day Cricket during the match against South Africa at Gwalior, where he slammed 200 off 147 balls, a knock that included 25 fours and three sixes at a phenomenal strike rate of 136.05.
En route this glorious feat, Tendulkar overtook the previous record of Saeed Anwar and Charles Coventry as he took advantage of some good conditions and played superbly. Tendulkar reached his fifty off 37 balls and his century off 90 and finally reached the milestone of 200 in the last over of the innings. Courtesy of his knock, India posted 401/3, which was then India's third-highest score in ODIs.
Nobody predicted that Tendulkar would accomplish this feat at the age of 36. During the innings he was seen cramping up and looked fatigued. However, he did not opt for a runner and continued to deal in boundaries. There were a few nervous moments when he crossed his personal best of 186 but finally reached his double hundred with a single of Charl Langeveldt in the final over, much to the delight of fans across the globe.
# 100th ton:
https://www.youtube.com/watch?v=PW6-K6hci0U
In 2011, Sachin had missed his 100th ton by nine runs during the Oval Test against England, and later fell 6 runs short of the milestone while batting against the touring West Indies side at his home ground, during the third Test match at the Wankhede Stadium. More than 11 months had gone by since the World Cup match against South Africa, where Sachin had scored his 99th ton. It took him 34 innings to score the much-awaited 100th ton.
Batting against Bangladesh, the maestro started cautiously, but as the innings progressed, he gained in confidence. His opening wicket partner Gautam Gambhir didn't stay in the middle for long, but the one-down youngster Virat Kohli did. But Virat was dismissed after scoring a fine 66 and it was Suresh Raina who stood on the other end, as Sachin went on to score his elusive 100th century.
He raised his bat and helmet in customary fashion as the crowds and his team-mates in the dressing room stood up to applaud the Master Blaster's effort. As he looked skywards, as if to thank God, his batting partner Suresh Raina rushed in to congratulate him.
Also take this Quiz on: [Quiz] Cricketers And Their Century Stories. How Well Do You Know About The Sport?
Bonus Stats on Sachin Tendulkar: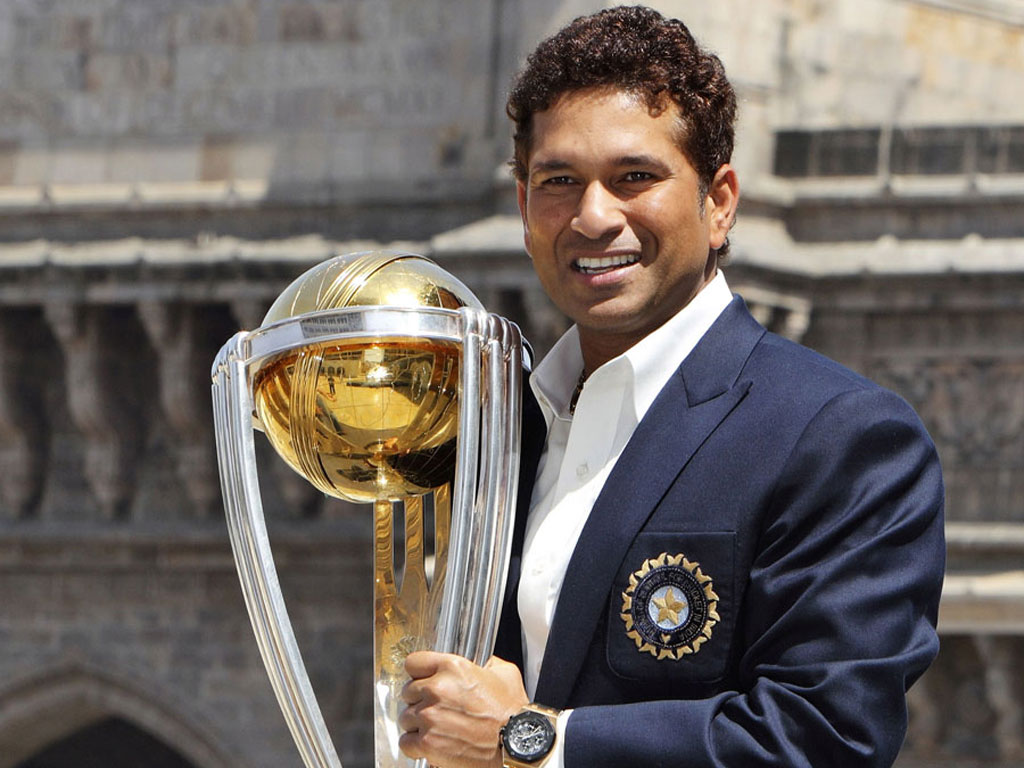 In ODIs, Tendulkar has scored centuries against 11 different opponents.
Scored centuries against all cricketing nations that have permanent One Day International status.
The first batsman to score a double century in ODIs, which he scored against South Africa at the Captain Roop Singh Stadium, Gwalior in 2010.
Scored 19 ODI centuries in India, compared to 30 in away or neutral venues. Seven of these centuries were hit at the Sharjah Cricket Association Stadium.
Dismissed 18 times between the score of 90 and 99 and 17 times between the score of 80 and 89.
Tendulkar has won a record 15 Man of the Series (MoS) and 62 Man of the Match (MoM) awards in ODI Matches.
Won a Man of the Match Award against every one of the ICC Full Members (Test Playing Nations).
The only teams against whom Sachin has not won an ODI Man of the Match award, are the United Arab Emirates, the Netherlands and Bermuda.
Also read: Test Cricket Turns 140: Here's A Toast To All The Historic Moments
The views and opinions expressed in this article are those of the author and do not necessarily reflect the views of our Company, partners and other organizations. While any information provided on our blog is true to the best of our knowledge, we do not guarantee the veracity, reliability or completeness of the information presented. Any advice or opinion is purely for information purposes and should not be construed as an alternative to professional advice.
Comments
comments