MARY KOM'S BIOGRAPHY | She is an "Inspiration" not only for every woman in India, but for every human who aspires to follow their dreams. Her "never-say-die" attitude gave India, a valiant Hero and a mighty Champion. Her dire efforts and nerves of steel engraved her name in the record books. She is the Iron Lady of Indian Sports and here's all you need to know about her life.
Â
She became the first Indian to winning a Boxing Gold medal at the Asian games.
Mary took home the Boxing Gold in the Flyweight category by edging out Zhaina Shekerbekova of Kazakhstan at the 2014 Incheon Games.
Â
The First Amateur athlete to ever win a Padman Bhushan.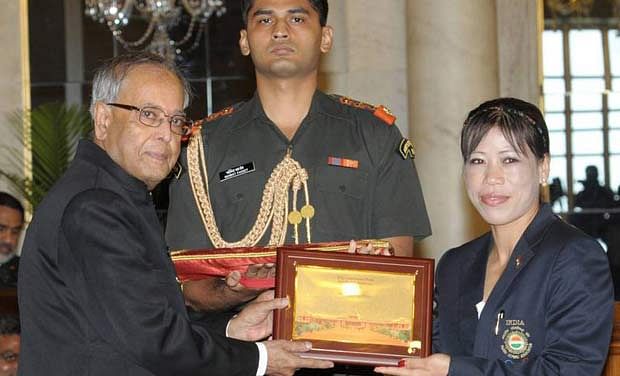 It was awarded to her in 2013. What a proud moment!
Â
She has won 19 International Titles.
Includes an Olympic Bronze, Asian games Gold, Asian Women's Championships, Asian Women's Cup, World Amateur Boxing Championships, Witch Cup, Venus Women's Box Cup and the Asian Indoor games.
Â
She is a 5-time World Amateur Boxing Champion and she is the only woman to have won a medal in all the 6 editions she participated in.
She won a silver at the First Edition in 2001 held at Scranton. Later she went on to win five successive Gold medals at the AIBA Women's World Boxing Championships in 2002, 2005, 2006, 2008 and 2010
Â
Mary never completed her High school.
She quit class X, when she couldn't clear the matriculation exams and later joined NIOS, Imphal.
Â
She won a Bronze at the 2012 Summer Olympics.
Mary was the only Indian Female Boxer to qualify for the 2012 Summer Olympics, as it was the first year Women's Boxing was included in the Olympics.
Â
"Unbreakable" – Mary Kom's Autobiography.
It was co-authored by Dina Serto and published in the year 2013.
Â
A Biographical Film was released in her name in the year 2014.
Priyanka Chopra played "Mary Kom" in the movie, which received a lot of accolades.
Â
Mary kom works with PETA for Animal Rights.
She has featured in an ad-campaign organised by PETA. Mary has always voiced her opinion for Animal Rights.
Â
She is married to Onler Kom and has three sons.
After 4 years of knowing Onler, she finally got wedded in 2005 and she also is a mother of twin boys.
Â
She bore the Queen's Baton at the 2010 Commonwealth games that was held in New Delhi.
Along with two other athletes, she had the privilege of carrying the Queen's Baton at the Commonwealth games, although she never participated in it, as Boxing was not included.
Â
She has won several awards, including the Padma Shree and the Arjuna award.
Mary Kom was awarded the Padma Shree in 2006 and the Arjuna Award in 2003. She is also a recipient of various other noteworthy awards.
Â
She took a two year break from Boxing.
Due to the birth of her kids, she took a two year break from Boxing and came back even stronger to win a Silver medal at the 2008 Asian Women's Boxing Championship in India.
Â
Her Inspiration towards Boxing was Dingko Singh.
After watching him win the Gold medal at the Asian Games in 1998, she was passionate enough to take up Boxing as her career.
Â
Mary Kom definitely made our whole nation proud with her grit and determination. She will always be upheld for her unfathomable laurels and for exalting the Boxing community to greater heights. She is Magnificent, Indeed 😀