FASTEST CENTURIES BY INDIAN BATSMEN! With the emergence of the shortest format of the game, T20 cricket, batsmen started to shift their focus towards ODIs and Test matches to score at a rapid pace. Smashing a ton in any international match has always been a dream for any batsman around the world. But the pleasure is something different when that century comes in the longest format.
Everybody knows, runs are made comparatively in a slow pace in Tests compared to ODIs and T20s. But, aggressive players have always entertained world cricket hitting test hundreds in quick fashion. Recently, it was Brendon McCullum who ripped apart the bowlers to grab the fastest century in Test history ever. A 54-ball innings that eventually broke the record jointly held by Viv Richards and Misbah-ul-Haq.
But wait, don't forget our own India, we have also seen some of the most aggressive batsmen over the years.
Let's take snick pick at the top five fastest Test century hit by an Indian batsman.
5) Kapil Dev – 86 Balls
Former Indian skipper, Kapil Dev, was known to everyone as 'Haryana Hurricane' for his attacking batting style. No doubt, he was one of the most successful all-rounders India has ever witnessed. With the ball, he grabbed more than 400 wickets in his entire Test career.
On 1st February 1981, India was playing against England at Kanpur. England piled up a huge 378 runs in the 1st innings, courtesy Ian Botham's brilliant century. India in reply managed 377 runs in the second innings, thanks to Kapil Dev's quick fire 116 runs innings.
It took Kapil just 86 balls to hammer his ton. During his 173-minute-innings, he faced a total 98 balls and hit 16 fours and 2 sixes with a strike rate of 118.36.
Sadly, the entertaining Test match ended in a draw, but India managed to win the 6-match series 1-0.
4) Shikhar Dhawan – 85 Balls
Shikhar Dhawan, as we all know, has been one of the finest attacking batsmen in Tests and hammered a magnificent 187 on his Test debut against Australia in Mohali.
It was day three of the third test match of Border-Gavaskar Trophy in 2013, India came out to chase a target of 408 runs set by Australia in their 1st innings.
India, in reply, struck a pretty good score of 499 runs as both the openers Shikhar Dhawan and Murali Vijay scored a century.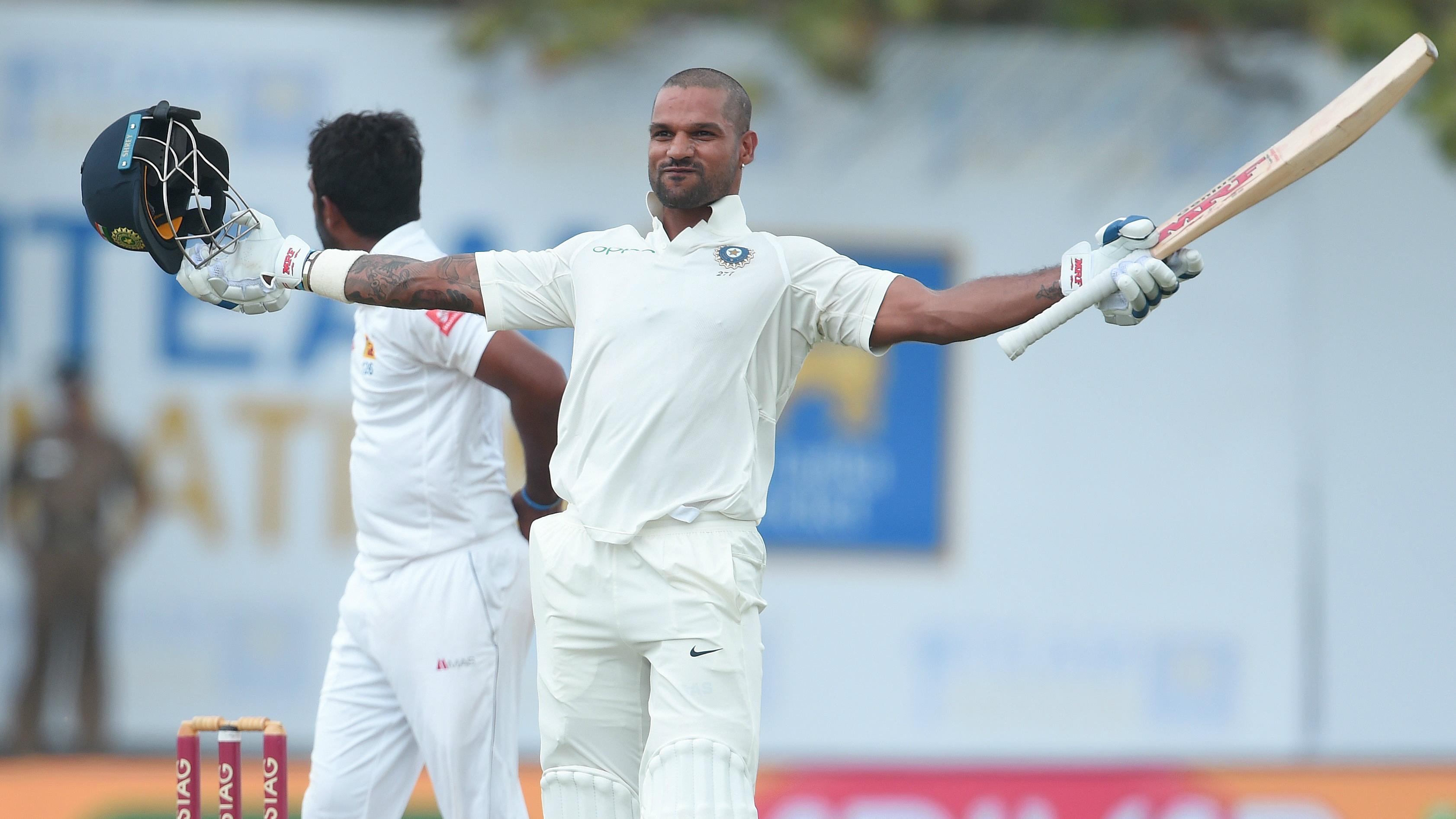 Dhawan reached his 110-run mark only taking 85 balls and in course smashed 21 fours. It was by far the fastest hundred scored by any debutant batsman in the cricketing history. Dhawan ended his innings with 187 runs at a strike rate of 107.47.
India won that Test by 6 wickets after Australia were all out for 223 in the second innings. Dhawan was handed the Man of the Match trophy for his brilliant knock.
3) Virender Sehwag – 78 Balls
Third on the list is none other than 'cool as a cucumber' Virender Sehwag. One of the deadliest and most aggressive batsmen Test cricket has ever seen. The former Indian opening batsman used to terrorize the opposition bowlers and it's no surprise that we have Viru with us on this list.
India was touring West Indies in 2006/07 and Sehwag destroyed the Caribbean bowlers with a century in just 78 balls. It was the 2nd test of the series in St. Lucia.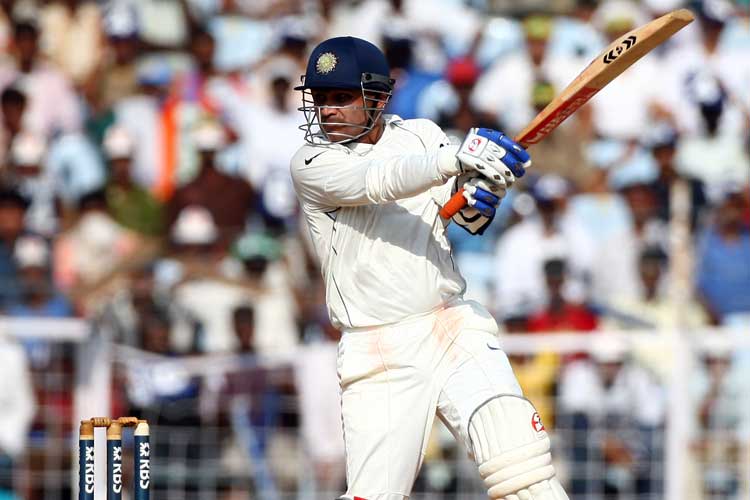 India piled up a huge total of 588 in their first innings. Viru was there on the ground for 287 minutes, scored 180 runs facing 190 balls, smashing 20 fours and 2 sixes.
Though the match ultimately ended in a disappointing draw, India won the 4-match Test series 1-0.
2) Mohammad Azharuddin – 74 Balls
Former Indian skipper Mohammad Azharuddin was famous for playing wristy shots with ease and scoring runs quickly.
The second match of the India-South Africa Test series in 1996 will always be remembered for Azharuddin's eye candy innings. He scored a classic aggressive century in front of a packed Eden Garden's crowd. South Africa managed to put up 428 in the 1st innings as the two visiting openers Andrew Hudson and Garry Kirsten hit hundreds. India in reply scored 329 runs.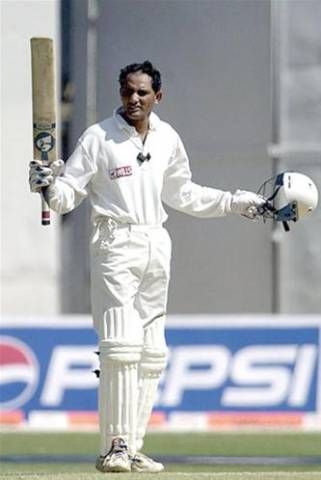 Mohammad Azharuddin came up with a quickfire 100 in that match. He made 107 runs from 77 balls while taking only 74 balls to reach his century and equaled the record made by his senior teammate Kapil Dev in 1986-87 season.
The 132-minute innings saw 18 fours and 1 six with an impressive strike rate of 141.55 and the main thing was how he found gaps every time to twist his God gifted wrist.
India, however, lost the Eden test by 329 runs.
1) Kapil Dev – 74 Balls
The former Indian skipper once again finds his name on this elite list and this time it's the number 1 position. Despite so many hard hitting, aggressive batsmen in Indian cricket these days, Kapil still holds the record for the fastest test century made by an Indian batsman.
This historic inning came during the 1986-87 Test series against Sri Lanka. Kapil Dev literally tortured the ball guiding it to all parts of the ground and reached the 100-mark in just 74 balls.
In reply to Sri Lanka's 420 runs in the first innings at Green Park Stadium, Kanpur, Kapil Dev after picking up two wickets in the first innings took charge with the bat also.
He scored 163 runs from 165 balls with a strike rate of 98.78. In the 240 minute innings, he struck 19 fours and 1 six.
Sunil Gavaskar and Mohammad Azharuddin also scored a century each in that match while India put 676 runs on the board, but the match ended in a draw.