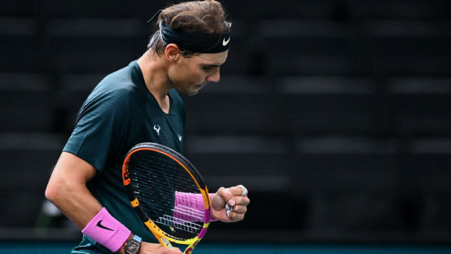 Can Nadal win his maiden Rolex Paris Masters?
Nadal Maiden Rolex Paris Masters. Merely three-and-a-half weeks after clinching an incredible 13th Roland Garros title and a record-tying 20th overall Grand Slam title, Rafael Nadal returns to the French capital. This time in a bid for the Rolex Paris Masters – an ATP Masters 1000-event that he has yet to win in his career. And it wasn't long before the Spaniard was making history again.
Nadal's love affair with the City of Lights is extraordinarily special. Starting with his first-ever major title as a teenager and spanning almost two decades. Overwhelmed with emotion, the Spaniard alluded to that special relationship when he thanked Parisienne fans. That is the few that were in attendance (due to covid-19 restrictions). Many watched on national television – after beating Novak Djokovic in the French Open final in straight sets.
On Wednesday, a visibly touched and emotional Nadal recorded his 1000th Tour-level win in Paris. He made a come-from-behind 4-6, 7-6 (5), 6-4 win in his opening match against Feliciano Lopez.
The famous Tweet:
"That's one very negative thing about getting to 1,000. You are very old," said a reminiscent Nadal jokingly in a post-match interview. "But I'm super happy. Of course, to arrive at that number means that I did a lot of things well, and for a long time, so I'm very happy."
Nadal makes History:
In reaching the significant milestone, Nadal became only the fourth player in the history of the game to reach the 1000-mark at the tour-level. He joins an illustrious company that includes his arch-rival Roger Federer. It even included previous legends in the game, Jimmy Connors and Ivan Lendl. Interestingly, as it stands, Nadal has the best winning percentage with .833.
1,274: Jimmy Connors (1,274-283)
1,242: Roger Federer (1,242-271)
1,068: Ivan Lendl (1,068-242)
1,000: Rafael Nadal (1,000-201)
Can Nadal make more history?:
Nadal could potentially make more history in Paris this week should he win the Parisienne Masters title. However, Nadal currently sits second behind Novak Djokovic with the most ATP Masters 1000 titles. Djokovic has 36 while Nadal has 35. The pair have been jockeying in this category for several years now, taking turns in the lead. This was since they both overcame the record previously held by Andre Agassi.
Djokovic has opted to give the Paris Masters a skip this week, on account of key temporary changes to the ATP Rankings system implemented by the ATP because of the coronavirus pandemic this year. The revision involves ranking points from the 'Best 18', now covering a 22-month period (ending March 8, 2021). This meant Djokovic, who was the defending champion in Paris, couldn't earn any ranking points by participating at the prestigious Master's event. At the same time, he wouldn't lose any ranking points by his absence either.
Djokovic chose to play in Vienna last week, where he accumulated enough points by reaching the quarterfinals to be assured of the year-end No.1 ranking. This ultimately was his goal as he has his sights on surpassing Roger Federer in the history books for the most weeks at No.1.
Should Nadal win the title in Paris, he would level Djokovic in the history books with 36 Masters titles apiece. He took another step towards the feat on Thursday, beating Australia's Jordan Thompson 6-1, 7-6 (3) to reach the quarterfinals. Next up is countryman Pablo Carreno Busta in the quarterfinals, a player Nadal owns a perfect 6-0 record lifetime against.
By all accounts, Nadal is positioned well, and according to various Rolex Paris Masters predictions, he's the favourite to win the tournament. That said, he can't take anything for granted.
Nadal's Take:
Winning Paris has eluded Nadal in the past. "That's part of the game," said Nadal when weighing-in on his record at the year-end Master's event during his pre-tournament press conference. "In some places, you have more success, in others a little bit less."
"It's true, of course, that at the end of the year in the past I arrived sometimes very tired physically, and sometimes mentally too, and at the same time on indoor courts, I need to be fresh—it's probably the surface I need to be playing better to try to have success. But here, I've had a lot of issues. I've had to retire from the tournament a couple of times."
Conclusion:
With 2020 being an unusual year, disrupted by an unprecedented global pandemic, Rafael Nadal may be the freshest he's ever been ahead of the Paris Masters. Thus, he may be in the best position to win it for the first time in his career, which would be a huge boon ahead of the ATP Tour Finals in London later this month – another event that has eluded Nadal over his career. In short, winning Paris could give him a confidence boost before he descends on London, where he's likely to face stiffer competition with the likes of Novak Djokovic and Dominic Thiem, amongst other top ATP players.Â