SHORT TREKS IN BANGALORE | Many Bangaloreans today are convinced that the city has become far too metropolitan and lacks the charm that it once held as the 'Garden City of India'.
And while the IT boom was instrumental in improving the standard of living in the city, it also caused a surge in Bangalore's population.
But if you're a nature lover, there's nothing to worry about. Sure, the city may not provide the tranquil, serene atmosphere that it once did. But you'll find many areas in close proximity to the city where you can enjoy a trek amidst peaceful surroundings and breathtaking views.
Here are 4 short treks near Bangalore for you to try out.
1) Makalidurga Trek
Located at a short distance of 60km from the centre of the city, the Makalidurga hill offers trekkers lush vegetation, challenging routes, and breathtaking views.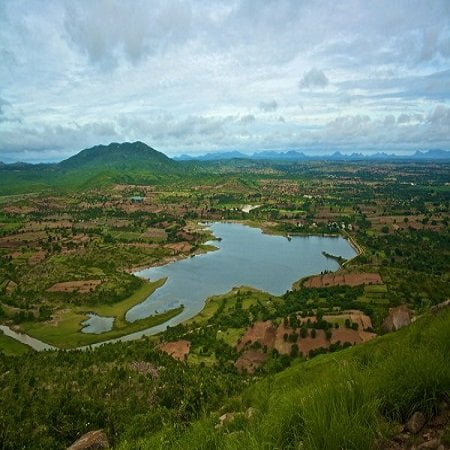 It's one of the most popular destinations for activities like rock climbing, rappelling, and trekking. And while trekking during the day is an adventure in itself, you must experience the Makalidurga night trek at least once in your life. It's best to visit during the full moon, to get a clear view of the lake surrounding this magnificent hill.
2) Ramanagara Trek
At a distance of 50 km from Bangalore, Ramanagara is one of the more commercial trekking spots around the city. You'll find many guides willing to take you to the top of the hill at night. The treks usually begin at midnight, and you should reach the peak in an hour and a half.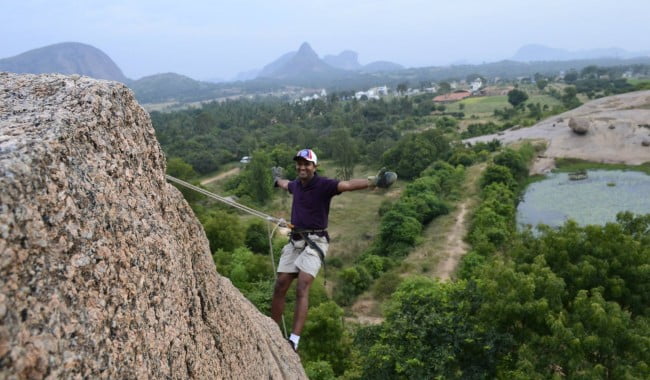 Once you've set up camp and built a bonfire, you can relax and enjoy the cold air and the view that this hill has to offer. After witnessing a magnificent sunrise, your group will be guided back down the hill.
Check out: 3 Fun And Easy Things You Can Start Doing Today To Become Fit
This trek may be a lot more restrictive as you have to follow a guide, but it's completely worth the discomfort.
3) Anthargange Trek
Found in Kolar, at a distance of 60km from the city, the Anthargange peak lies at an altitude of roughly 1300 metres above sea level. This means you'll have to face steep slopes and there will be some hard climbing, but it's all worth the effort!
The upper regions of the hills are riddled with ancient caves that you can enter into and explore at your own leisure. If you really want to make the most of the trip, climb the hill at night and stick around for the sunrise.
4) Madhugiri Trek
At a staggering height of 3930 feet, the Madhugiri hill is the largest monolith, or single hill, in Asia.
It takes roughly 3 hours to get to Madhugiri from Bangalore. So if you're planning to trek during the daytime, you should aim to leave the city while it's still dark.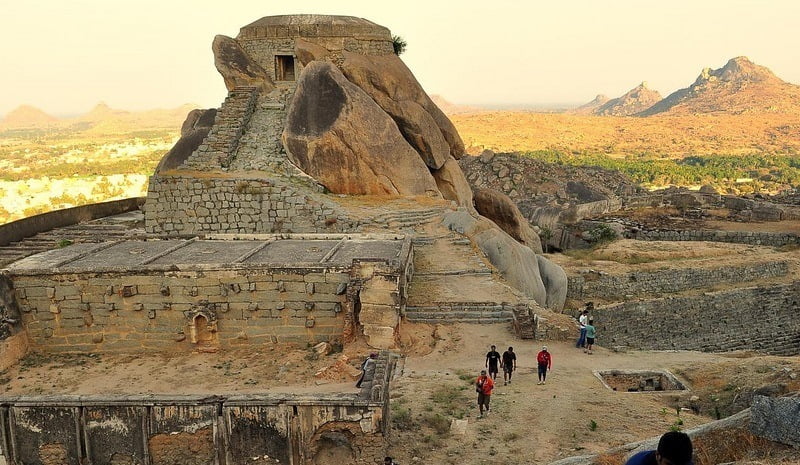 The hill is home to ancient forts that were built by Hyder Ali, who was the ruler of Mysore at one point of time. By arriving early, you'll have more time to explore the fort and its surroundings.
This trek is quite straightforward, and there are steps up to a certain point, after which you can find iron rods and pillars to support you as you climb.
Don't Limit Yourself!
Besides these 4 exhilarating locations, you can find numerous hills near Bangalore that are perfect for adventurers. All you have to do is drive outside the city limits, find a hill, and start climbing!
Most hills outside Bangalore haven't even been explored yet, and you're sure to have the time of your life discovering the ins and outs of these new locations. Just carry a sleeping bag, some food, and a trekking stick, and you're all set to go!
Also read:Â Top 6 : Deadliest Treks in India