If you too are an adrenaline junkie, you will love these places to do bungee jumping in India
The love for adventure sports has been growing huge with every passing generation. People want to just trap on their crazy shoes and absolutely go WILD! If not for now, when will we get a chance to experience such barking mad moments? Bungee Jumping is one of the most scariest adventure sports to try. So if you are looking to let go of your intimidating "height" moments and take the plunge, we suggest you go ahead with the places we have listed below.
1) Rishikesh, Uttarakhand
Rishikesh is the Bungee Jumping hub of the country. So if you have intense love for this adventure sport, this is the best place to visit. Jumpin Heights located in Mohan Chatti village is the highest Bungee Jumping range in India. It is also the only fixed platform venue in the country. It stands tall as high as 83 meters and the minimum weight requirement is 35 kg. Jumpin Heights also has a package of various adventure activities lined-up for the enthusiasts.
Cost: INR 3500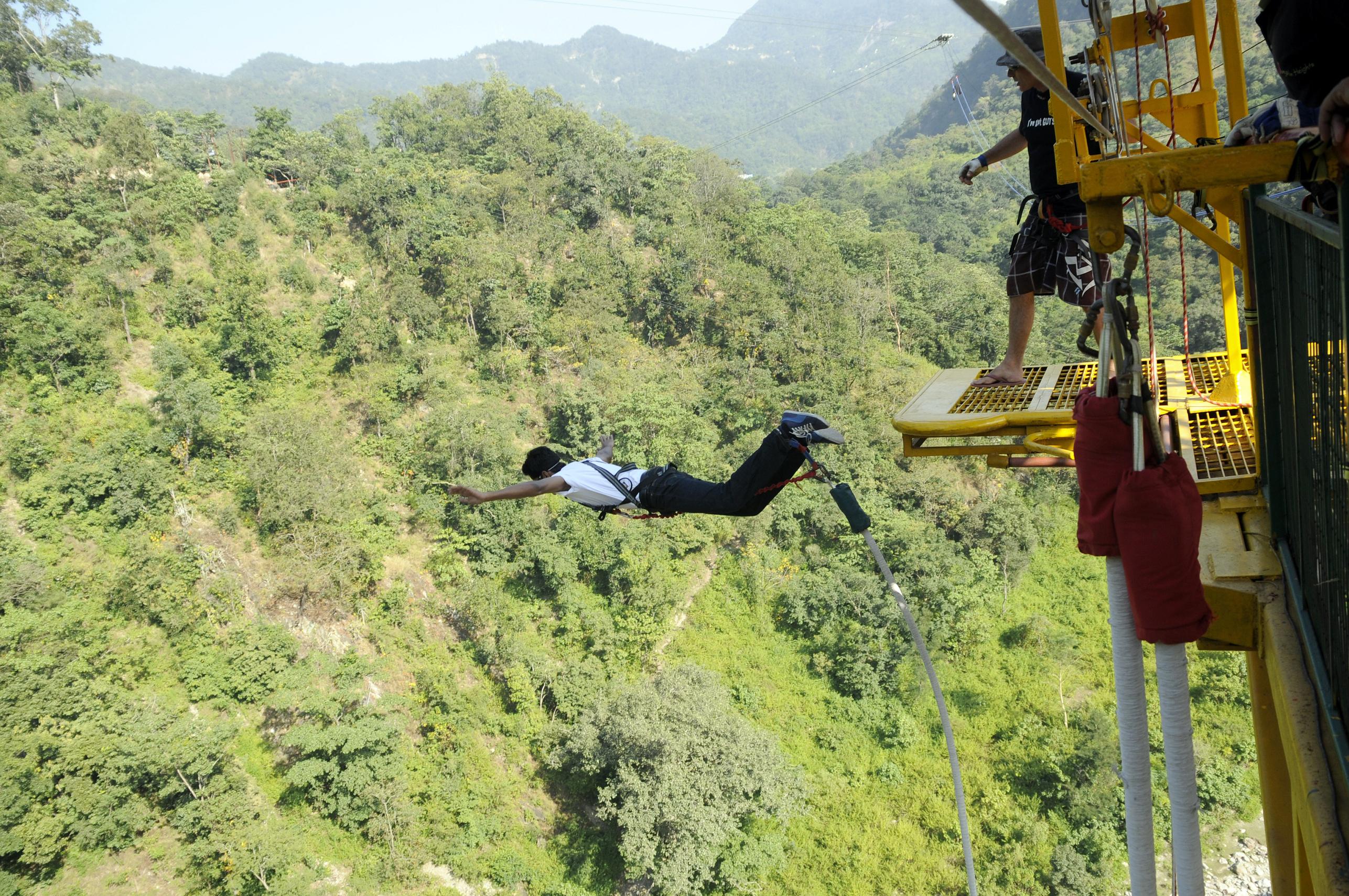 2) Lonavala, Maharashtra
So if you ever plan on visiting Lonavala, don't forget to try out Bungee Jumping at Della Adventure, Kunegaon. It is India's largest adventure park offering over 70 adventure activities and could be the best bet for extreme fun. Unlike Jumping Height in Rishikesh which uses a platform for jumping, Della Adventure offers Bungee Jumping experience from a suspended crane. You can choose to go alone or in pairs.
Cost: INR 2000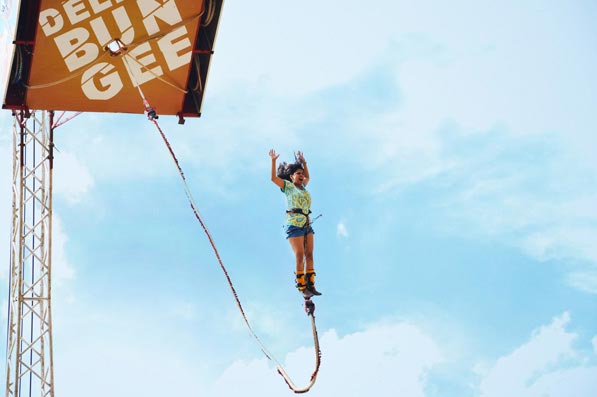 3) Anjuna Beach, Goa
Gravity Zone at Anjuna Beach is the sweet spot for all the wanna-be Bungee Jumping lovers travelling to Goa. If you are scared height but want to try Bungee Jumping badly, then Gravity Zone is the much needed experience for you. Set at only 25 meters high, this wouldn't put your spirits off.
Cost: INR 500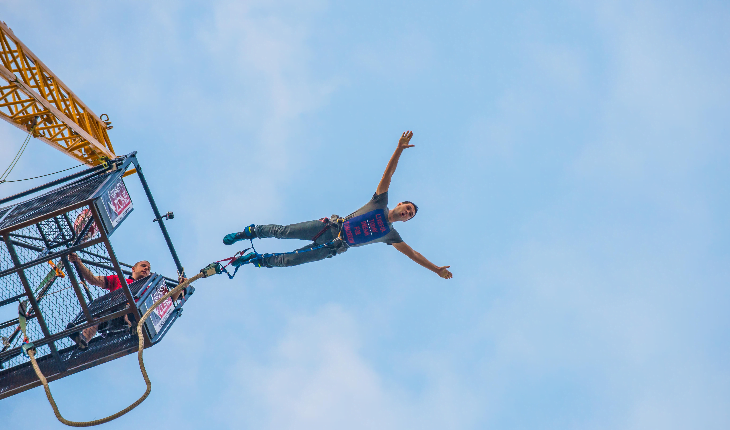 4) Bangalore, Karnataka
Bengaluru buddies, listen-up! Weekends are getting better these days. So instead of hitting the breweries, head out to Ozone Adventures to enjoy Bungee Jumping. The event is organized and held at Sree Kanteerava Stadium from a suspended crane. The jump is almost 80 feet from the ground. Get ready to experience the adrenaline Rush!
Cost: INR 400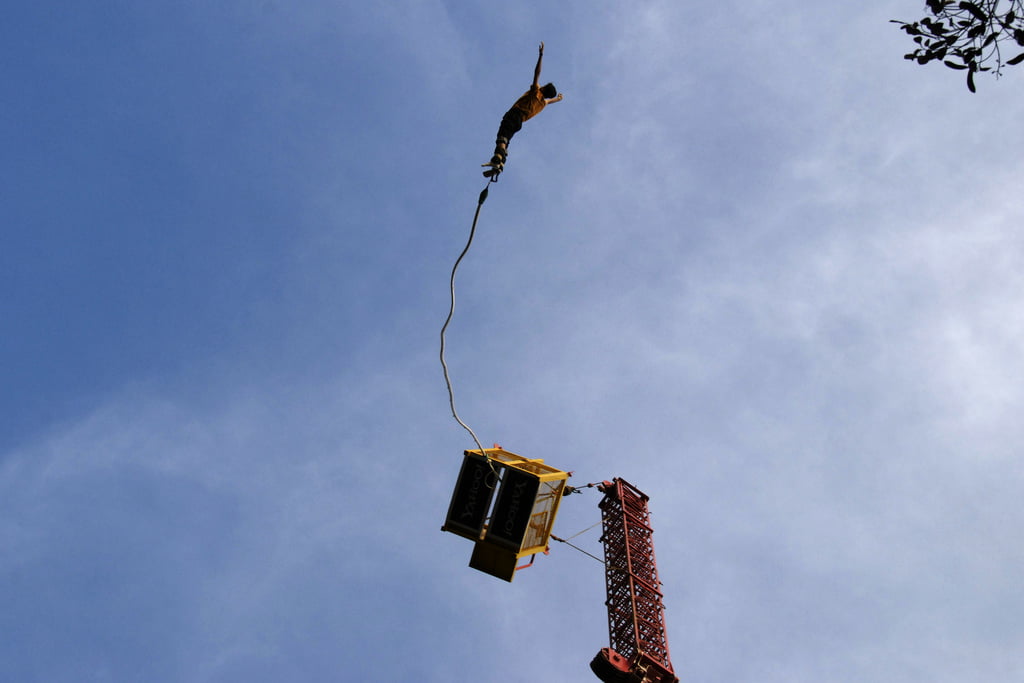 What more do you want now? Our suggestions are up. Plan a trip today. Rent out a truck, throw in your friends and some junk to munch. Explore the beauty of India and soak in the adventure at nominal costs.
Also read: 5 adventure sports you should try at least once in your life