It's an understatement to say Roger Federer has transcended Tennis. It's common to see fans put up slogans like "Federer doesn't play Tennis; he is Tennis" and "Shh. Quiet! Genius at work!!!"
When Roger Federer plays Tennis, the whole world gasps incessantly and watches while holding its collective breath. This was evidenced yet again by the rapturous applause when the Swiss superstar won the Australian Open, defeating great rival Rafael Nadal to win the elusive 18th grand slam title, after a 5 year wait.
35-year-old Federer's stunning title run which included 3 five set wins over Top 10 opponents, after a six-month absence from the sport because of injury, promptly elicited an outpouring of fan love and celebrity adoration on social media. The victory further cements Federer's position as a G.O.A.T (Greatest Of All Time) contender.
Here are 5 reasons why Federer is the undisputed G.O.A.T of Tennis.
#5 – 19 Grand Slams and counting at nearly 36 years of age
At the Australian Open, Federer beat top-10 players Tomáš Berdych, Nishikori, Wawrinka and Nadal to win the title becoming the oldest man to win a grand slam since Rosewall in 1972. At Wimbledon he won his 19th title and put us all in a state of awe.
Federer keeps adapting to keep with the times, seeing off several generations of players and still competing to be the best in the world. The one-handed backhand, once Federer's biggest weakness, has turned into a lethal weapon thanks to a late career racquet change.
#4 – Some of Roger Federer's Grand Slam career achievements as listed on Wikipedia:
We had to limit it to "Grand Slams", as his career achievements don't seem to end.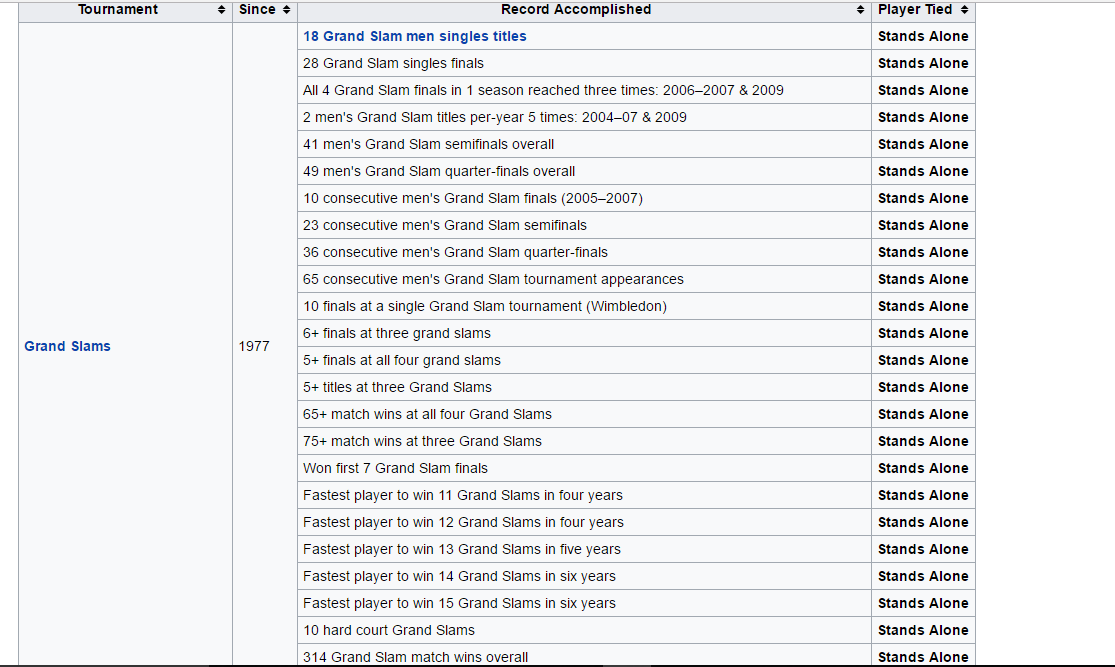 #3 – Federer's 2006: [Most tournaments won in a season – 12]
Federer won 12 titles in 2006, which included three Grand Slam titles, four ATP Masters titles, and the Tennis Masters Cup. Cincinnati was the only tournament out of 17 he played, in which he did not reach the final. His overall win-loss record for the 2006 season was 92–5.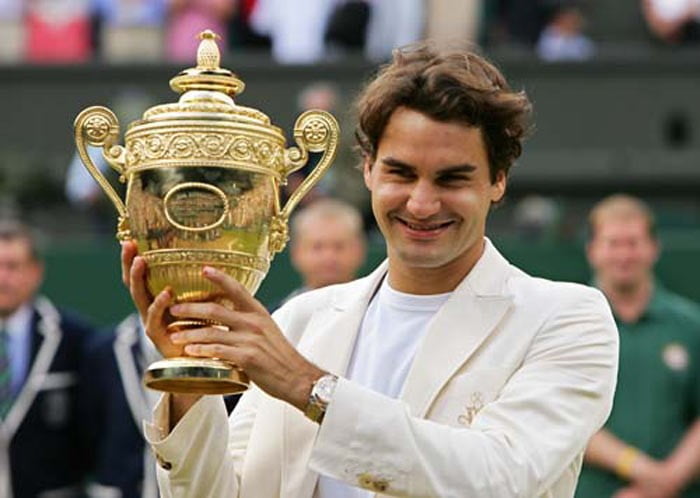 #2 – Federer has the most wins over top-10 ranked players in the Open Era and is the first player ever to reach 200 top-10 wins
This stat proves that Federer has what it takes to beat the best of the best.
Try this out: So You Think You Are The No.1 Roger Federer Fan? Then Score A 10 On This Quiz!
#1 – Federer's never retired mid-match (in over 1300 matches over a 19 year career)
Here are the retirement stats for some other top level players for comparison.
Need we say more? Hand down, he is unarguably the best of all time and he can never be replaced. Here's to more of his achievements in the days to come.
Also read: 10 RECORDS OF ROGER FEDERER YOU ARE LESS FAMILIAR WITH