For everyone who doesn't know Avani Chaturvedi, she's the first Indian woman to fly a fighter aircraft solo.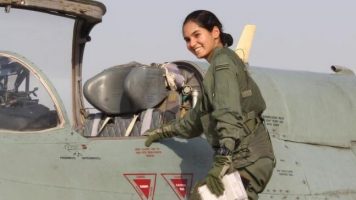 Everything you need to know:
Avani Chaturvedi, 27, is one of the first women along with Bhawana Kanth and Mohana Singh to be inducted as flying officers in the fighter stream in June 2016.
On Monday morning, 19th February, she became the first Indian woman to fly a fighter aircraft, the MiG-21 Bison. She undertook the sortie from the Indian Air Force's (IAF) Jamnagar base in Gujarat which was confirmed by the IAF on Wednesday.
Avani flew a Mig-21 Bison for 30 minutes earlier this week. The super-sonic MiG-21 Bison fighter is considered to be a difficult aircraft to control. The MiG 21 Bison made in Russia is also the oldest fighter in IAF's stable.
IAF spokesperson and fighter pilot Anupam Banerjee calls it a "big day" in the history of the country's armed forces. He added, "This is a major milestone in training of a fighter pilot and the first time that an Indian woman has flown a fighter aircraft solo. It demonstrates IAF's enduring commitment to 'Nari Shakti'." He metaphorically described the event as "the breaking of a glass ceiling."
Avani was born in Madhya Pradesh's Satna. She completed her schooling in Deoland, close to Rewaa, further, graduated in BTech Computer Science from Banasthali University in Jaipur.
Earlier, in one of her interviews, Avani mentioned that Kalpana Chawla was one of her inspirations. "As a child, each one of us looks up to the sky and yearns to fly like a bird," she said.
Avani Chaturvedi, congratulations from everyone at Team Playo for being the first Indian woman to fly a fighter aircraft solo! You make India and Indians so proud! Thank you for being an inspiration to all the women in our country!