Do you still reminisce about those school days during your sports tournaments, prepping up for the big day with various drills, exercises, a vision to win and having lots of fun with your mates?
Or if you were a spectator (like myself), bunking classes to support your friends on the ground would have always been a joy. Just the atmosphere during those days felt different and the memory of the experience resides in you, to be cherished every now and then.
For the tribal children in eastern Madhya Pradesh, these experiences were but a pipe dream. Until Mrida came into picture.
Who is Mrida?
Mrida Education and Welfare Society works with children from impoverished tribal families (Gond, Baiga and Ahir tribes) by providing residential schooling, training in football, and coding. 
Without proper schooling systems and opportunities to learn, these children are prone to take to tobacco and other harmful substances from tender ages as low as 9. The mission is to create a better youth with a high skill set, with dreams and ambitions to chase, for others to see as role models in this region. And how are they doing it?
Through football!
You heard that right! Through education and football, Mrida aims to help these young minds develop and flourish in the various things they do! Students at the Narmada Football Academy have completed 2000+ plus hours in training and it really shows!
Like Ajay here, who would curiously watch the football training at the academy from afar. Malnourished then, he was working alongside his father as farm help. When Ajay mustered up the courage to go to the academy's coach, Kushal to convey his interest, it changed his life forever.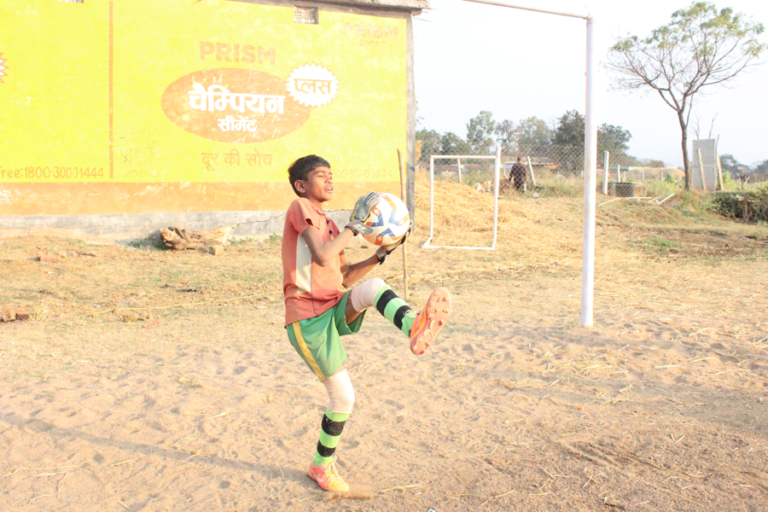 He was present the next day for coaching early in the morning, even before the coach reached the academy. Now after 2 years of training and studying in the school, he is one of the 13 children in the football team.
His interest, curiosity to learn more and sheer dedication has been great motivation factors for several other children in the area as well as in the school. He aims to be a professional footballer and wishes to play for his favourite team, Manchester United one day.
For someone like Ajay, Mrida has been the source of inspiration and opportunity to strive to be a better person and have dreams that outweigh the financial hardships they face on a daily basis.
Several other students are also excelling at the sport as well as subjects like coding by achieving great feats through their dedication and determination. Even when I was contacting the organisation for stories from the students, they were occupied with traveling to big cities for tournaments!
For Mrida to be able to make possible the dreams of these young minds and create a better youth for tomorrow, they need your support. Donate to help these children access schooling, sports, nutrition and other finer things in life.