SUMMER CAMP!!! The season of Mangoes has started and is in full might, the winter wear will slowly find its place in dark closets and swimming pools and the nearby ponds will soon be full.
But along with these, the summer camps have begun too. Summer camps are the best thing that could happen to kids as well as adults. The kids get a break from long-tiring summer vacation homework and they aren't always infront of the idiot box.
For the adults, the camps may provide the break they were looking from their regular life.
Here are 4 Summer Camp venues in Bangalore:
#1. Iblitz Badminton Panathur- Swimming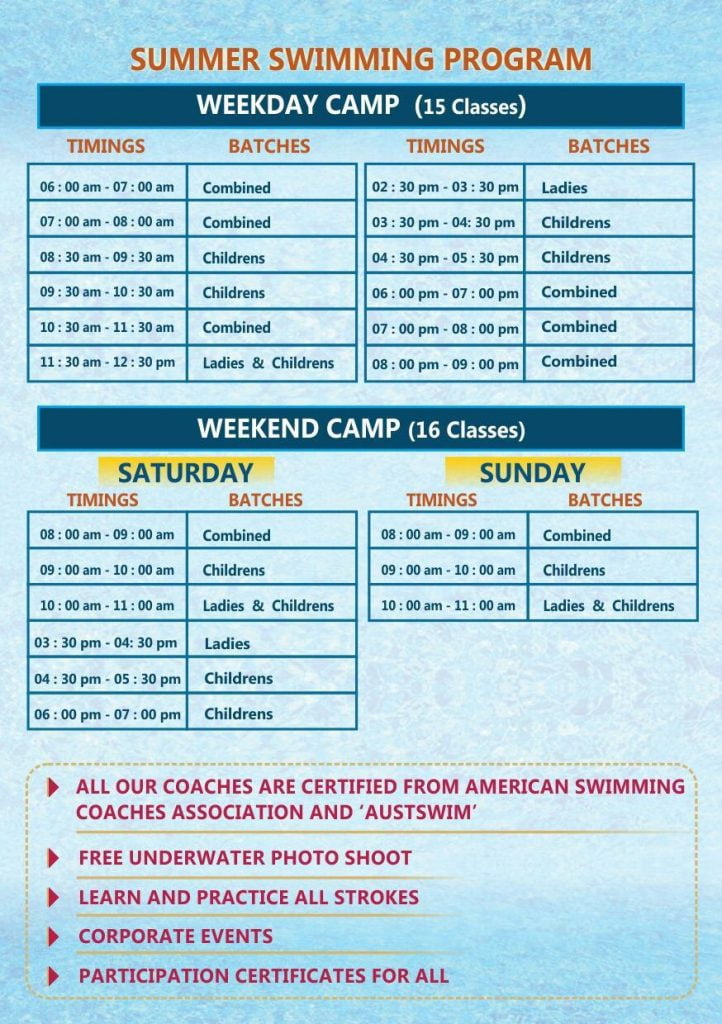 OVERVIEW:
"Children's Age Group 4 Years And Above"

Children's Age Group 4 Years And Above-
Three Weeks Program ( 15 classes )
BATCHES:
Three Weeks Program (15 classes)

First Camp : 01-04-2019 to 19-04-2019
Second Camp : 22-04-19 to 10-05-2019
Third Camp : 13-05-2019 to 31-05-2019
#2. Crazzy Shuttlers Badminton Academy
Overview
Crazzy Shuttlers Badminton Academy nourishes kids and adult for taking badminton to the next level. We give proper attention to each and every kid and adult to bring out the talent of badminton.
Our Centres
Sports Central-Kaikondrahali
PlayMania-Bellandur
Citinest- Indiranagar
Categories
Coaching section for Adults & Kids
Coach Details
Highly experienced and professional coaches.
Have produced many national and International players.
#3. Brazilian Soccer Schools
Timing: 9:00 AM-7:00 PM
Location: Sportsdrome, JP Nagar 7th Phase

Overview
Brazilian Soccer Schools (BSS) is one of the largest grassroots football training organizations based out of United Kingdom & currently in 20+ countries around the world.
We attribute our success and popularity with children to our structured approach to training and proprietary syllabus of 200+ individual core movements and skills.
We teach our players to initially focus on acquiring their individual all-around technique and mastery of the ball. As they mature mentally and physically, their training will start to incorporate tactics as well as the physical and mental chapters of our training programme.
We have never bought into the myth of natural talent or overnight success, what we do believe in is hard work, perseverance, and practice. Our philosophy is that through an increased number of training hours involving constant repetition players can refine and improve their skills in all areas of the game.
Other Details
We use Music for the entire duration of the class. We give students Skill badges once they master the skill & we have 36 core skills like Floor to Air Move, Juggling, Turning, Core Moves, Moves to beat players, Balance & Traps, Passing, etc., in various levels.
#4. Football Academy of Bangalore Summer Camp
Timing: Morning & Evening Batches
Location: FSV Arena, Hennur
Overview
The Football Academy of Bangalore, a 2 Star AIFF Accredited Academy is holding Summer Camp at the world famous FSV Arena from 1st April to 31st May.
Join one of two batches, either morning or evening and give your child a fun, healthy way to spend their summer.
We have daily, weekly and monthly plans so call now to inquire.
Packages starting at just ₹350!!!
Batches
8:00 AM-10:00 AM (5-12 yrs)
5:00 PM-7:00 PM for (13-17 yrs)
Coach Details
AFC "B" and "C" license coaches will provide a fun yet challenging training sessions tailored to each age group.