Here is a list of swimming pools in Bangalore.
Summer is just about kicking in and the temperature is soaring up high! You can take up several summer sports to beat the heat!
Therefore, it's the time to unleash your summer wardrobe, to have summer fruits, various juices everywhere, beach sports will soon become a thing (not in Bangalore though), bye-bye to sweaters and finally it is time for some swimming action!
Wanna take a swimming lesson or wanna hit the pool this summer?
Looking for spots in Bangalore? Well, help is here for you.
Check out the best Swimming Pools in Bangalore!
Timings: 6:30AM – 8:30AM, 3:30PM – 8:30PM
Location: Ashok Nagar
Landmark: ITC Gardenia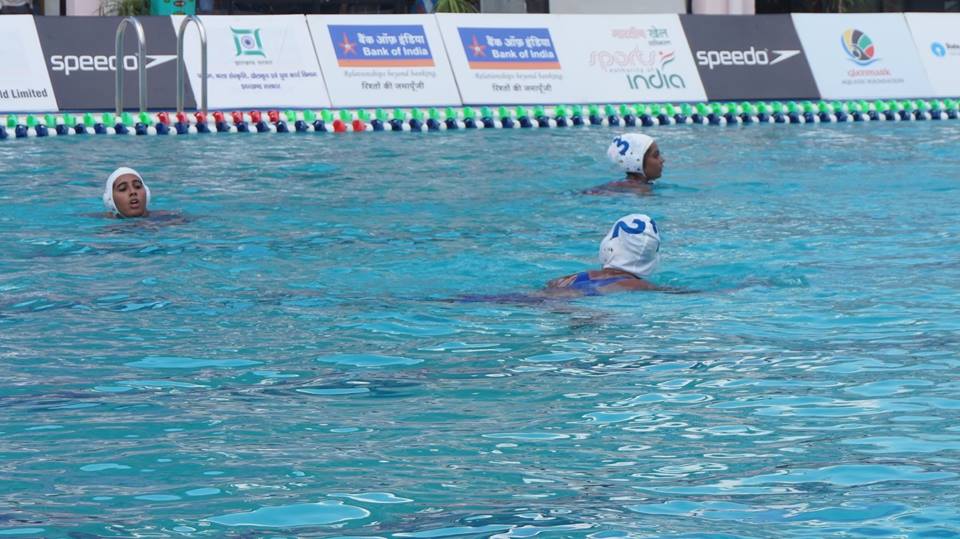 Located inside St. Joseph Indian High School, the pool is type Semi-Olympic pool of 25 meter. Swim gear is a must, else you will not be allowed into the pool.
Timings: 6:00 AM – 8:00 PM
Location: Horamavu
Landmark: AKRM School


This is a good spot to put your kids for training. Note that the swim gears are compulsory to enter the pool. For an hour they charge around 100 bucks.
Timings: 6 am – 10 pm
Location: Sarjapur Road
Landmark: Uber Verdant
Adhak is a multi-sport facility in Doddakannahalli which has amenities for Football, Tennis,  Table Tennis and Swimming. They have decent swimming pool facility and much suited for adults.
To know more, click on: Adhak Sports Valley
Timings: 6 AM – 11 PM
Location: Marathahalli
Landmark: Varathur Kere
The venue houses facilities for Badminton, Football, Table Tennis and Swimming. The Swimming pool available at the arena is a 25 meter Indoor swimming pool.
To know more, click on: New Gurukul Sports Club
Timings: 11 am – 11 pm
Location: Rajarajeshwari Nagar
Landmark: Swargarani School & PU College


This is a great place for some weekend outing, where you get to enjoy sports like Badminton, Tennis etc and take a swim in the pool. The pool is also well maintained.
Timings: 12 pm – 12 am
Location: Nayandahalli
Landmark:Trident Renault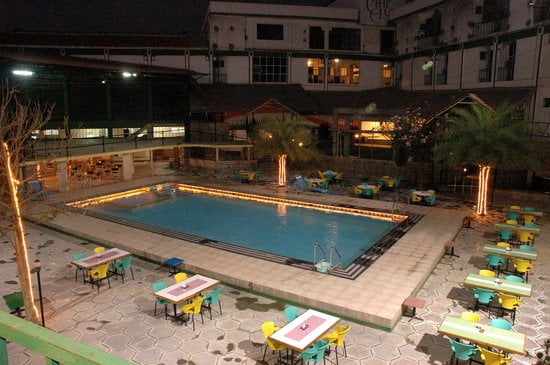 Another spot where you can enjoy playing various sports like Tennis, Badminton, Squash and Pool. You can also chill by the pool, take a swim and enjoy your day.
Timings: Open 24 hours
Location: Marathahalli
Landmark: Phoenix Residency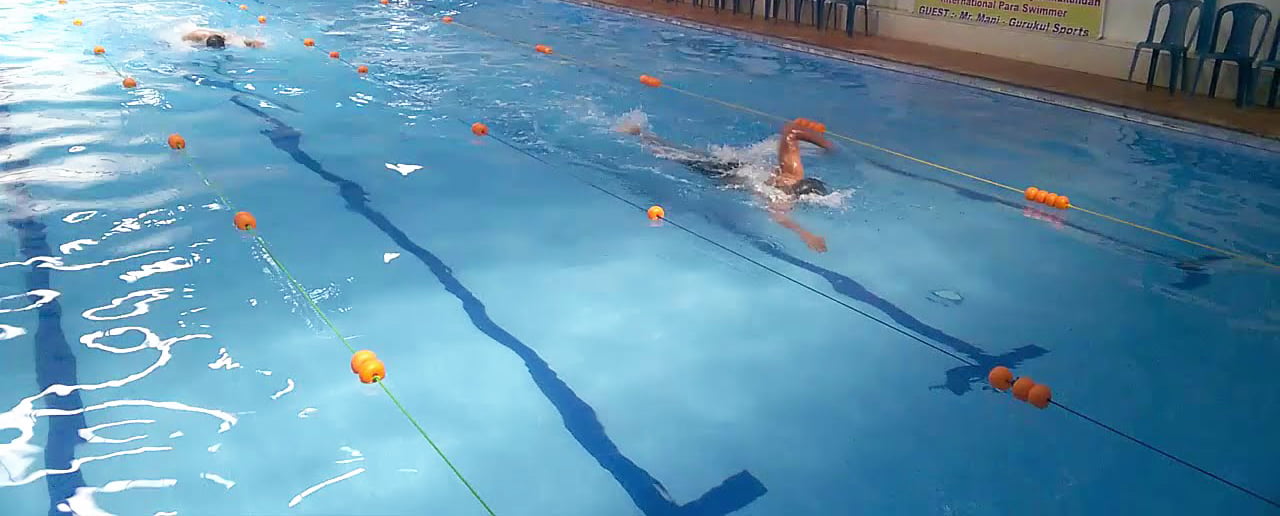 This is the older venue of the Gurukul family which is just few meters away from the new venue. This venue hosts a lot of sports which includes a swimming pool as well.
To know more, click on: Gurukul Sports Academy
Timings: 6AM – 8AM, 4PM – 8PM
Location: Malleshwaram
Landmark: Orion Mall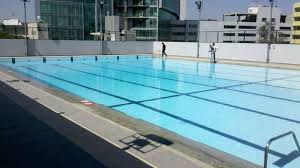 The bookings for this venue are based on an hourly basis and the swimming pool is 25 meters. Swimming gear is compulsory for this pool. They charge 200 bucks per hour.
Timings: 6 am – 11 pm
Location: Off Sarjapur road
Landmark: Total Mall Sarjapur road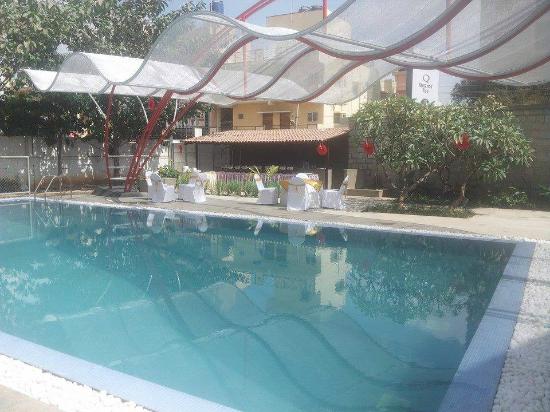 Everybody knows PLaY arena on Sarjapur road. This venue has too many sports under one roof and it makes you chill inside a swimming pool as well.
To know more, check out: PLaY arena, Sarjapur road
10) Builders National Games Village Club
Timings: 6:00 AM – 9:00 AM, 5:00 PM – 7:00 PM
Location: Koramangala
Landmark: Koramangala Indoor Stadium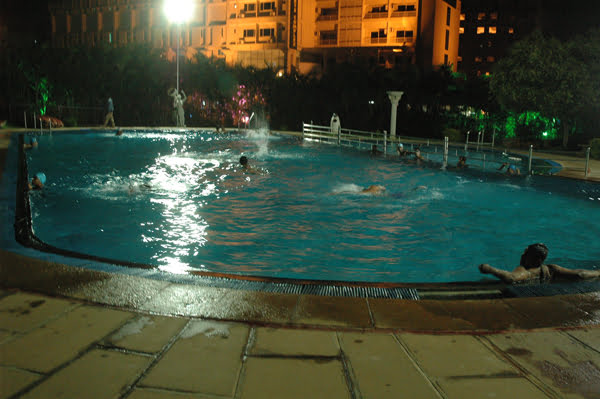 All that you want, all that you need, in Koramangala, under one roof. From Tennis to Swimming, this club has it all.
Timings: 5 AM – 11 PM
Location: JP Nagar
Landmark: Big Banyan Tree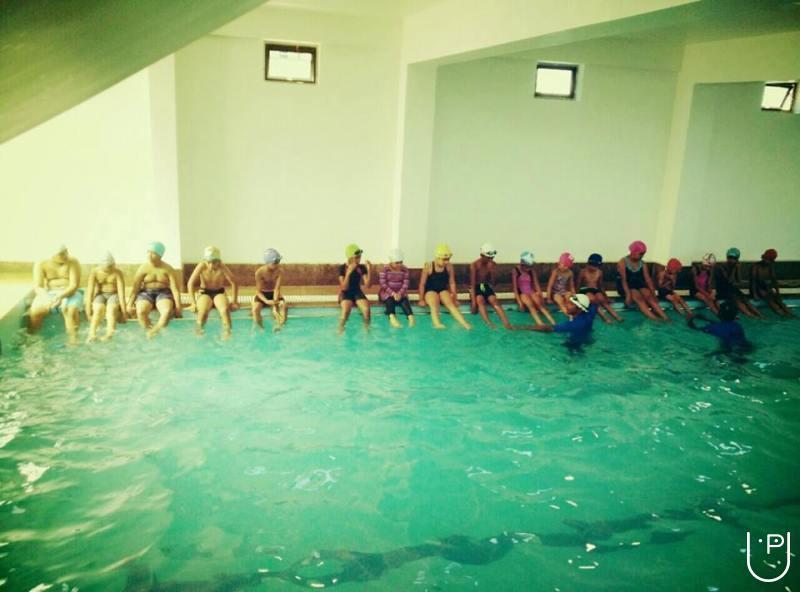 This is a swimming exclusive center located in JP Nagar which is a huge acquatics complex in itself. The swimming pool is well maintained.
Timings: 5:00 AM – 11:00 PM
Location: Hennur
Landmark: Biozeen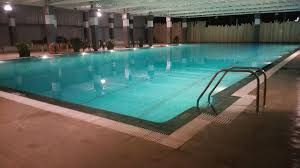 Agon sports has a nice 25 meter Indoor swimming pool at their venue. They also have other sports like Badminton, Pool and Table Tennis.
13) MG Sports Club
Timings: 6 am – 9 pm
Location: Margondanahalli
Landmark: Ocenaus Tranquil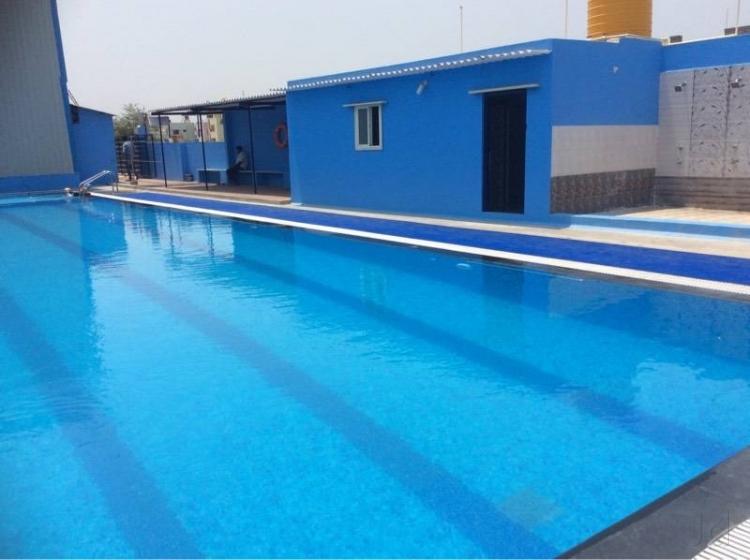 This club is located in K.R Puram and has facilities for Swimming and Badminton. The swimming pool is very well maintained.
Book Now!
If you would like to contact any of these venue or book slots, download the PLAYO app on your phone and check the venues out.
5427 views
The views and opinions expressed in this article are those of the author and do not necessarily reflect the views of our Company, partners and other organizations. While any information provided on our blog is true to the best of our knowledge, we do not guarantee the veracity, reliability or completeness of the information presented. Any advice or opinion is purely for information purposes and should not be construed as an alternative to professional advice.
4
Comments
comments