GO Sport, a French global forerunner in sportswear, equipment, and the fitness lifestyle, was founded in 1978, in the heart of the Alps following the Winter Olympic Games held in Grenoble.
Part of the Rallye Group, GO Sport has been focusing on partnering with the world's best sports brands to offer products, services, and concepts that inspire and empower individuals to go forth and delve deeper into their relationship with fitness and sport.
GO Sport has 108 stores in its network and 19 affiliated stores, spread across France, besides over 30 international retail outlets including India. GO Sport is also Paris Saint-Germain football team's official distributor and the leading partner of the GO Sport Running Tour since 2012.

GO Sport is a place for everyone- from beginners to intermediate sports enthusiasts to the experienced ones. The offerings allow consumers to go beyond their personal best and up their game.
GO Sport promises that it offers all that a consumer needs to explore and dive deeper into their sport, to proudly proclaim that they don't just play sport, they Live Sport.
GO Sport believes in the philosophy of going beyond personal boundaries and is positioned as "THE SPORTS SUPERSTORE". This concept, in India, brings together the world's biggest and most specialist sport and fitness brands under one roof, with 70+ brands and labels. GO Sport will be a specialist curator, working closely with sportspeople, experts and brands to create and showcase products that specifically enable enthusiasts to up their game and push their limits, whether they happen to be a beginner or a pro.
GO Sport's offerings will range across apparel, accessories, footwear, and equipment in the categories of running, cycling, fitness, outdoor like hiking, trekking and camping along with racquet sports (badminton, tennis), team sports (football, cricket, basketball, volleyball), and swimming. Besides these, GO Sport will service the 'family of sports lovers' concept specifically through its Go Man, Miss Go, and Go Kids categories. GO Sports Superstore will also offer services related to different sports like racquet gutting, gait analysis for running, jersey customisation, and cycle workshop.
A jovial and high-spirited 5KM Fun Run is being organised by GO Sport for all enthusiasts to come together and participate.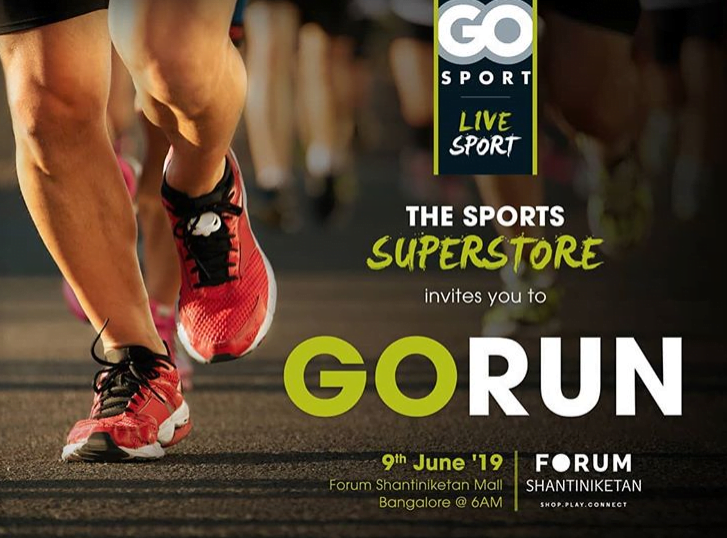 Not only is it an opportunity to meet new people, make new friends, and race with your favourite running circle, you also get a complimentary T-Shirt, Breakfast and a gift voucher from GO Sport.
GO RUN, Bangalore!
Location: Forum Shantiniketan Mall, Whitefield, Bangalore
Date: June 9th, 2019 (Sunday)
Time: 6:00 AM – 8:00 AM
Entry: Free
Registration: Online
Online Registration:
Schedule:
Gates open at 5:00 a.m.
5:30 am: Runners assemble at the venue
6:00 – 6:45 am: 5K Run starts at Forum Shantiniketan Mall, Bangalore.
6:45 – 7:30 am: Yoga session (cooldown)
7:30 – 8:30 am: Breakfast for all participants
More Information:
GO SPORT KIT
1 exclusive GO Sport running T-shirt (Unisex)Â
1 GO Sport voucher for your first GO Sport purchaseÂ
1 GO Sport bib for all marathon runners
KIT PICK-UP
Date: 8th June '19Â
Location: GO Sport Store, Level 1 Forum Shantiniketan Mall, Bangalore.Â
Timings: 11 am onwards