Abhishek got the opportunity to play for Bengaluru Royals in Premier Futsal 2017 with legends like Paul Scholes and had a sweet surprise in the end when he was recognized for his efforts and was presented with the Golden Glove Award.
It's time to switch on the Television sets because it is Football time! Yes, most of us fall into the category of ardent "Premier League" fans who can never skip a match. And most of the time we go to bed dreaming about getting to meet our favorite stars some day or even further, playing alongside them on the same team.
While it's just a dream for a majority of the crowd, this 21-year old lad from Bengaluru never left even one stone unturned to make this happen. And he didn't just stop there. He took home more than what he wanted at the end of the day, which is what sweet success is all about.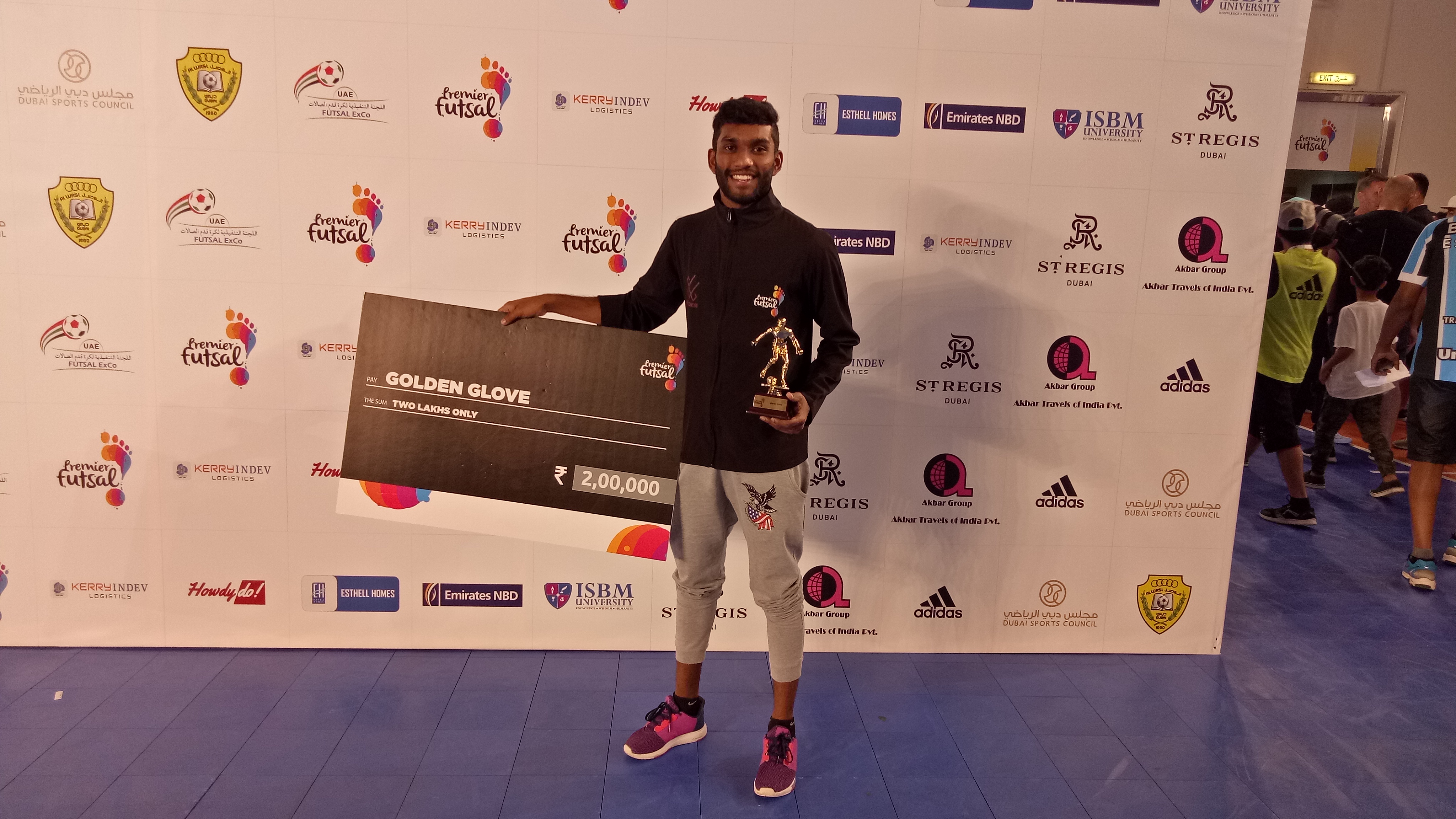 His first outing at the Premier Futsal didn't turn out to be great as he had to sit out for the entire season but this time he was roped in to be the star Goal-Keeper for Bengaluru Royals in the 2017 edition. Premier Futsal 2017 was held between September 25 – October 1 and Mumbai Warriors won their second consecutive title. Although Bengaluru Royals couldn't make it to the finals, they took home a lot to cherish with Abhishek bagging the Golden Glove Award being the cherry on top of the cake.
A Graduate in Commerce from the Baldwin Methodist College, he started his Football career during his 2nd Pre-Universtiy as a striker. But an injury forced him to resort to Goal-Keeping. Since then, Abhishek became a full-time Goalie star, playing for his University as well.
How Premier Futsal happened for this young star?
The first year (2016) we went through a launchpad process where we had selections in Bangalore. Selected players from each city had to travel to Chennai, where a selection was made to pick the top 36 players. Even this year we had the same selection process in Bangalore.
explains Abhishek on how he got to be a huge part of the Premier Futsal League. In the first edition of Premier Futsal which was held in 2016, although Abhishek got a chance to be a part of the Bangalore team he couldn't get on the field to prove his skills. But this year turned out to be quite an amazing outing for him. We couldn't help but ask about how he felt playing with football legends like Paul Scholes and this is what he had to say:
It was just an amazing feeling playing with Paul Scholes. I was very happy playing with him. It was a great feeling.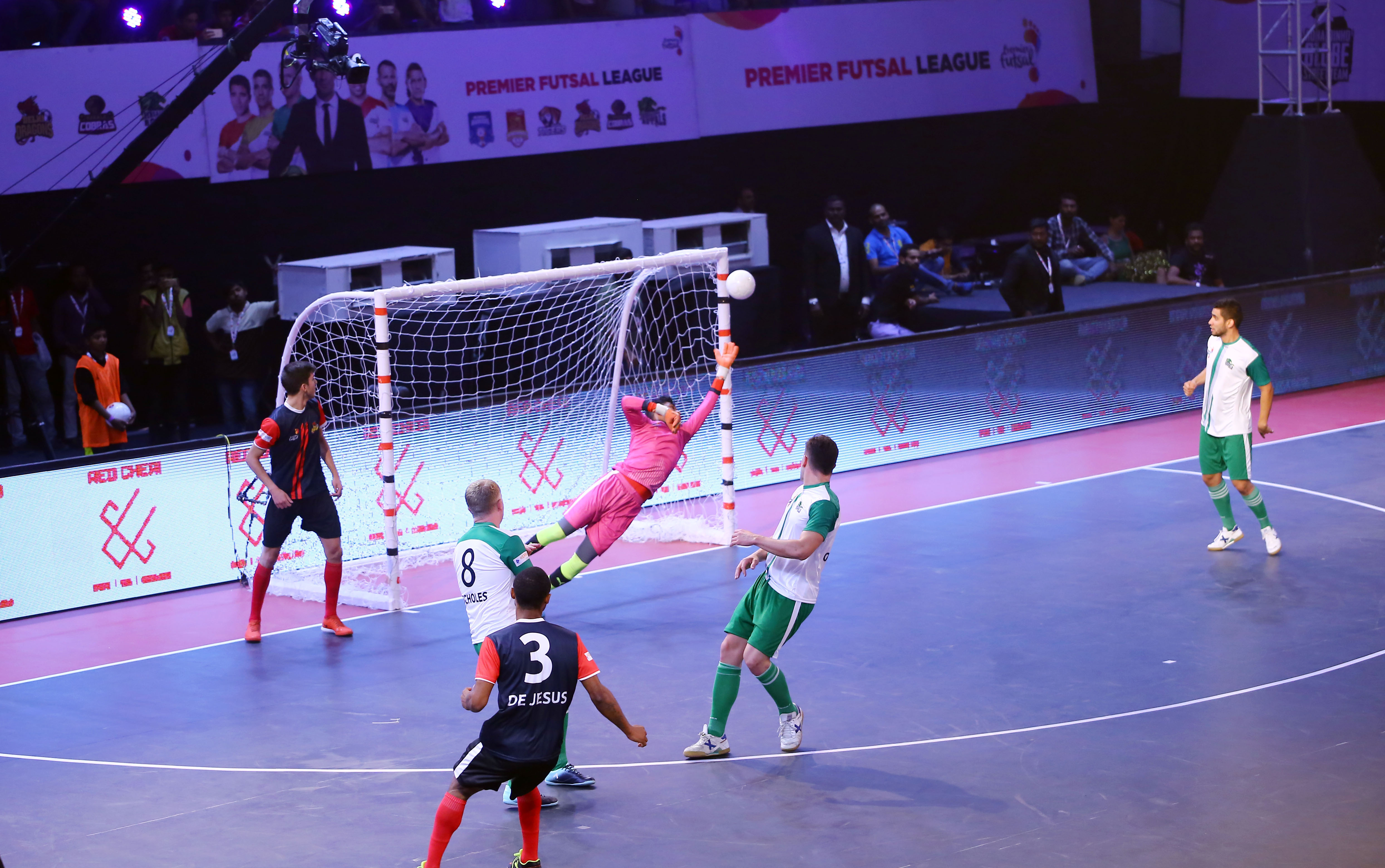 To be a part of a mammoth event like this is a huge pride in itself. But to come out on top and bag the most prestigious "Golden Glove" award is something that can never be replaced. A title which is a mere dream for most Goalkeepers out there totally became his at Premier Futsal 2017. It came as a sweet surprise for this 21-year old who put in every effort to shine among the big guns.
That was totally unexpected. I never thought I was gonna win the Golden Glove Award. It was very shocking when they told me. But I enjoyed playing every moment for the team.
Talking about his favorite moment from the event, he let out his "Fan moment" and exclaimed that it was definitely playing with Ronaldinho. Leading 5-1 against Ronaldinho's team Delhi Dragons, the Bengaluru Royals ended the match with a 5-5 draw and Abhishek in his opinion felt it was the best match he ever played during the Premier Futsal.
Football or Futsal?
This has been a long-standing debate in the country. Some of us are comfortable playing the shorter version of the game as it is quick and you don't have to cover a lot of distance, while the others can't get rid of the fact that Conventional Football is more awesome.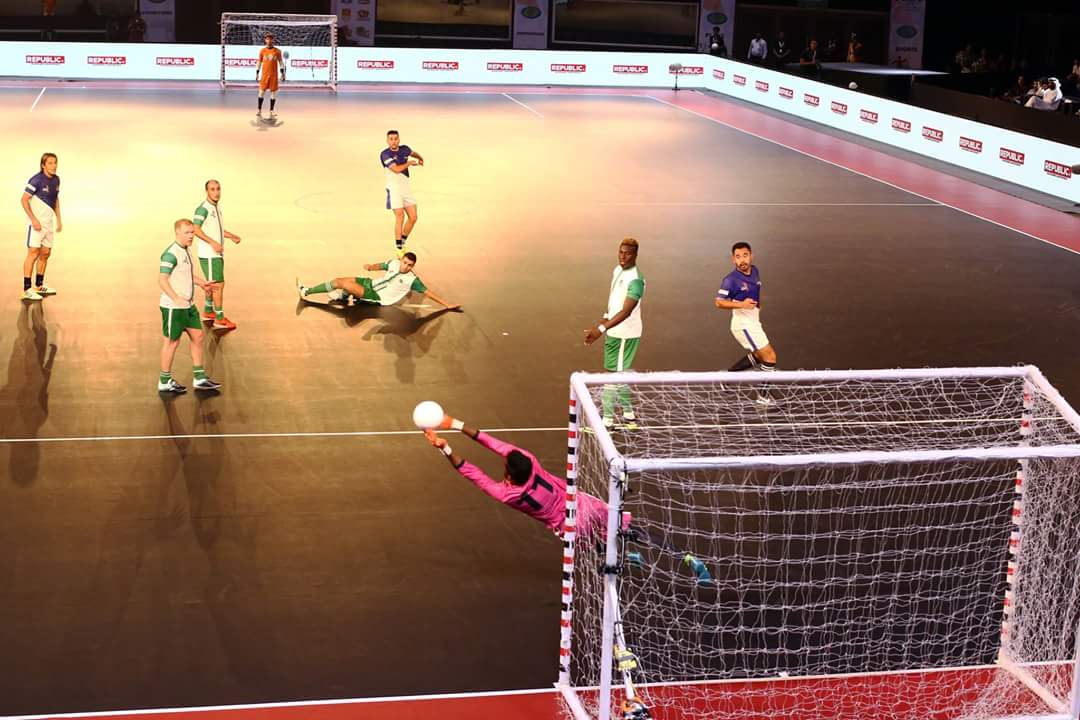 For me, I go with Football. There is no proper Futsal team in India and we don't get more opportunities to play Futsal. So I prefer playing Football as of now.
remarked Abhishek on why he prefers playing Football than Futsal, regularly. When we take Futsal and 5-a-side, although both are shorter and quicker versions of the game, the turf is absolutely different. While in 5-a-side, the usual astro-turfs with grass are employed, Futsal turfs are either synthetic rubber courts or tile-courts. Abhishek says that a lot of balance and skill is required to play on Futsal turfs as it tests your ball control skills and your presence of mind.
Dream harder! Dream Big!
Everybody lives for a purpose. Everybody lives for a dream. We asked Abhishek about his ultimate dream and this is what he said:
My goal is to play for the Indian Football Team.
If he ever got a chance to play for one Football club in the world, he said he would pick "FC Barcelona".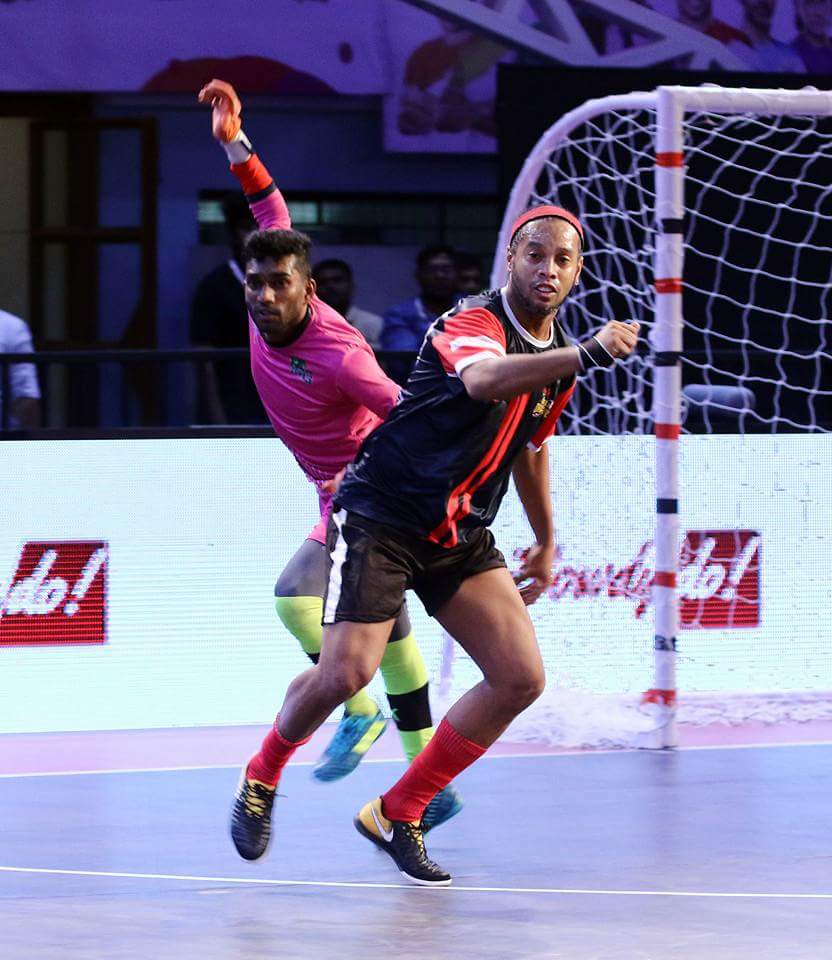 Bangalore has finally made their way into the Indian Super League (ISL) and Abhishek is already excited for these boys. You might see him cheering for these heroes in the days to come. How can one not have a favorite Football hero when you are head over heels in love with the game? This might not be too surprising but he says "David De Gea" is his big-time inspiration.
Talking about the sport he received from his family and friends, Abhishek recalls that his Parents were the strongest pillars in his life, motivating him and helping him through every little thing. His friends also stood by him through his thick and thin, encouraging him to do his best.
One best advice that he would like to give to all the aspiring little Football talents in the world is this:
Practice a lot. When you get into the game, forget everything, no matter what problem you have. Just perform on the field.
We believe that with talents like Abhishek budding in the country, India will one day get to be a part of the elite Football-playing nations in the world, thus making us all proud.
Here's to more of these Wonder-Humans!