CRAZY DIETS OF TENNIS PLAYERS | Professional athletes don't get to the top of the tennis mountain by living like us mere mortals. It takes extraordinary levels of dedication, and focus in their preparation and physical health. The latter deals with whatever they put inside themselves.
Since a tennis player's schedule is constantly being upset by travel, jet lag, and matches that can last infinitely long, their diet has to be adaptable and flexible.
# Stan Wawrinka (Go greeeeeen)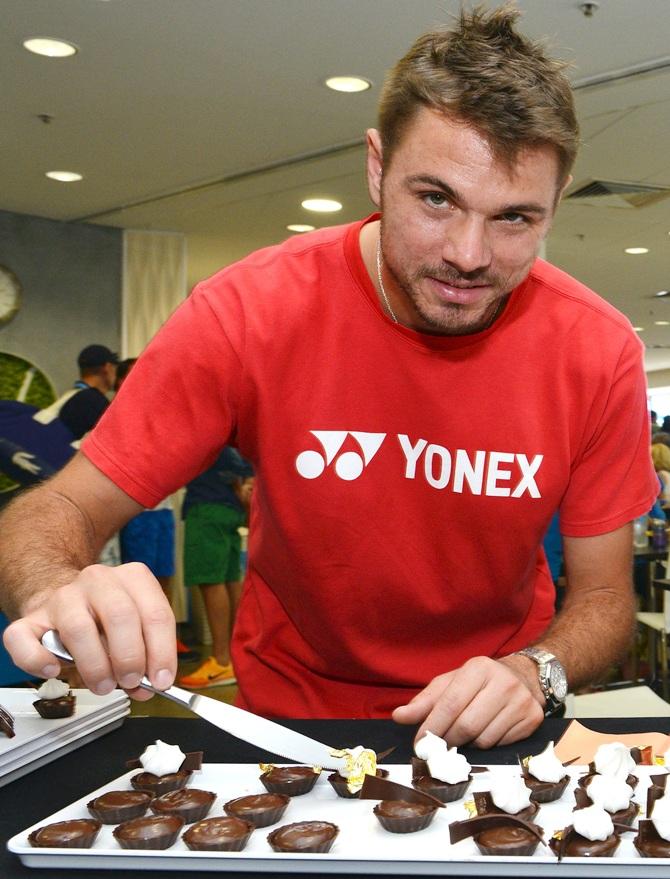 # Sir Andrew Barron Murray (aka Sushi guy)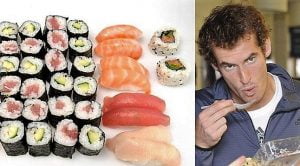 The World No.1 Andy Murray reportedly eats 6000 calories a day on tour, and a lot of those come from sushi. The Scot (fourth seed at this year's Open) can reportedly put away 50 serves of the Japanese delicacy in a single sitting. His team tracks down a good quality sushi restaurant in each city he plays, and he's been known to put sushi in an ice cooler so it's ready to go straight after match point.
He also eats large quantities of red meat, pasta and rice spread over six meals in a day. Breakfast is a yoghurt and a peanut butter bagel with a protein shake.
# Novak Djokovic (aka Gluten-free guy)
Serbian Novak Djokovic has one of the strictest eating regimens on the tennis tour.  He went gluten free after his nutritionist discovered an allergy to it. In his book, Serve to Win, Djokovic reveals a devotion to warm water and food. This is a premise rooted in ancient Chinese medicine, which says digestion requires heat to be most effective.
"The first thing I do out of bed is to drink a tall glass of room-temperature water," Djokovic says. Gluten-free food and warm dishes are hard to come by everywhere he goes but he isn't the World No.2 for nothing now, is he?
Also read:Â Tennis Tips for Beginners
# Rafael Nadal (I don't believe in diets, no?)
During a cooking demonstration with Marcus Samuelsson, the 14-time Grand Slam champion was asked what he typically eats to train for a big match. "Always seafood," said the tennis great who's "not a believer in diets."
Among the foods Nadal enjoys eating, such as olives and chocolates, is his mother's home-cooked paella. He added, "Only sometimes, not every day. You eat paella every day, you cannot play tennis."
"I love fishing and being in the sea with boats. I normally go with lines or spear guns and I love sea bass. It's great when your on the boat and catch a sea bass, and have dinner with it. I love eating olives. They're healthy, but maybe not if you eat as much as me. And I like chocolate."
Maybe we'll quietly gloss over this one.
# Roger Federer (Ice cream and chocolate :-P)
Athletes in the 21st century usually stick to a strict diet throughout challenging tournaments to keep their body at optimal performance, but then again, Roger Federer isn't like many others. The 35-year-old family man revealed his secret diet to Jim Courier after defeating Tomas Berdych at the Australian Open 3R.
"I like my ice cream, I like my chocolate. That's my diet, I like my treats, I don't feel bad about it, I like that I can do it and play tennis at the same time."
"Tell you what, you make me feel bad about it," Courier replied.
It appears the sugar intake isn't taking a hit on the former world No.1's physique, remaining thin and fit throughout his 19-year professional career. The GOAT of tennis has won the Australian Open-Indian Wells-Miami triple this year at nearly 36 years of age, so I'm not really sure if you should follow any of the strict and extraneous diets that we talked about earlier.
You might also like:Â 5 Most Captivating Shots In Tennis Which Is Hard To Master