Remember when Matthew Hayden walked to the Cricket pitch with a mysterious looking bat in his hand during Indian Premier League (IPL) 2010? I bet that was the moment that most of us were passing comment as to why his bat is just so ridiculous. That is when the Mongoose bat came into the limelight.
The bat, commonly known as the Mongoose bat, is an upgraded version of a bat that was specifically designed for the T20 format of Cricket. Formerly known as the Newbery Uzi, this production of the bat was taken up by Mongoose and later launched with the name MMi3.
What's so special about the Mongoose bat?
The Mongoose bat is not like the conventional cricket bat. The blade is 33% shorter than a normal cricket bat and the handle is 43% longer. The nature of this bat gives you more power to hold which helps you hit full-on attacking shots instead of playing defense, which preferably suits the nature of the T20 format. This bat was unveiled by Matthew Hayden in IPL 2010 where he played the entire season with this bat.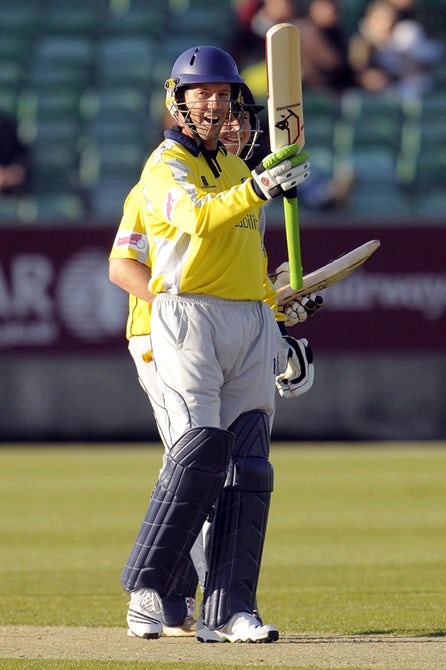 This bat received several critical remarks from former cricket stars with former Australian Test Player, Stuart Law claiming it to be a "half-brick-on-a-stick". But this was well received by modern cricketers like MS Dhoni who believed that Hayden can make his magic work irrespective of the type of the bat he uses.
Why Mongoose bat is not the one to look out for?
Although the Mongoose bat was designed specifically for attack, it didn't favour most of the players. T20 is not always about attack. With advancements in the sport various techniques are being adopted by the bowlers to trap the batsmen. In such a case, defence is of utmost requirement and with the use of Mongoose bat, it turns out to be a sour outing as the bat doesn't favour a defensive game.
Players like Suresh Raina, though they started trying out the Mongoose bat in IPL 2010, didn't find much success and had to resort back to the conventional bat which provided them with options to play various other shots.
The Mongoose bat might have been short-lived but it sure did garner tremendous attention when it was in fashion that even today people recognize the awesomeness of the mysterious bat.
The views and opinions expressed in this article are those of the author and do not necessarily reflect the views of our Company, partners and other organizations. While any information provided on our blog is true to the best of our knowledge, we do not guarantee the veracity, reliability or completeness of the information presented. Any advice or opinion is purely for information purposes and should not be construed as an alternative to professional advice.
Comments
comments