Being the star player's team of the IPL, RCB never stepped on finale stage to lift the trophy, wonder why?
Since the beginning of this league, the speculations are high on some of the teams. Most of them have already lifted the trophy. But the one team which is still struggling is RCB.
The team doesn't lack in any area yet unable to prove themselves. With every new edition, the hope raises its bar but RCB delivers the same result. But this season is looking a promising one so let us find out what it holds.
RCB'S power-packed batting line up
The two most dangerous batsman in the world Virat Kohli and AB de Villiers are enough to give nightmares to any opposition. In any given situation they prove to be the best. But they are not alone to take the charge. The team has some more names some serious ones.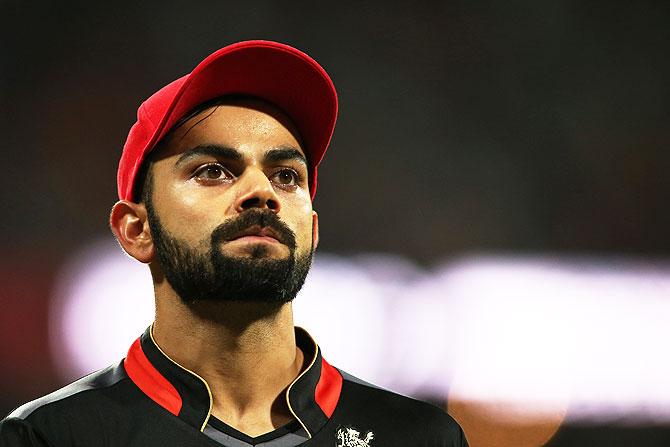 There is no doubt about the leadership quality of captain Kohli. Like his batting, his leadership is also attacking. This quality doesn't give any chance to the opponent to execute.
Kohli is so focused and quick that his moves on the field become a challenge for the against the team. The good news is that this time they have Brendon with them who will add up to the leadership quality. The hunger to win the trophy makes him even mightier.
RCB is blessed to have one of the most experienced and calm mentors in the business, Mr Daniel Vittori. This former New Zeeland captain is also an old member of the squad.
He is there from the very first edition. He joined in as a player then and now is playing the role of Head Coach of Royal Challengers Bangalore. His experience will add up a lot to the team and will motivate them to win.
When it comes to bowling the team don't have any big names. But they do have some names which will make it big in the future. The pace attack comprises Umesh Yadav, Chris Woakes the spin department has Yuzvendra Chahal and Washington Sunder.
They together have the potential to defeat any team. Spin department has proved to be the key to win the matches in this tournament as the sub-continent conditions favour the spin bowling and especially the wrist spinners.
This is a very vital point. This makes the Red Devils even dangerous because they are still to taste the success. The squad becomes hard to defeat when they are all on the same mission.
With the addition of some new members in the squad, they can give it a fresh start. Some new members are the ones who have already won the tournament so this will help the Royal Challengers this time.
Conclusion
Let us cross our fingers and hope the best for the RCB. May this time they hold their nerves and accomplish the mission.
FOLLOW US ON INSTAGRAM FOR SPORTS MEMES AND REELS!