THE BULL RING BANGALORE | Astro turfs are popping up everywhere in the city and Indiranagar needed one. The Bull Ring Bangalore answered with a 5 a-side turf in the heart of the city. I get a hint that the pubs in Indranagar are going to have a lot of people walking in football shorts, after all, who can resist football at The Bull Ring Sports Arena.
Bubble Soccer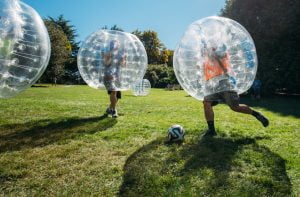 This video of bubble soccer got me all excited and wanted to try it so bad! Nikhil, from The Bull Ring Bangalore, definitely has some telepathic powers 'coz he heard me. He is one of the first guys to get Bubble Soccer to Bangalore and that too in Indranagar! Bump & jump with your buds, score a goal or too and we ensure that you'll have some epic fun! Play 3,4 or even 5 a-side and it's safe for anyone to try. So book your slot today and the Icing on the cake, you get 10% off on your bookings through Playo. For more info go to The Bull Ring.
READ MORE BLOGS OR TAG US ON YOUR INSTAGRAM POST!
The views and opinions expressed in this article are those of the author and do not necessarily reflect the views of our Company, partners and other organizations. While any information provided on our blog is true to the best of our knowledge, we do not guarantee the veracity, reliability or completeness of the information presented. Any advice or opinion is purely for information purposes and should not be construed as an alternative to professional advice.
Comments
comments