GOA WATER SPORTS | With endless options for water adventure an activity across its vast coastlines; 'Goa' gives you an ideal holiday experience while offering some of the daring water sports. Goa's long beach's spread along the 105-kilometre coastline of Western India and lying in the Konkan district of the Western Ghats, this place is honoured with intriguing biodiversity.
The water activities provided in Goa are at par with International standards and norms and mostly mandate that participants be accompanied by instructors when performing these activities. From really fast water sports like jet skiing and windsurfing to the slower ones like scuba diving, there is something for everyone in Goa.
Discover some of the adventurous water sports in Goa for an exhilarating and adventurous holiday.
1) Jet Skiing
Goa jet skis are powered at 100 – 135 hp (horsepower) which will set your adrenaline rushing. It requires a jet-powered water scooter which is accelerated by a powerful engine.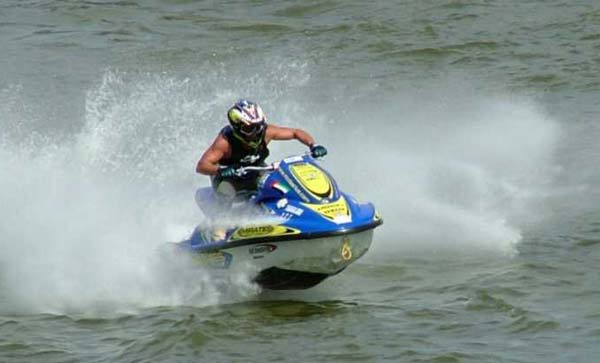 Places to try: Colva, Calangute, Candolim, Mobor, Miramar and Rajbaga beaches
Favourable Time: October to March
2) Water Skiing
This water sport is played on a surfboard, which is tied to a speedboat at one end while the other end lies on a surfboard through a rope. It is one of the most tricky water sports to try out as one needs to be physically fit and alert while getting pulled by a speedboat.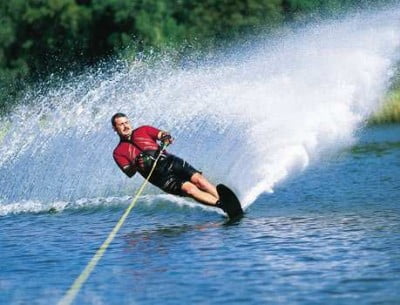 Places to try: Baga Beach, Candolim Beach, Calangute Beach, Arossim Beach, Mobor Beach, Utorda Beach
Favourable Time: October to February
3) Scuba diving
Dive deep to 20 to 35 feet into the gigantic coral reefs and be enamoured by the scintillating aquatic animals and varieties of sea fish as you go scuba diving in Goa where the underwater visibility is more than 5 m.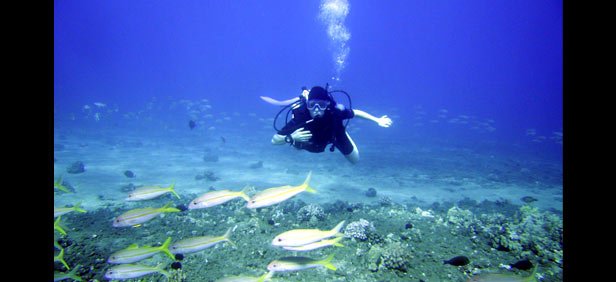 Places to try: Grande Islands, St. George Island, Devagh Island, Pigeon Island and Netrani Islands
Favourable Time: October to April
4) Kneeboarding
Kneeboarding is for you if you want to delve deeper into water adventures. Done with the help of a knee-board, it requires a lesser focus on the balance than water-skiing and is still all the fun.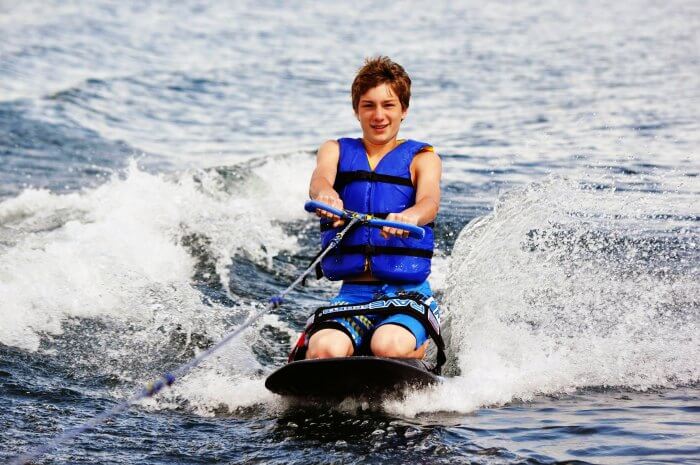 Places to try: Candolim Beach, Mobor Beach and Rajbaga Beach
Favourable Time: October to June
5) Wakeboarding
Quite similar to Water Skiing, only with a single board instead of two, this sport requires a lesser focus on balance. A great fun, this one is a must try if you are a water sports enthusiast.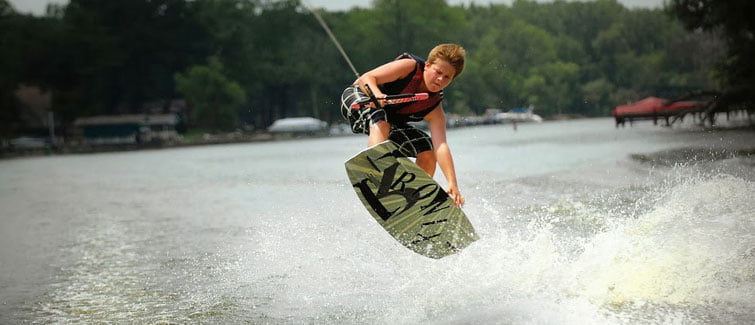 Places to try: Candolim Beach, Mabor Beach and Rajbaga Beach
Favourable Time: October to May
6) Flyboarding
Recall how Hrithik Roshan smears out of the water in Bang Bang? Flyboarding is a combination of jet-ski and jetpack where a flyboard is attached to a jet ski which sends it as high as 15 metres in the air.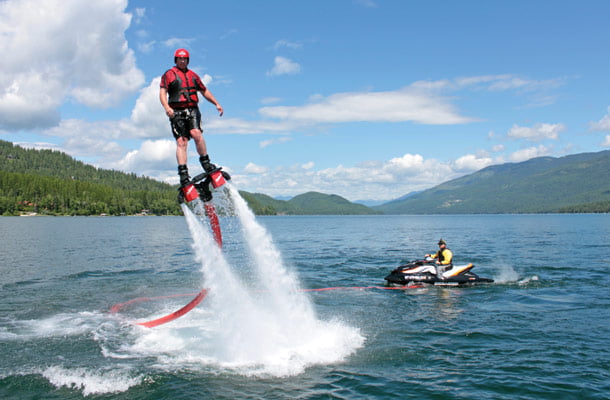 Places to try: Baina Beach
Favourable Time: October to May
7) Paddleboarding
The sport is literally just standing on an oversized surfboard and powering through open water with only one paddle.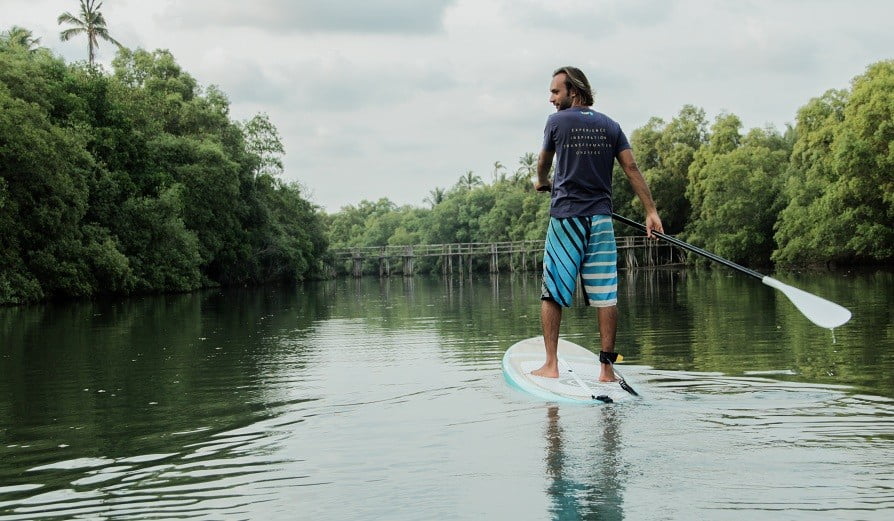 Places to try: Candolim Beach, Mobor Beach and Rajbaga Beach
Favourable Time: October to May
8) Kayaking
Kayaking is the perfect water sports activity in Goa for those who want to spend the afternoon paddling along the mangroves, backwaters and mini bays. If the weather allows, it could be amongst the most fun water sports in Goa during monsoon season.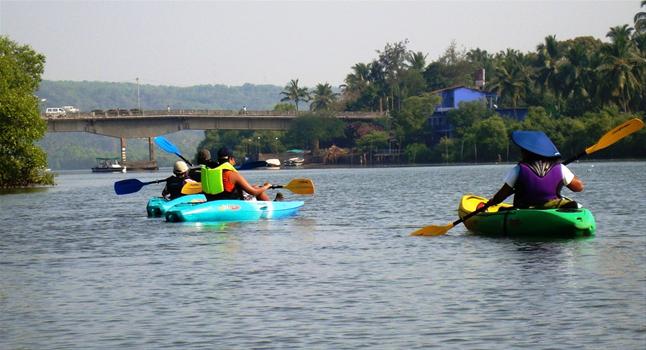 Places to try: Palolem Beach, Dona Paula and Hollant Beach
Favourable Time: October to May
9) Tubing
Ringo Rides involves riding on a circular tube over the water surface and get soaked in unlimited fun and excitement. The participants are made to sit on a circular tube that is consistently pulled by a speedboat for a certain period of time over the waters.
Places to try: Pindul Cave
Favourable Time: March to June
10) Wind surfing
Extremely thrilling and exciting, windsurfing in Goa is a unique blend of surfing and sailing on the waves of Arabian Sea. Ride the waters along the changing wind direction for an amazing time.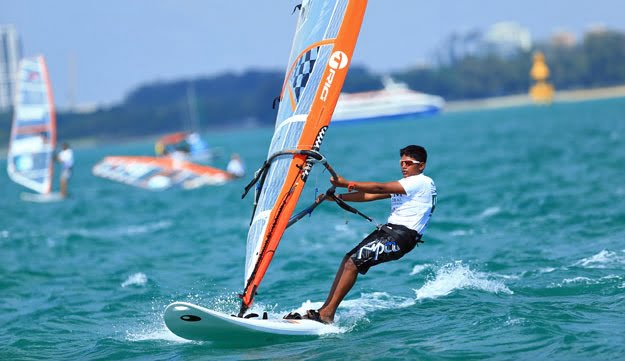 Places to try: Dona Paula Beach, Bogmalo Beach, Vagator Beach, Calangute, Colva, Palolem, Miramar, Baga Beach
Favourable Time: January to March
11) White water rafting
It is quite challenging as it requires navigating through tricky rapids in an inflatable boat or raft.
Individuals are asked to wear body hugging clothes, sneakers for a firmer grip.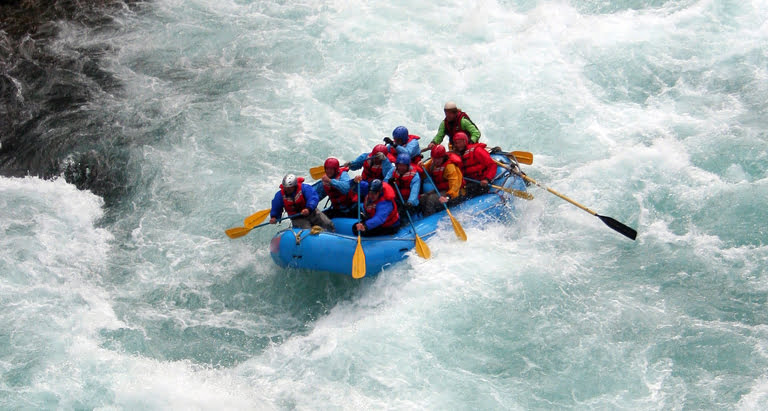 Places to try: Mhadei River, Tilari River
Favourable Time: June to September
12) Banana Ride
Enjoy the thrilling ride with your friends on this giant banana shaped boat as you move ahead against the ocean waves avoiding being flipped over. This one is nothing if not fun and is amongst the easiest water sports in Goa.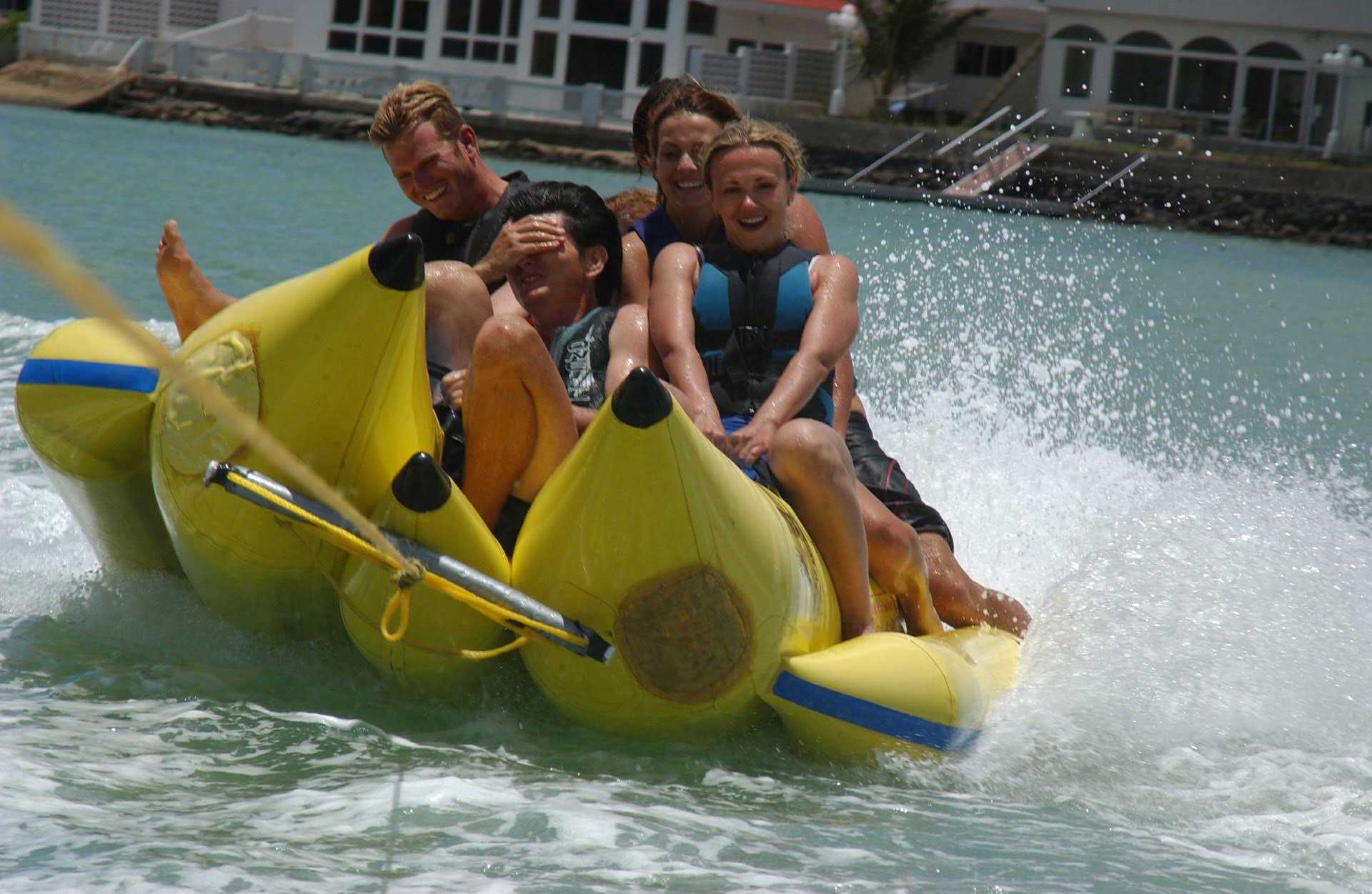 Places to try: Calangute, Agonda, Candolim, Palolem, Miramar, Baga, Vagator, Anjuna
Favourable Time: October to March
13) Snorkeling
The activity requires participants to wear a diving mask and have a shaped tube called a snorkel. This allows the individual to stay underwater for a considerable length of time to observe the beautiful marine life.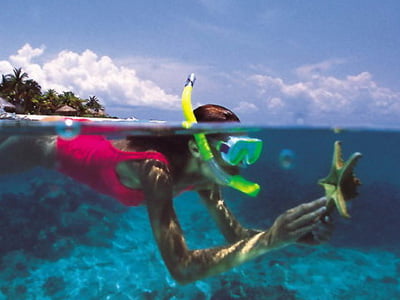 Places to try: Suzy's Wreck, Bat Island and Navy Island situated near Bogmalo, Grande Island
Favorable Time: October to March
14) Water Zorbing
Water Zorbing is among the best water sports in Goa as it provides recreation by allowing individuals to roll on water in a transparent ball which is safe and secure. The orb can accommodate not more than two people at a time.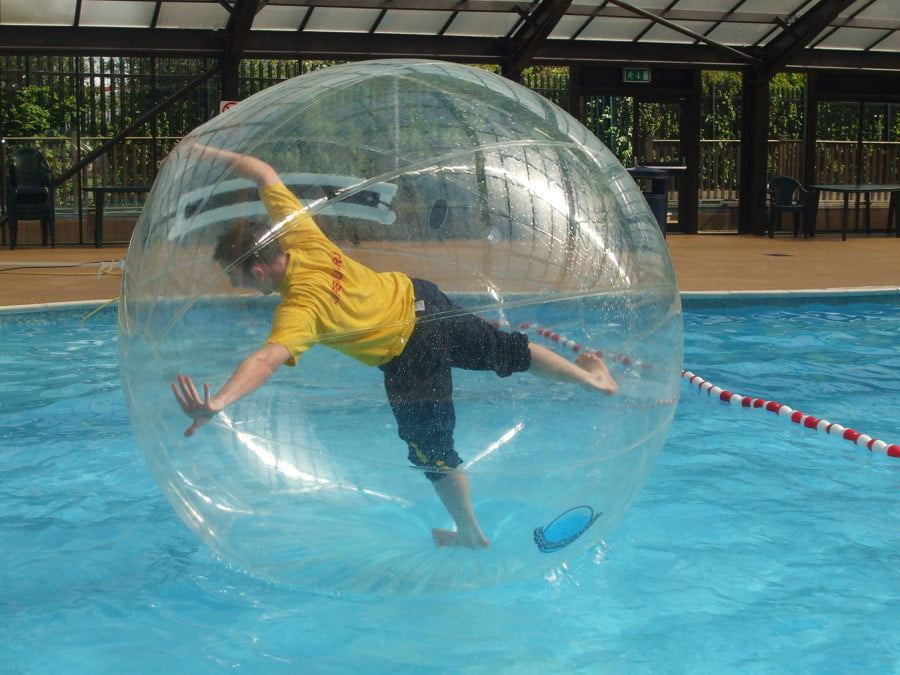 Places to try: Mayem Lake
Favourable Time: March to June
15) Parasailing
Fly off into the sky as a speedboat tugs you along and enjoy the spectacular view from
up above. Parasailing in Goa is an extremely popular water sport, one of the easiest and most enjoyable water activities to indulge in.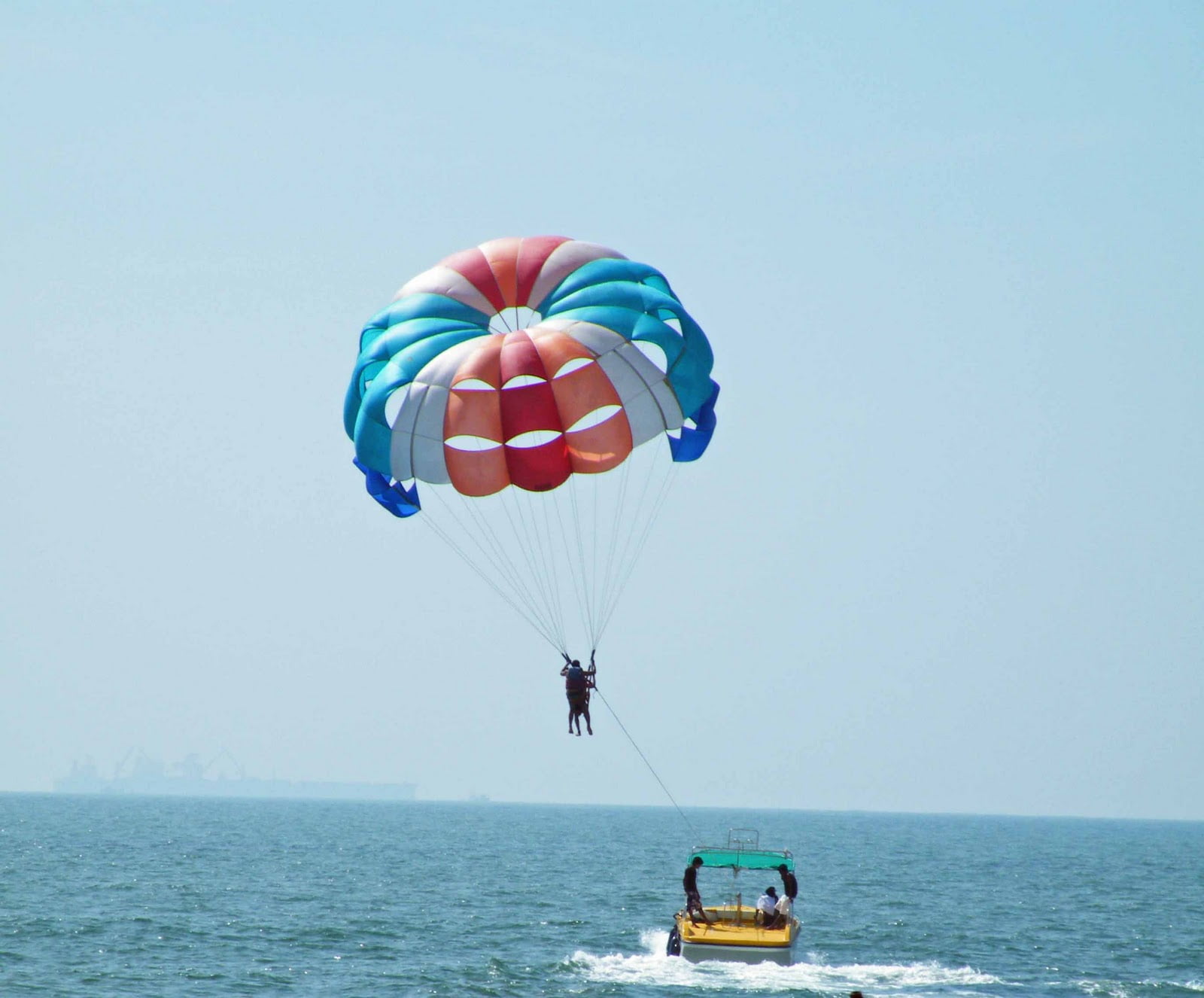 Places to try: Dona Paula, Majorda, Anjuna, Bogmalo, Calangute, Colva, Candolim and Vagator Beach
Favourable Time: October to March