The demand of parasailing is pretty high all over the world. Here are 7 Parasailing Destinations In India which you should totally pay a visit!
Parasailing is a popular kiting activity among the adventure sports lovers in India. This energetic sport is a fascinating experience for all adventure lovers. Parasailing or parakiting or parascending moulds you into a human kite providing you splendid lofty views of the Indian beaches, rolling hills and primitive towns as the airy cold winds carry you above the blue waters of the ocean. Parasailing isn't just a water sport. The dictionary defines it as, soaring in the sky and free-floating while being harnessed to a parachute, which is towed by a motorboat, car or other fast-moving vehicles. This sport can be experienced in most seasons, except monsoon.
There are 4 types of parasailing – Winch Boat, Beach Platform and land parasailing. In Winch Boat parasailing, the parachute is pulled by the boat; it can be done in beaches and lakes. It is the most popular type of Parasailing in India. Whereas in Beach Parasailing, the beach is the main support for landing and taking off. It is also pulled by a boat but a little risky. In Platform Parasailing, only one person can be under the shade and it shouldn't be performed during high winds. And in Land Parasailing, the parachute is pulled by a car or a truck. It is usually done in vast open landscapes.
The well-known destinations for parasailing in India are listed below.
1) Parasailing in Goa
Goa is the nucleus of various activities and water sports are a must try here. Parasailing, Scuba Diving, Kayaking, river rafting are some of the enthralling things to experience in Goa. The feel of Goa is just lively and vibrant. Tourists can try parasailing in almost all famous beaches in Goa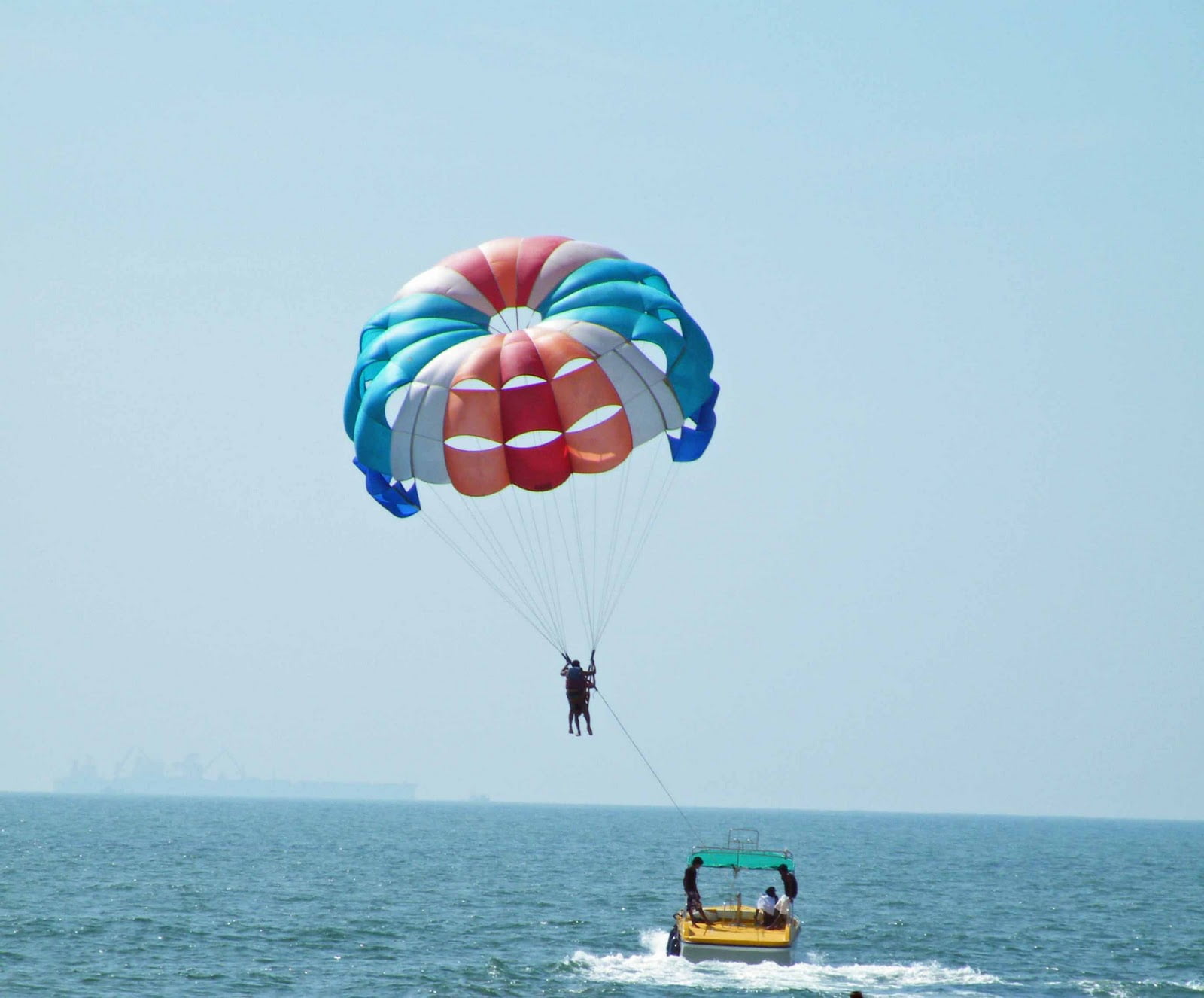 Favourable time to go parasailing: October to June
Most Appropriate places: Calangute Beach, Anjuna Beach, Baga Beach, Vagator Beach, Candolim Beach, Dona Paula Beach and Sinquerim Beach
2) Parasailing in Maharashtra
Maharashtra has some bewildering coastal belt and many lakes which are the experimental grounds for adventure enthusiasts, making it a famous destination for parasailing in India because of the topographic variations in the state. Parasailing in Pune is also trending including Mumbai.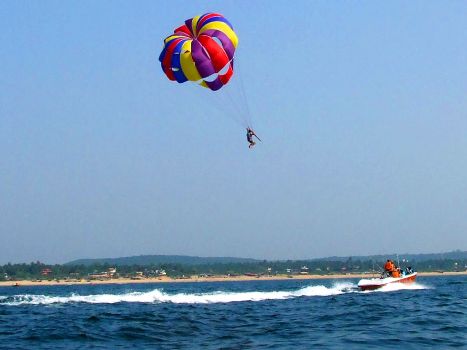 Favourable time to go parasailing: October to May
Most Appropriate places: Pawna lake, Munshi lake, Khadakwasla lake and Panshet lake; Tarkarli beach, Murud beach and Devbagh beach
3) Parasailing in Himachal Pradesh
Full of launch sites, Himachal Pradesh is suitable for professional as well as non-professional parasailers in India. There are many destinations in Himachal with remarkable locations where international parasailing and paragliding events take place.
Favourable time to go parasailing:  March to October
Most Appropriate places: Kullu, Manali, Solang Valley, Bir Billing Valley, Dharamshala, and Lahaul Spiti
4) Parasailing in Kerala
Kerala's popularity is known nationwide. The comeliness of Kerala also attracts many overseas visitors. One can try numerous adventure sports here like windsurfing, bamboo rafting, river rafting, kayaking, canoeing, parasailing, water skiing. Your experience of parasailing in India will be fractional without Kerala.
Favourable time to go parasailing: October to March
Most Appropriate places: Alappuzha Beach, Varkala Beach, Kovalam Beach and Payyambalam Beach
5) Parasailing in Uttarakhand
Uttarakhand is a picturesque state positioned between the snow-covered mountains and sprinkled with occasional greenery of oak forests, evergreen coniferous trees. All this and the glorious water bodies make for an incredible view from the air.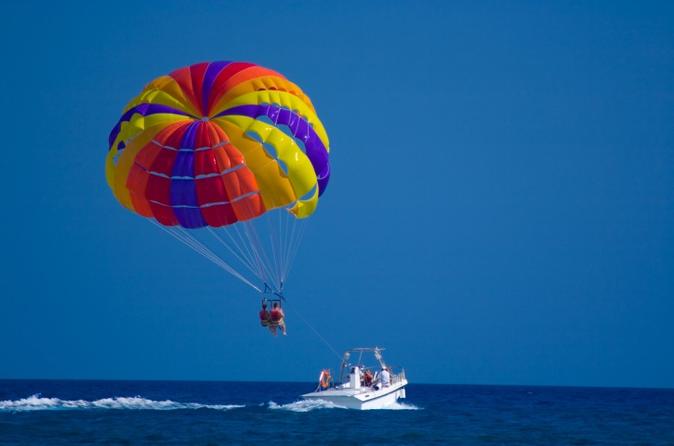 Favourable time to go parasailing: May to November
Most Appropriate places: Naukuchiatal, Bedni Bugyal, Doon Valley, and Auli
6) Parasailing in Karnataka
Karnataka is slowly becoming an adventure hideaway. The beaches provide a wide range of water games and the hilly ranges offer a good place for trekking and paragliding. You can experience water as well as land games in the state.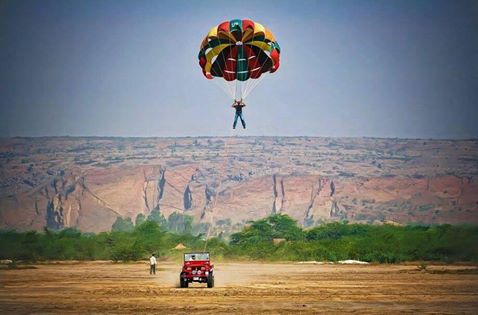 Favourable time to go parasailing: October to May
Most Appropriate places: Malpe Beach, Gokarna Beach, Murudeshwara Beach (winch boat parasailing), Hosakote lake and Jakkur in Bangalore (platform parasailing)
7) Parasailing in Rajasthan
Rajasthan is the most radiant and rare one of all the parasailing places in India. Land parasailing and platform parasailing are suitable in the vast open landscapes. The parachute is pulled by a car or a vehicle, commonly a sports car.
Favourable time to go parasailing: September to February
Most Appropriate places: Jaipur, Bikaner, Jodhpur, Udaipur, Kota and Jaisalmer
The views and opinions expressed in this article are those of the author and do not necessarily reflect the views of our Company, partners and other organizations. While any information provided on our blog is true to the best of our knowledge, we do not guarantee the veracity, reliability or completeness of the information presented. Any advice or opinion is purely for information purposes and should not be construed as an alternative to professional advice.
Comments
comments