"What lies behind us and what lies before us are tiny matters compared to what lives within us." said Ralph Waldo Emerson and there is no better person who could stand true to this quote than Mark Dharmai, a Paralympian, current World no.12 (Singles) in the BWF rankings and silver-medalist at the Thailand Parabadminton Championship 2017.
On March 3rd, 1984 he was welcomed into this world with loving arms by his mother Josephine and his father but what followed after was a bitter-sweet experience for this beautiful family.
My early childhood was a daunting challenge for my parents. I can vividly remember my mother carrying me around in my early childhood. My acute disability and my disfigured legs were always a hindrance.
recalls Mark about his childhood days. People with physical disabilities can be spotted vividly but the society fails to notice every man's mental disability where passing comments and harassing someone has become a common thing. Born with a dwarf-syndrome called as "Achondroplasia", Mark struggled growing up and was assisted by his ever-strong mother in every way possible.
This is a perennial problem faced by all dwarfs in the country and teasing, mocking, giggling, staring and name calling is par for the course. Everybody reacts differently although not much has changed on the ground, l must confess that in my catchment area in Bandra, l experience no problem now. My successes at Badminton both nationally and internationally and also the many medals at Field events in National tournaments has enhanced my self-esteem and l do not react in a negative these days. That's part of the learning experience.
explains Mark about the strength he gained from every hardship he went through. Mark Dharmai completed his schooling at St. Andrew's School and also has a Bachelor's Degree in Commerce. He goes on to say that if not for the support of two of his teachers Late Fr. Laurie and Fr. Rodney Esprance he couldn't have become the man he is today.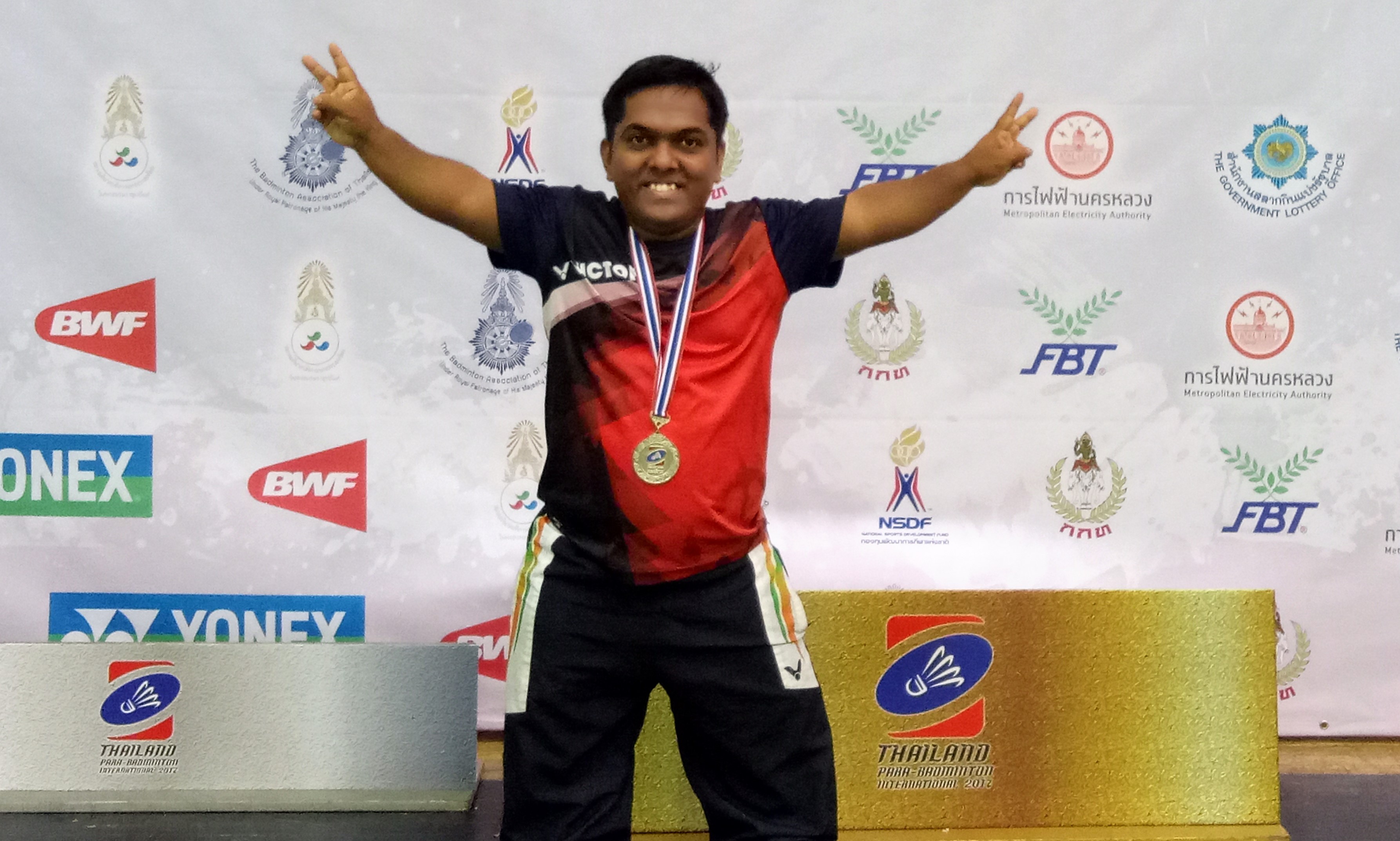 How did Sports happen for this inspiring personality and he speaks up:
Sports in Bandra and especially for the East Indian community has been the driving force. My uncle, Leo Dharmai and his son Floyd have been accomplished Hockey and Football players having played at the Maharashtra State level. They initiated me into Hockey and Football and in my category l am still a very good Hockey player. Could l have carried on with this sport? The answer is an emphatic "No" since there have to be at least 20 similar kids to partake in this activity. So team activities are virtually impossible and that's where Father Evans my mentor who initiated me into the game of Badminton. Ever since l have won accolades for the country and the state.
Managing his expenses has been one of the biggest challenges for this star. Despite having graduated with a degree in Commerce, Mark Dharmai has no full-time job to support himself as the Dwarfs are not so welcomed. His father being a Fisherman keeps the family afloat while his mother takes care of the house. His friends from the Bandra Gym help him out now and then but it could only be of little help to him. Currently, he has a new life coach working pro-bono and a crowd-funding platform to help him sail through his needs.
When it comes to the amount of support that the para-athletes get compared to the regular athletes from the Government, it is absolutely meager and doesn't cater to their necessities. In the end, they don't get proper recognition and their talent is not appreciated. When asked about the love and motivation he has gained out his several triumphs, he swiftly puts out that the joy resides within the family and hardly any appreciation comes from the sports fraternity. He also says that his competitors from other countries are loaded with support from their government, which in itself is a sad story of how we come forward to uplift our sportsmen.
l am very proud of playing for India. I get a lot of respect abroad, all the dwarfs in Badminton are my friends. Badminton keeps me going and I will retain my interest in the game.
quotes Mark Dharmai about his love for Badminton and his pride in playing for the nation. He has won several medals for the country at the international level. Although India is coming up in International Badminton, thanks to the heroics of few national players who made their effort count out in the International front as well, India as a sporting nation is still light years behind the rest of the world. But Mark is still of the hope that sooner or later, these Paralympic stars will get their due recognition.
When compared to regular sports and athletes, Para sports doesn't get the deserved acknowledgment. It is mostly off the radar. But Mark is a man full of positive stature and this is what he had to say:
When they play 50000 spectators come to watch them. I will do this in India one day. I have identified 6 able-bodied dwarfs and we will form an Indian team .My manager has got everything in place but we have to locate the dwarfs who are all over the country but are living closeted lives in their immediate community.
Ask about his one true inspiration in this world and he immediately springs up with the answer and owes it all to his Mumma. He truly believes that if not for her determination he wouldn't have fought his own battle. Sports is not a luxury but it is a necessity and Mark is all thumbs up for this statement and that's why he has set his own company called "The Little Giants" to help out people who are interested in learning Badminton.
Mark Dharmai voices out that sports should become an important part of everybody's life. He says,
Everybody in this country should do sports. Walk, run, train, fitness, health, entertainment, employment, empowerment, sports for education…use it as a tool for developing healthy girls and boys…loop it into yoga.
Looking at Badminton as a prominent sport in India, it has developed by leaps and bounds in the past few years. The major part of this success should be attributed to the vibrant coaches, Pullela Gopichand and Vimal Kumar and their ardent efforts to train the national players towards glory. Mark is confident about reaching the No.1 ranking if he could receive the guidance of such renowned coaches but he is running short of funds to sponsor his coaching.
Dwarfism is not a disability when people like Mark have everything inside them to grow stronger and shine in this world. But all that they lack is proper guidance, support and money. Most Badminton rackets used by professionals cost above Rs. 10000 and the coaching also is quite expensive. With initiatives like Fuel A Dream, Mark has been running strong making his dreams come true.
Let's lend our hand of support and do the little we can to honour Mark and all other Sportstars who need recognition.
The views and opinions expressed in this article are those of the author and do not necessarily reflect the views of our Company, partners and other organizations. While any information provided on our blog is true to the best of our knowledge, we do not guarantee the veracity, reliability or completeness of the information presented. Any advice or opinion is purely for information purposes and should not be construed as an alternative to professional advice.
Comments
comments