If you think of Bangalore as just the tech hub of India, think again. This vibrant city's heart beats not only to the rhythm of technology but also to the pulse of sports and adventure.
There are numerous sporting options and gaming places in Bangalore that cater to enthusiasts of all ages and interests. From traditional sports like cricket, badminton, and hockey to more niche activities like tennis, golf, horse-riding, and aquatic sports, Bangaloreans are never short of options to stay active and engaged.
Bangalore has also become a hub for sports academies started by some of India's most esteemed sportspersons. Take Brijesh Patel, a former Indian cricketer, for instance. He's kickstarted a Bangalore cricket club and academy, all geared up to mentor and nurture budding talents. Well, talking more about cricket, it holds a special place in the heart of Karnataka residents. Just pop over to the Bangalore cricket ground during an international match, and you'll see the massive crowds!
Beyond traditional sports, there's also been a rise in unconventional sports in the city. Adventure seekers are spoilt for choice when it comes to unique experiences. From conquering the heights of Skandagiri and camping atop Nandi Hills to paintball and Play Arena, the options are as varied as they are exhilarating.
So, whether you're an adrenaline junkie or simply looking to break the monotony with your favorite sports games, Bangalore's got you covered with its exciting, offbeat activities. Let's dive into how this city has become the ultimate playground for those who love a good challenge and a dose of excitement!
7 Sports and Gaming Places in Bangalore
In Bangalore, sports and gaming enthusiasts can find plenty of exciting options to indulge in their favourite activities. Here are seven fantastic gaming places in Bangalore that offer a thrilling range of sports and gaming options.
1) PLaY Arena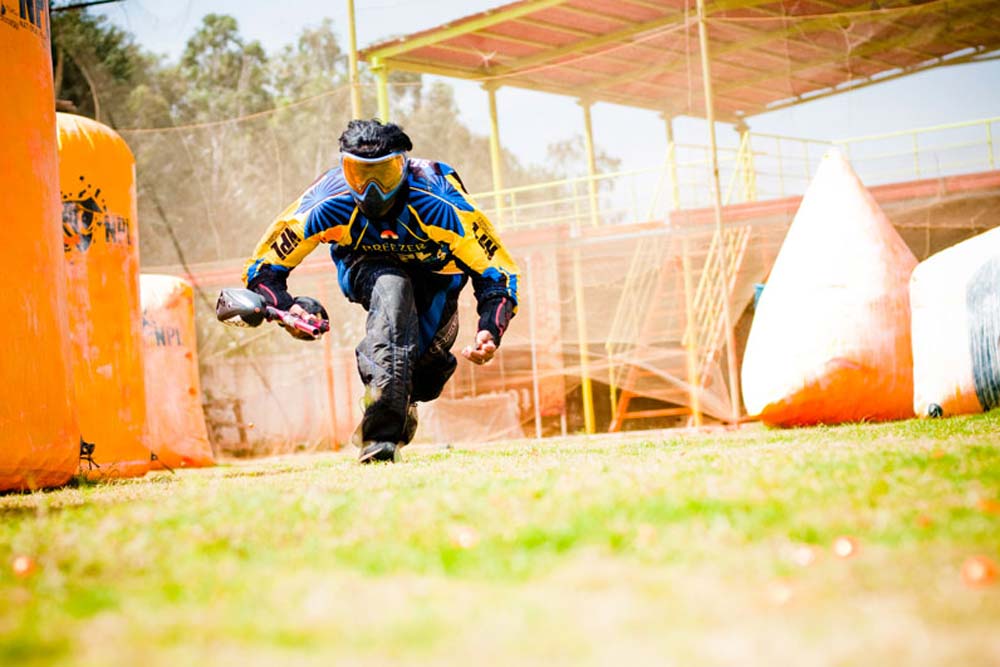 Open all days of the week, 10 am to 10 pm
Looking for a seriously fun outing in Bangalore? Ditch your weekend plans at the Bangalore Cricket Club and check out PLaY Arena at Sarjapur, Bangalore. This place is not just your usual gaming zone in Bangalore. It's an adrenaline-packed wonderland with all your favorite sports and unconventional gaming activities. From heart-pounding paintball to go-karting, from zip lining to water zorbing, laser tag, bowling, rock climbing, target shooting, and even skating – they've got it all.
Feeling a tad conventional? No worries! Dive into a game of cricket, football, rugby, or basketball. And if you're looking for a Bangalore cricket ground to take a break from gully cricket, The Field at PLaY Arena offers that too. This gaming zone in Bangalore is truly a paradise for sports enthusiasts and adrenaline junkies alike.
So, are you game for a weekend that's way beyond ordinary? Head over to PLaY Arena. It's where the fun's at.
2) Games Adda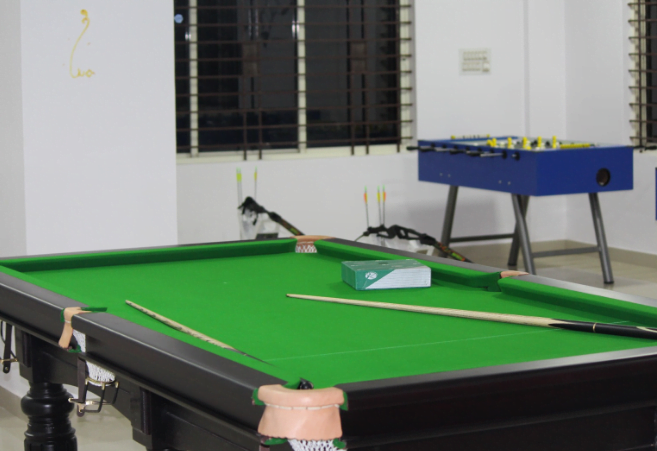 Open all days of the week, Mon-Fri: 9 am to 9 pm; Sat-Sun: 10 am to 10 pm
If you're around Hulimavu, Begur Main Road in Bangalore, and looking for a fun spot, you've got to check out "Games Adda". It's one of the best gaming places in Bangalore, with a jackpot of thrilling sports activities all packed under one roof. Try your hand at archery or smash that puck in air hockey, they've got some really great games for you to try. Oh, and if you're into foosball, pool, or table tennis, they've got you covered, too. Archery and air hocket are charged per game, no matter how much time you spend. And if you're eyeing the other games, they're charged by the hour.
So, there you have it – a gaming zone in Bangalore that's a dream come true for all you sports-loving folks out there. Gather your crew and head on to the Games Adda this weekend.
3) Red Riders Sports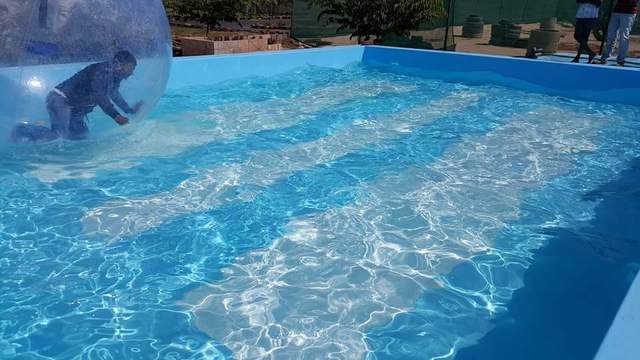 Open all days of the week, 10.30-11 am to 9 pm
If you're looking for a serene haven of sports and adventure in Bangalore, head on to Red Riders Sports. Tucked away from the hustle and bustle of the city, Red Riders Sports near Sarjapur Road is a must-visit if you love all things games and sports.
Sometimes, it's okay to take a break from the Bangalore Cricket Club and indulge in some unconventional sporting activities. And you'll find them all at Red Riders Sports. They've got an epic lineup of sports and activities. Zip lines that'll send your heart racing, ATV rides for the adventurers, and pure fun with water zorbing. For competitive spirits, there is paintball. Or how about trying bungee jumping with a twist – on a trampoline? And if you're all about that need for speed, you can also try go-karting. This place has one of the longest go-karting tracks in South India.
Red Rider Sports is your one-stop shop for all things exhilarating. Head on to this sporting zone in Bangalore for a fun-filled weekend.
4) GRIPS Go-Karting and Bowling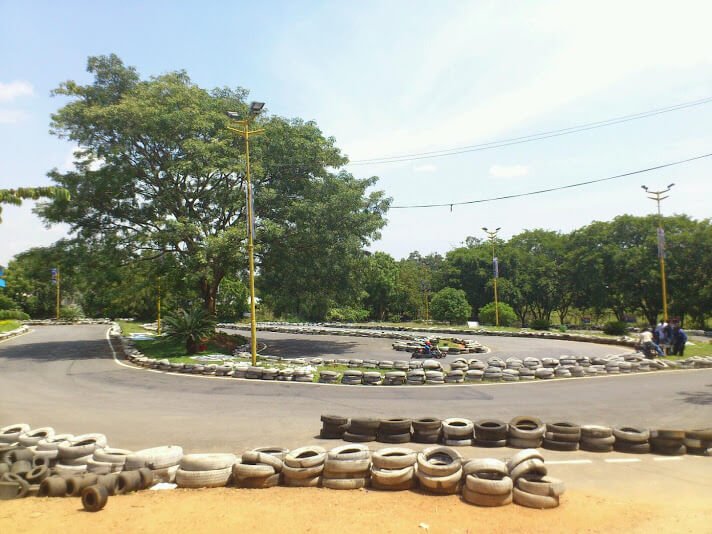 Open all days of the week. Mon-Fri: 10.30 am to 6.30 pm; Sat-Sun: 10.30 am to 9 pm
Tired of the same old cricket sessions at the Bangalore cricket ground and looking for a fresh escape over the weekend? Say no more. GRIPS GoKarting and Bowling, located on Mysore Road, is your ultimate ticket to a day filled with excitement and thrills. And guess what? It's not just the usual – this place cranks up the fun factor with epic experiences that you won't forget anytime soon.
Imagine yourself zooming around on a multi-level track with insane corners at Grips. With over 40 different karts ready and waiting, you can even race under the dazzling floodlights. And when you've got your fill of the racetrack, switch gears and hit their bowling alley. Whether you're aiming for a strike or just rolling for fun, you're in for a good time. This gaming zone in Bangalore also has an in-house cafeteria if your tummy starts grumbling after all that action.
5) Escape2Explore Adventures
Open all days of the week, 24 hours
Looking to switch things up from your regular routine, like hitting the same old Bangalore cricket ground? Check out Escape2Explore Adventures, a hidden gem is nestled in Remco BHEL Layout in RR Nagar.
Imagine this: Rappelling down cliffs, Kayaking through the waters, Paintball wars, ATV Quadbiking that'll get your heart racing, and Go Karting to channel your inner speed demon. You'll find it all at Escape2Explore Adventures. But hold on, there's more – they've also got a bunch of awesome treks and activities lined up for every single weekend.
Escape2Explore is not just an adventure or gaming zone in Bangalore – it's THE adventure hotspot. Whether you're seeking that adrenaline rush, craving some nature time, or just want to escape the mundane, this place has got you covered. So, head to Escape2Explore and make some memories that'll have you grinning ear to ear for days.
6) IPlay Bangalore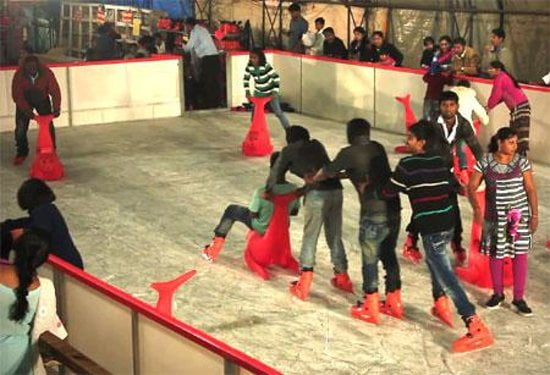 Open all days of the week, 11 am to 9.30 pm
If you're looking for something interesting to do this weekend, this one's for you. Head over to Iplay, a winter sports venue located inside the Phoenix Marketcity Mall in Whitefield, Bangalore. It's where you can dive into various activities, such as ice skating and ice sliding. And here's the kicker: They've got some high-tech wizardry straight from the Netherlands to keep that ice at sub-zero temperatures. That means you're in for a truly cool experience – literally!
So, if you're ready to trade your regular outings for a chill adventure, head over to this icy hotspot at Phoenix Marketcity Mall.
7) Urban Valley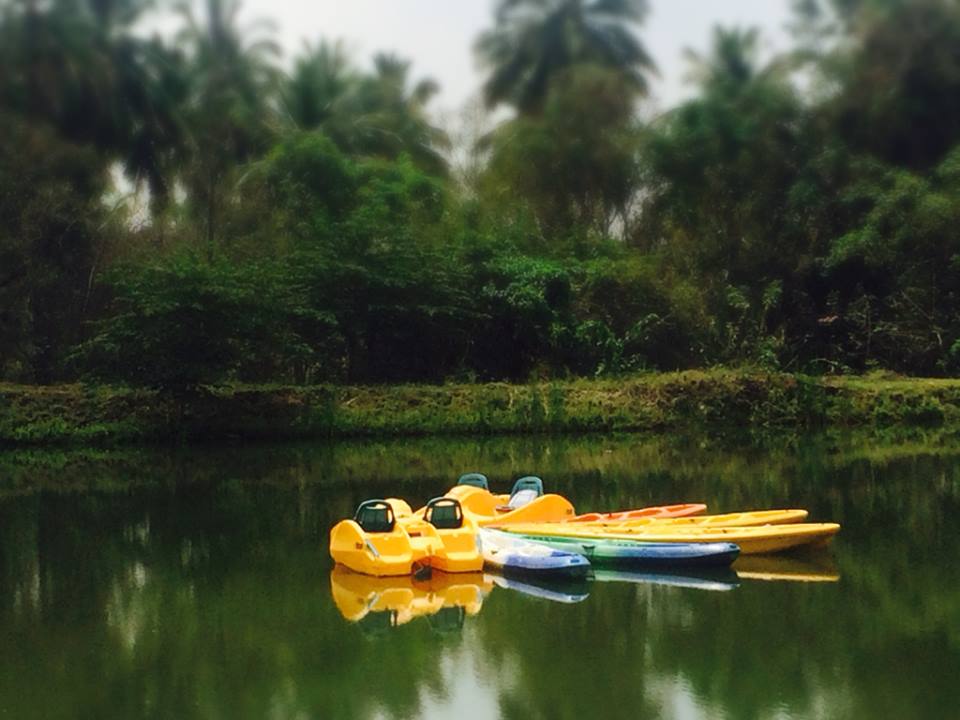 Open all days of the week
Urban Valley is the weekend haven you didn't know you needed. Perfect for those epic team outings, fun-filled family getaways, or just hanging out with friends. Nestled in the peaceful Vaderahalli Village, this spot has an insane lineup of activities. Craving some adrenaline? Hop onto an ATV ride or zip across the trees with their zip-lining experience. Maybe something more tranquil? Glide through the water with kayaking, or pedal around in their boats. And if you're in the mood to challenge your friends, they've also got paintball and rope activities.
If that's not enough, you can also try out some classic games like volleyball, carrom, foosball, hula hoops, dartboard, and good ol' tug-of-war. And, as the cherry on top, you can boogie down with their rain dance session. Sounds like a blast, right?
How do I choose the right place to play fun sports?
To find the ideal destination for sports and games in your city, it's important to take some factors into consideration –
1. Age-appropriate places
If you're looking to engage your children in sports, search for parks with playgrounds and sports institutes with junior leagues. For adults, there are always more options in terms of sports and games. Gyms, fitness centers, and local clubs often offer programs tailored to different preferences. Adults can also consider joining cricket clubs, or visiting any of the above-mentioned places for unconventional games.
2. Budget-friendliness
Bangalore has many public parks and playgrounds that offer free or low-cost sports opportunities. You can also find a good Bangalore cricket ground in almost every locality.
If you're looking for gaming places in Bangalore or sports institutes to join, go for places that offer affordable membership plans. Some sports clubs have special promotions during certain times. Research and inquire about any ongoing deals.
3. Group vs individual activities
If you're a social butterfly who thrives in the company of others, group activities might be your jam. Look for places that offer team sports like basketball, soccer, or volleyball. On the flip side, if you enjoy setting your own pace, individual activities could be your go-to. Think about places that cater to solo workouts like jogging tracks, cycling routes, or even serene yoga studios. This way, you can focus on your personal goals without any distractions.
Things to Remember when Participating in Fun Sports
Fun sports are a great way to stay active, meet people, and have a blast in your free time. But before you start, let's run through some important pointers to make sure you're in for a safe and enjoyable experience:
Warm-up and stretch: Always start with a proper warm-up and stretching routine to prepare your body for physical activity.
Use appropriate gear: Depending on the sport, use the right gear such as helmets, pads, appropriate footwear, and protective clothing.
Know the rules: Familiarize yourself with the rules of the sport you're participating in. This not only ensures fair play but also prevents misunderstandings and conflicts during the game.
Stay hydrated: Drink plenty of water before, during, and after playing.
Listen to your body: If you feel pain, discomfort, or fatigue, take a break. Pushing yourself too hard can lead to injuries.
Understand your limits: While it's good to challenge yourself, avoid attempting advanced moves or techniques before you're ready. Gradually progress as you become more confident and skilled.
Stay updated on weather conditions: If you're playing outdoors, keep an eye on the weather forecast. Avoid playing in extreme conditions like heavy rain, lightning storms, or excessive heat.
Focus on safety: Safety should be a top priority. Be aware of your surroundings, avoid dangerous plays, and follow safety guidelines provided by the facility or organization.
Wrapping Up
As you can see, Bangalore's sports scene is livelier than ever. The city boasts numerous venues where you can break a sweat, have a great laugh, and enjoy wonderful game experiences with your friends and family. From bowling, ice skating, and go-karting to a lively game of cricket at the Bangalore Cricket Club, Bangalore has something for everyone.
If you're looking to start your sporting adventure, jump onto PlayO. It's the perfect partner to help you connect with fellow players, discover cool venues, and refine your sporting skills. With PlayO, you can manage all your sports activities seamlessly.
So, gear up, Bangalore! Let's beat the ordinary. Download PlayO today.