Elizabeth Koshy is the Assistant Commandant of Kerala Police. But she's better known for the medals she's secured for her state and country in the sport of, wait for it, shooting. For Playo, the 3 times National champion keeps her gun down to talk about a life of discipline and shooting.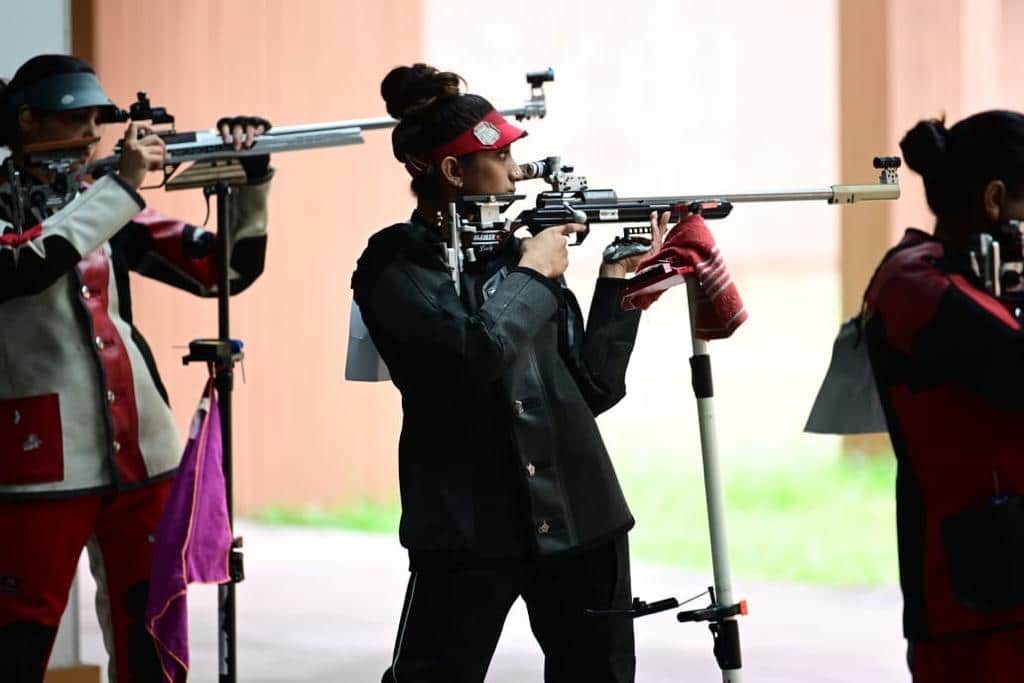 How did you get into this sport?
My grandfather used to hunt in the olden days and my father was an executive member at the Idukki District Rifle Club which happens to be very close to our house in Thodupuzha. So I had always been exposed to air guns and shooting in general. Around the time I was 10, a pre-national event was happening in the club where several accomplished shooters had come down to participate. I tagged along with my dad and was quite fascinated by the competition-level guns, as opposed to the air guns I had seen at home. Upon getting home my dad asked me if I wanted to try this sport and I instantly said yes.
What was your initial training like?
My dad took me to the club the next week and enrolled me in. My first coach, Suresh, taught me how to hold the rifle, the right hand placements, the grip and all the other basic stuff. After a few days of holding, he let me fire the gun. If you don't have your own gear you'll have to share which means you won't be able to make adjustments to your preference. As I proved my ability and interest in the sport, my dad bought me a rifle, jacket and all the other required gear.
As far as shooting is concerned, how does the selection process go?
I started training with open sight rifles, which is your basic wooden rifle. The open sight competition goes till the nationals, which is the pre-nationals event for the peep sight rifle competition. I qualified district, state and nationals for open sight within a year and ranked 4th in India, if I remember right. This caught the attention of a few other coaches who approached my dad and requested him to enroll me in peep sight training.
Would you say shooting is an accessible sport?
Shooting is a sport that is quite expensive. Especially for .22 events which I specialize in, the pellet alone costs at least around Rs.28-30. Someone training actively fires about 100 bullets a day, which would mean they'd have to spend almost 3000 a day. This is not affordable for most middle-class families in India. This is also why majority of the shooters in India stick with air rifles and air pistols, which is comparatively easier on the pocket. So, unless you reach a point where you have sponsors, you would need to invest a bit into it.
What happens once you land on a sponsor?
Having sponsors like the Olympic Gold Quest back you up is a completely different experience. So they allot a yearly budget for each of their players which can be used for travel expenses, gears and such. They have their own team of physiotherapists, mental health experts, diet experts and so on. But to get them on board, you have to prove yourself. The first time they approached me, I had already been the national champion for three consecutive years.
Being a woman in a sport that is largely perceived as masculine, what was your experience like?
My family was very supportive of my interest in shooting and they always told me not to be bothered by what anyone else said. That's all I wanted. But to address your question, there are many (women) who face problems but the recent years have shown a very progressive mindset from people in general. In fact, there are more women coming in this sport these days and showing more promise than men. For the recent national trials that happened in Bhopal, women have done the 50m better than the men.
Most people learned about shooting as a sport after Abhinav Bindra won gold in the 2008 Olympics. Did that change how people perceived this sport?
Only after Abhinav won the medal did the people around me start noticing and asking me what I was doing. I must have been in the 9th or 10h at the time and had been training. His medal made a lot of shooters compete in the air rifle and pistol category. From the usual 600-800 entries in the nationals, it went to 3000-4000 the very next year.
What would you say the support from the government is for this sport?
Shooting is not exactly a spectator-friendly game. But there are more entries now and associations and clubs are making it better every year. There is better equipment, more screens for the shooters and spectators to see the score as opposed to one. This makes the game more transparent and easier to understand for the general public. So it's definitely improving.
Since shooting is a major part of your life, how has it helped in shaping you into who you are today?
Shooting taught me that timing is very important in life. If you get distracted for just one second, you'll lose the game. This requires you to be disciplined and orderly. This in turn helps you be mentally and physically fit.
How does someone get into this sport?
I get a lot of messages from interested youngsters asking how they can get into shooting. I always ask them where they reside first. The first step is to join your respective district club. But not every club has the best facilities or the best coaches. So I ask them to get their basic training from where they can first and then opt for the better clubs.
What do you have to say to the young shooters who want to enter this sport?
Be disciplined, persistent and hard working. Make sacrifices, give your all into what you love and forget about the result. Because the result would automatically follow and I am very sure of it. I have seen it happen to me. I worked hard, revised my techniques after each shot. And it paid off.
You're the assistant commandant of Kerala police, you help your mom run her clothing line and you're a full-time mother. Do you have plans in the future to train for the Olympics?
I stopped training after my daughter was born; I wanted to give her my full attention and get back in shape. I started training again in January and even took my daughter to the range the other day. I am glad she's familiar with guns now.Â
We wish Elizabeth Koshy the very best for her future and hope to see the star in the Olympics!