SPORTS RESOLUTIONS | When you know the new year is coming, you know you have to make a brand new set of resolutions. This might include the ones you couldn't keep the previous year or something that you want to try out for the first time in your life. There are various kinds of resolutions. The ones that you can keep every day, the ones that enter the bucket-list, the ones that can be upgraded, the diet resolutions and finally, the one we love the most – "Sports Resolutions".
What is "Sports Resolution" all about?
As simple as it sounds, it's about the resolutions that involve sports. It could either be to learn a new sport or to improve your skills in a particular sport or to play sports regularly. So any resolution that is based on sports as a core idea comes under this category. Leisure sports is gaining immense popularity among the crowd and drawing the needed attention. People make it a point to get better with what they know with every passing year. They track their progress and improve their skills, making sports a daily ritual of fitness.
These 5 people have made their "Sports Resolution". Are you doing it too?
Shivi Bhatt, a Senior Software Engineer at PowerSchool LLC feels that she should start playing more of Badminton. Goal is to bring down her weight the coming year. She is looking forward to reducing at least 8-10 kg.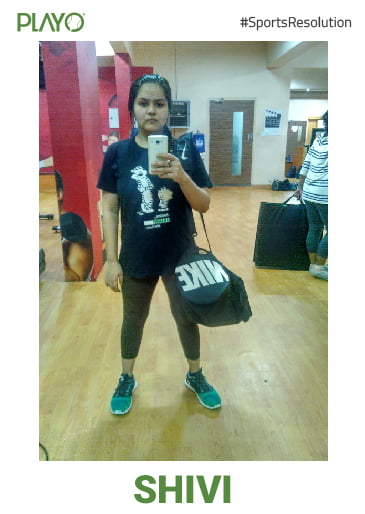 In 2016 I was Obese, intermittently I use to fall ill with a cold, cough and pain in the legs. It was a totally unhealthy lifestyle. Now after constantly playing Badminton and working out, I have lost tremendous weight. I am still working on losing more weight in the coming year. I love playing badminton. It is a very good exercise and a good substitute for cardio and for healthy heart and it keeps the body active. My next resolution is to beat my self and reach the goal of being more fit and sports-active in the coming year.
2. Jay who is working as a Tech Lead in Mobile Communication domain was looking for an alternative physical activity instead of gym workouts in 2015. That's when Badminton happened to him.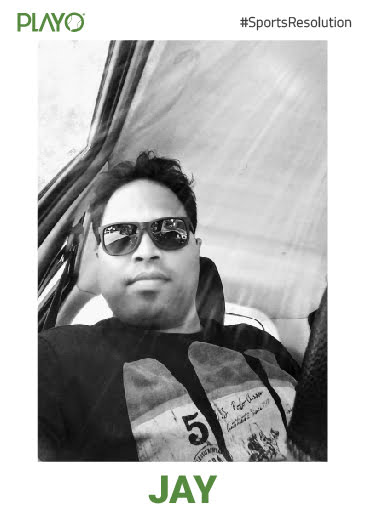 Its all started at the end of the year 2015. I was seriously looking for an alternative to the Gym workout, as I started losing my interest in it. One of my colleagues asked me for a ride to a badminton court nearby office. After reaching the badminton court, he asked me to join for few games as one player was joining late. I was playing in my formals and after one game I was completely in sweat. I found it really interesting and immediately it struck my mind as a perfect alternative for gym workout. From the next day onwards I joined my friends for the games and this is how it all started.

However because of players unavailability, games were not regular. Then I did a web search and found Playo app and trust me, now I have more than 400 playpals. Because of Playo I got some really good regular players and because of this I get to play badminton daily. Even if you don't have players you can always host a game and get players. When I started playing the sport, I wasn't even aware of the basics of the game. I joined Playo as a beginner.
Today what all I have learned, I have learned it all by playing with other players and watching some Youtube Badminton tutorials. Thanks to all advance and higher intermediate players who gave me an opportunity to play and learn from them.

Badminton is a fun and exciting sport to pick up if you're looking for an activity that boosts your physical, mental and social aspects of health.
It's a great stress reliever too and you get 100% payback for the time and money you spend on this.

For all beginners,
Kindly try watching as much as badminton game possible on Youtube and try to learn the shots.
To avoid injury, make sure to do the warmup before the game (Ideally, you should break into a sweat before entering the court) and cool down/all muscle stretching after the game.
Have a positive attitude towards the game [most of the game is determined by your attitude] Lastly, practice a lot.
Jay is looking to move into the new year with a lot more of Badminton and less of other kinds of workout because why hit the gyms when you can play Badminton?
3. Amit is yet another sports enthusiast who can't wait for the new year to begin. Here's what he is planning on doing the coming year.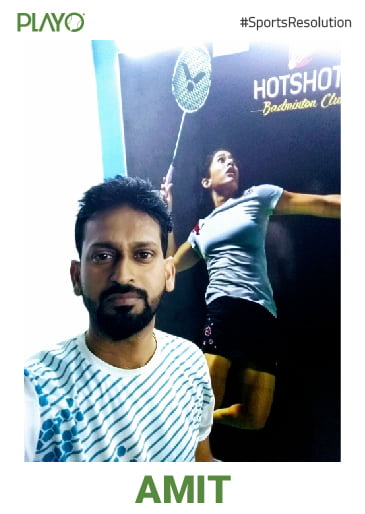 Sports keep me fit and energetic and help me look younger as well. My New year resolution is to play at least one-hour of Badminton daily which gives me passion, better immunity and sense of achievement.
4. Rajesh A.K.A JK is not just like any of us. While most of us opt for Badminton and Football, his vision for 2018 is all about mastering the sport of Archery.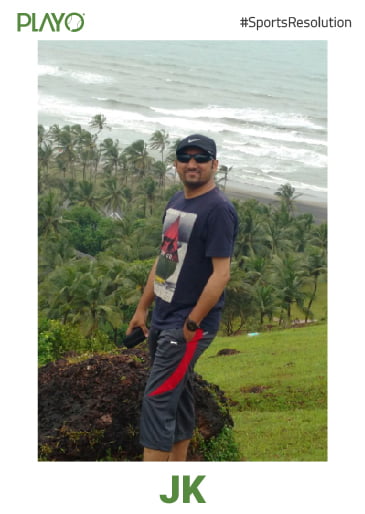 I want to be proficient in Archery in the new year. I would also like to try my hand at other sports like Shooting, Volleyball and Bowling.
5. Here's Kamal, who feels that Badminton is one of the best sports he has ever played. He stays fit through Badminton and he wants to keep doing it.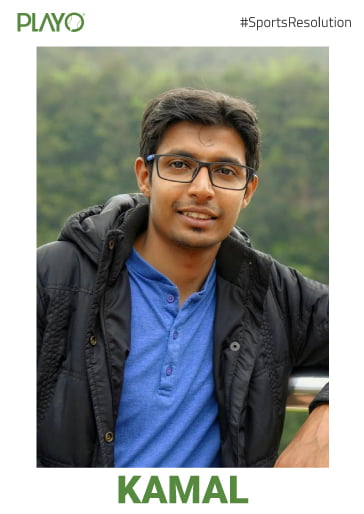 I am looking forward to playing Badminton on a regular basis. I tried doing jogging in the morning but then I couldn't continue with it, maybe because I wasn't motivated to do it or I was less enthusiastic about it. As I started playing Badminton regularly, I realised that this is something that I enjoyed doing and I continued with it. It is also helping me to stay fit. Next year, I want to be regular in playing Badminton so that it will help me stay fit and meet new people as well.

Currently, I manage once or twice a week, but I'm planning on doing it every alternate day. It is a huge stress buster because whenever I am loaded with work, I book a court late night after office and play with my friends. Initially, I used to be bad in Badminton but after playing continuously for a long time now I've become an intermediate player. If you keep practising then you can improve your skills.
People like you are planning on taking sports as a serious resolution for the coming year. Are you ready to do the same? Let us know how you would like to sport-up your 2018.
FOLLOW US ON INSTAGRAM YOU PLAYOHOLIC!