"Winning is an important thing, but to have your own style, to have people copy you, to admire you, that is the greatest gift." – Johan Cruyff
If you're a footballer who plays in advanced attacking positions, you may have encountered several tricky scenarios where a defender manages to mark you into a tight spot. The 'Cruyff Turn' is an effective and unpredictable trick to escape your marker. It comes with the added bonus of embarrassing your marker and claiming bragging rights over your mates.
What is a Cruyff Turn?
The Cruyff Turn is a popular football move named after the late Dutch legend and 'Total Football' proponent, Johan Cruyff. To perform the turn, Cruyff would look to pass the ball and instead of kicking it, he would drag the ball behind his planted foot with the inside of his passing foot. Then he'd twist around and accelerate away from the defender.
Johan Cruyff pulled off his signature move for the first time in a goalless draw between Holland and Sweden in the group stage of the 1974 World Cup. Just 23 minutes into the fixture when he was being tightly tracked by Swedish defender Jan Olsson, and facing his own goal, Cruyff suddenly pulled off an astonishing 180-degree turn. He left his marker (and the world) bewildered with his silky smooth skill. Olsson's panic as he tried to stay in control of his own feet immediately went down as an iconic piece of football history. Every footballer, whether on pitch or playground, has tried to recreate the audacious move since.
As Jan Olsson himself put it, "I played 18 years in top football and seventeen times for Sweden but that moment was the proudest. I thought I'd win the ball for sure, but he tricked me. I was not humiliated because I had no chance. Cruyff was a genius."
How to perform the 'Cruyff turn'?
Position the ball within striking distance in front of you and shape your body as if you are about to kick the ball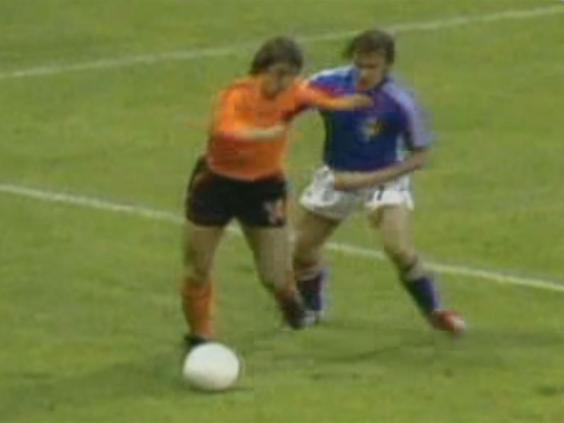 Instead, stop your foot over the ball and drag the ball behind your standing leg while simultaneously turning your shoulders.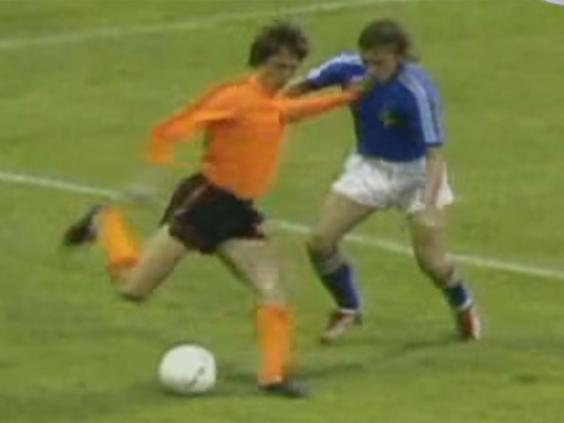 Turning your hip towards your marker, twist your body 180 degrees. Shift your weight to the other foot and aim to run away at top speed to evade the defender.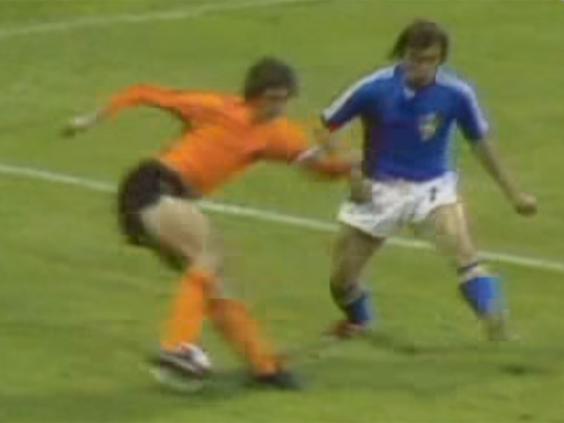 Your marker will follow your feint/fake pass and lose time as he recovers from his mistake. Meanwhile, you're off on the attack after performing a successful Cruyff Turn!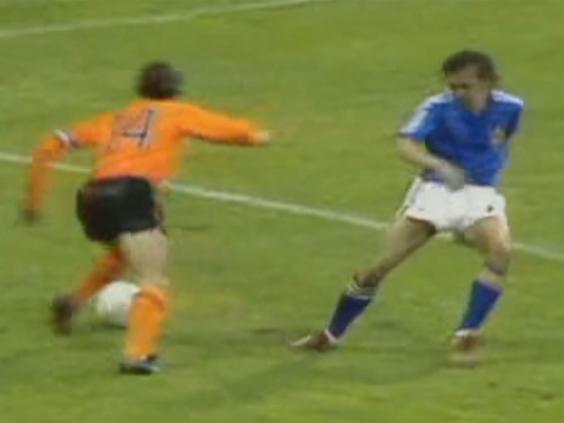 Cruyff and the aftermath of the 1974 World Cup:
Cruyff led the Netherlands to a runners-up medal in the 1974 World Cup and was named the player of the tournament. With his team's mastery of Total Football, they coasted all the way to the final where they, unfortunately, fell to West Germany. He is widely considered as one of the most influential figures to grace the beautiful game with his legendary playing and coaching spells. He was a coach at Ajax, Barcelona and the Dutch National team. Cruyff died at the age of 68 on 24th March 2016 after a battle with lung cancer.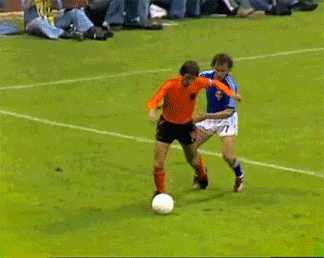 FOLLOW US ON INSTAGRAM!