Badminton is a beautiful sport and with India's recent success, a lot of people have taken it up. For beginners, stringing your racket with a good quality string is essential for it optimizes feel, durability and repulsion power. So make sure you purchase the best badminton strings from the store. In case someone wants to take the game seriously, it is advised to be particularly choosy about the string because string tension and type of string shall affect your performance. As a rule of thumb, high tension will give you more control but will reduce power (more swinging power needed). Relatively less tension will add power to hit but will reduce control.
String tensions can be like:
Beginners:18lbs – 22lbs
Intermediate player: 22lbs – 24 lbs
Advanced Players: 25lbs and up
Here are the top strings:
1) BG65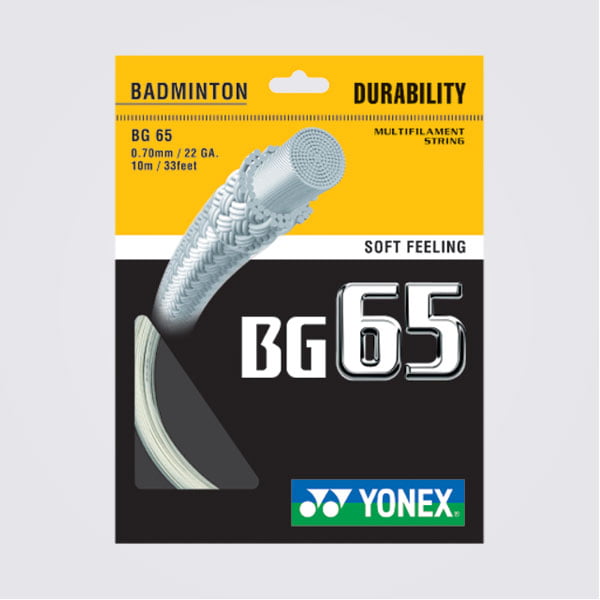 The 1st name that strikes mind when talking about badminton strings is the BG-65. It offers excellent performance for pros and amateurs alike. Its specially braided fiber ensures a durable soft feeling for lesser stress on the wrist when performing powerful shots. As a top choice for many players, it is hard to go wrong with this string.
2) BG65Ti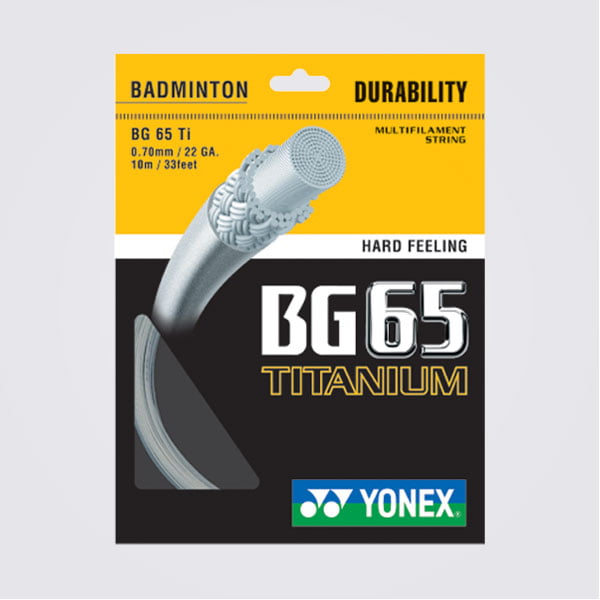 Coming from the same family, this string is also quite widely used and works across levels of players. The only difference is the feel of the string, which delivers a hard feeling from the titanium hybrid coating to provide a sharp but comfortable feel. This string works great for improving control, especially for hard hitting players.
3) Nanogy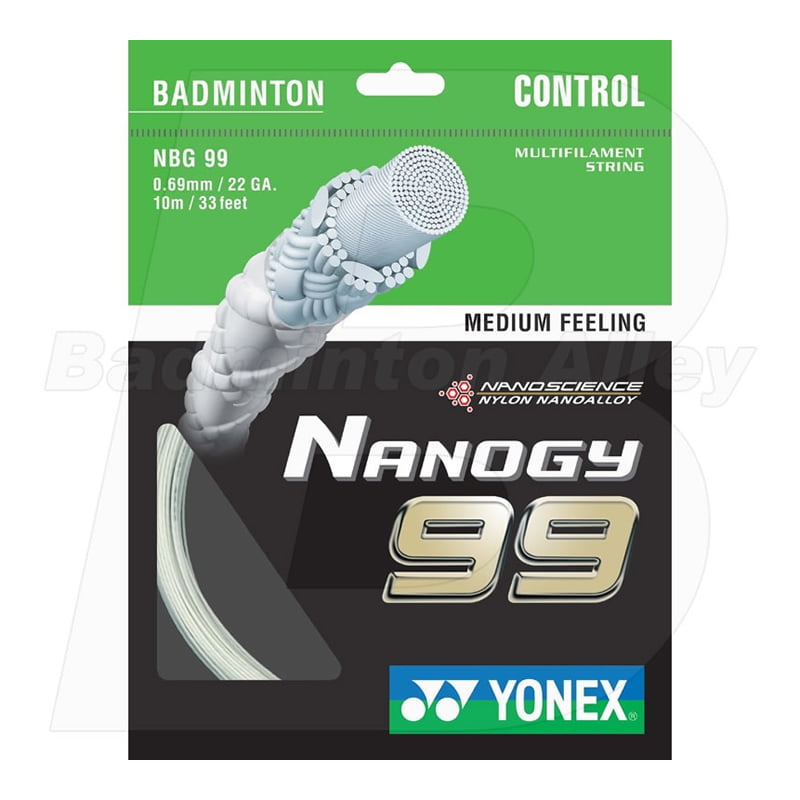 One of Yonex's top selling products in the Badminton strings, Nanogy is a perfect string for strong smashers. Attacking play puts string to extra work and hence, generating power isn't the easiest unless one hits from the sweet spot. Nanogy helps with the same and provides good power.
4) BG66 Ultimax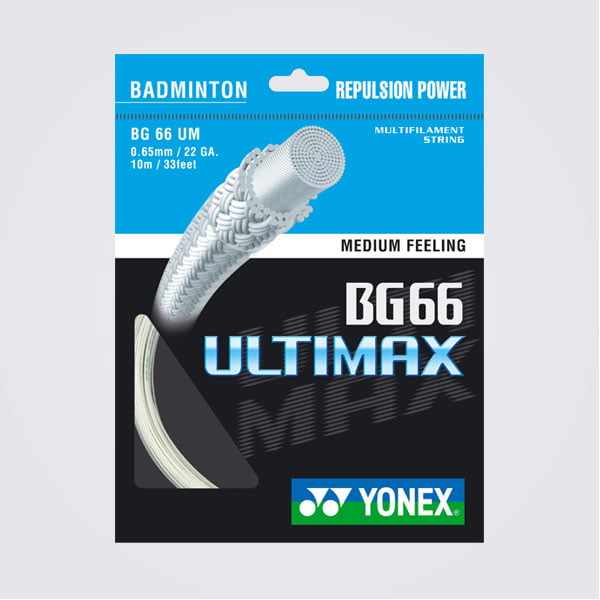 Though it possesses lower durability, the string helps with exceptional power delivery. Providing a medium feel for serious players, the BG66 Ultimax is favored by many who love excellent repulsion power in a string.
5) Aerosonic/ BG85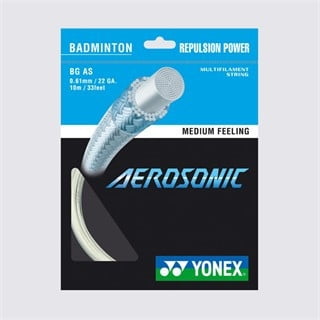 Some people love the sound of their shots. This is just for them. Although people relate sound a lot to how the connection was with the shuttle but these string enhance sound and are said to be producing hard hitting sounds.
6) Zymax 67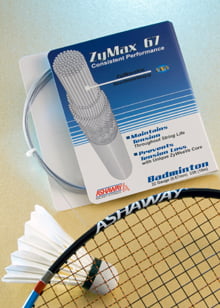 Providing easy stringing and holding tension well, ZyMax finds itself in the list of favorites of leagues of badminton players for these reasons. It serves as an inexpensive alternative for those who want an accessible string whose tension lasts long.
7) BG70 Pro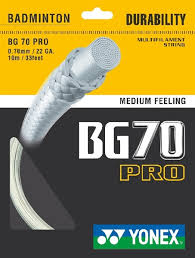 As you move towards professional badminton, you might be tempted to move to a BG70 Pro. Geared towards professional and advanced players who play at high tension, this string is made to facilitate the best control possible.
This string just doesn't provide control, ensuring accurate drop shots but is used tightly, can also help produce great power in sacrifice of some control.
8) BG80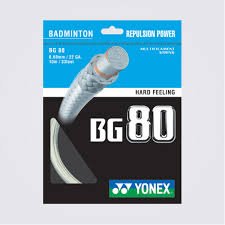 Players who love to keep their opponents on the backfoot find the BG80 string reliable, as it delivers high repulsion with a hard feeling. Featuring multi filament material, the advanced material gives players a string with a strong core for great tension holding ability.
9) NBG95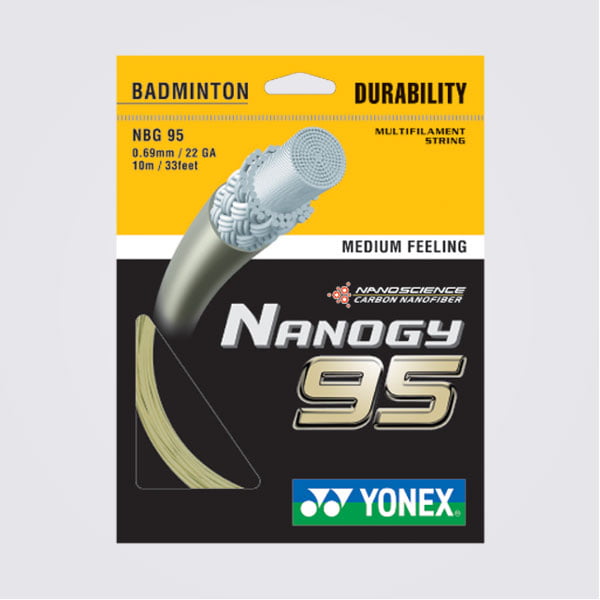 It is designed to suit players with quick feet. The string offers exceptional speed and durability.
In addition to the strong durability, the string also provides for a strong repulsion, suiting a select set of professional players.
10) Ashway ZyMax 65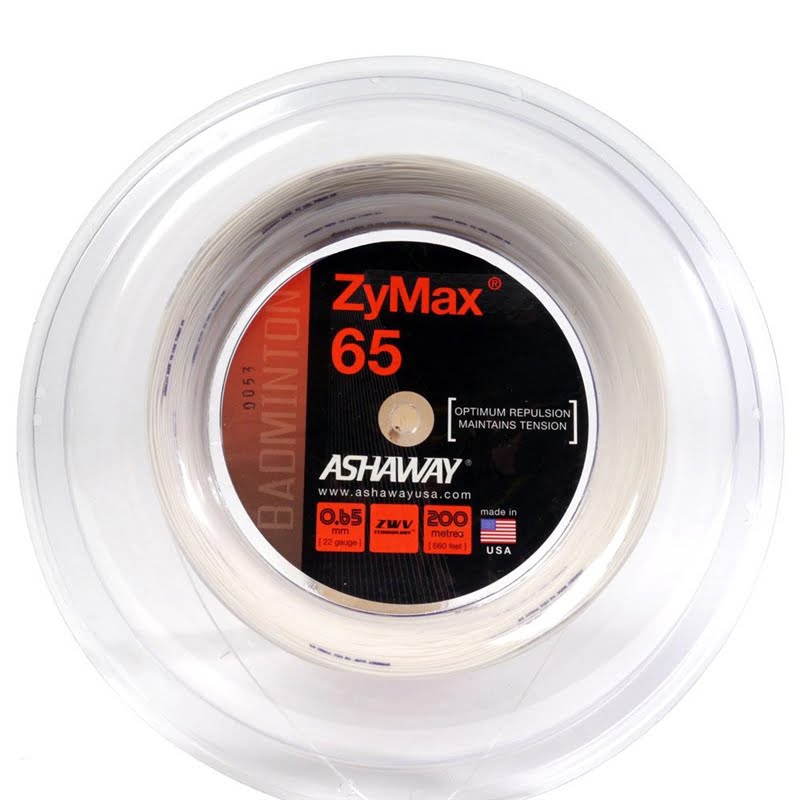 An upgrade of the ZyMax line, Ashway ZyMax provides string coating without the waxy feeling.
It allows for a highly repulsive string bed, with thin strands that do not stretch at high tensions.
Furthermore, the string delivers exceptional control coupled with a metallic, powerful sound when striking to make for a unique combination.
Also read: 10 Badminton Rackets You Can Buy Under A Budget Of 1000 Bucks
30690 views
The views and opinions expressed in this article are those of the author and do not necessarily reflect the views of our Company, partners and other organizations. While any information provided on our blog is true to the best of our knowledge, we do not guarantee the veracity, reliability or completeness of the information presented. Any advice or opinion is purely for information purposes and should not be construed as an alternative to professional advice.
Comments
comments