These football cool down stretches are exactly what you need after a game of Football. Never miss cool down!
As important as Warm-ups are before the start of the game, so are the cool-downs after the game ends. Cool-downs ensure that your body temperature doesn't shoot up and is stabilised post-match.
Most of us don't concentrate much on cooling down after the match as we consider it done. But you should know that you are missing out on something really important and avoiding it puts your body under a lot of stress. Football is the kind of sport that keeps you on your heels full time which means your breathing-rate also increases.
As your breathing-rate shoots up during the game play, you need to bring it down to the standard, post-match. The average respiratory rate for adults is around 12-20 breaths per minute. So anything above that is considered unusual and has to be normalized. To stabilize your breathing rate, breathe-in and breathe-out for at least 3 minutes. Once your breathing is stabilized, you can proceed with the other stretches that help in muscle recovery.
Stretching out after the game relieves two most important effects:
Muscle Fatigue
Increased Heart-rate and Breathing-rate.
It is better to stretch right after the game is over and not later. Also it is good to keep the cool-down exercises very simple and not strenuous enough to cause more fatigue on the body. Here are few basic stretches you can do after a chilled-out game with your buddies.
Shoulder Stretch
Take your right arm stretch it and lock it inside your folded left arm. Now stretch your right shoulder by pulling your right arm closer to the chest with the locked left arm. Hold this for 15-20 seconds. Then Switch your arms and repeat the same steps.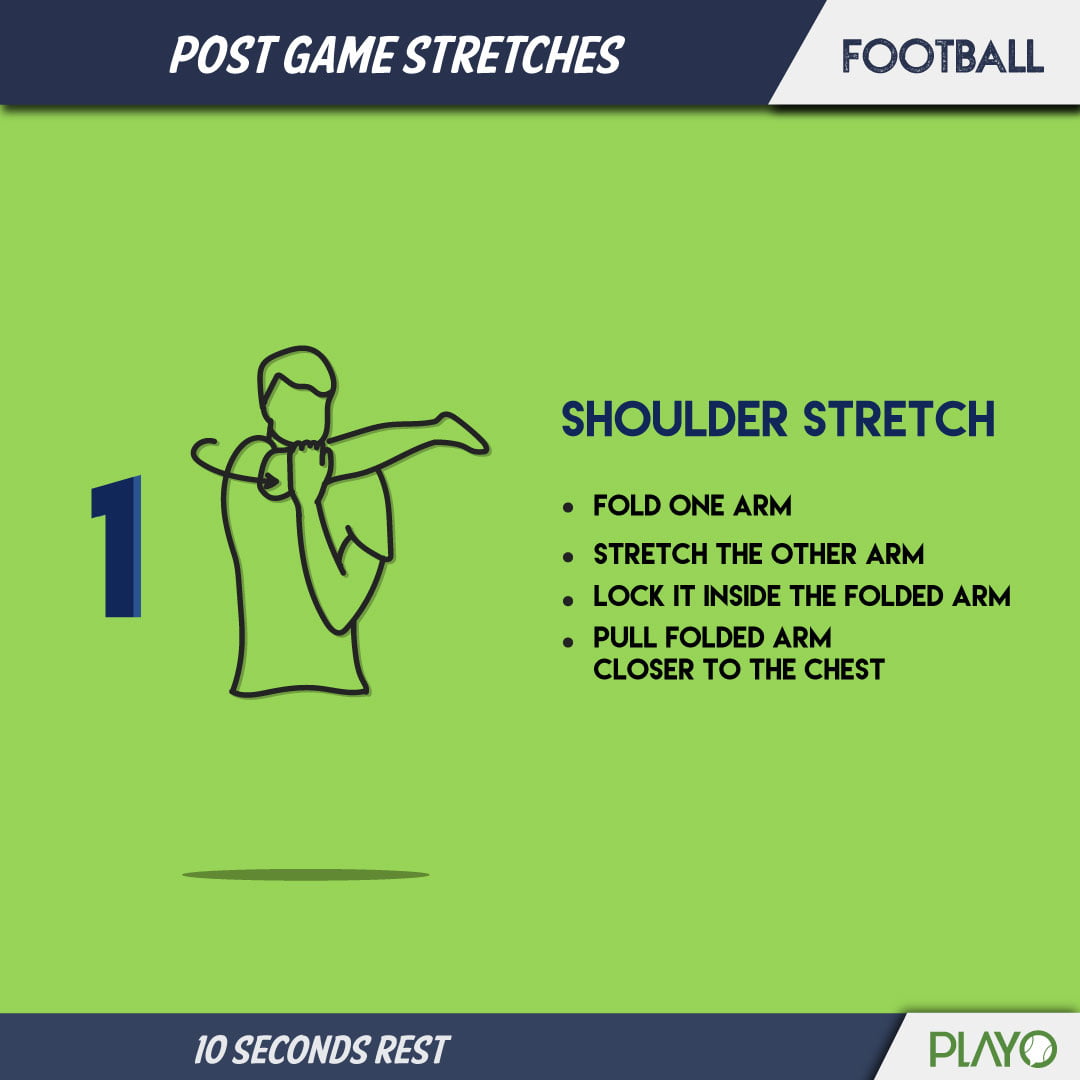 You can check out the Youtube tutorial by clicking on this link : Shoulder Stretch.
Torso Stretch
Stand straight in a relaxed manner. Fold your right arm behind the head and hold the left elbow. Likewise fold the left arm and hold the right elbow. Now pull the elbow of one side with the arm of the opposite side such that it stretches your entire torso and the hip. Hold it for about 10 seconds and repeat the step on the other side.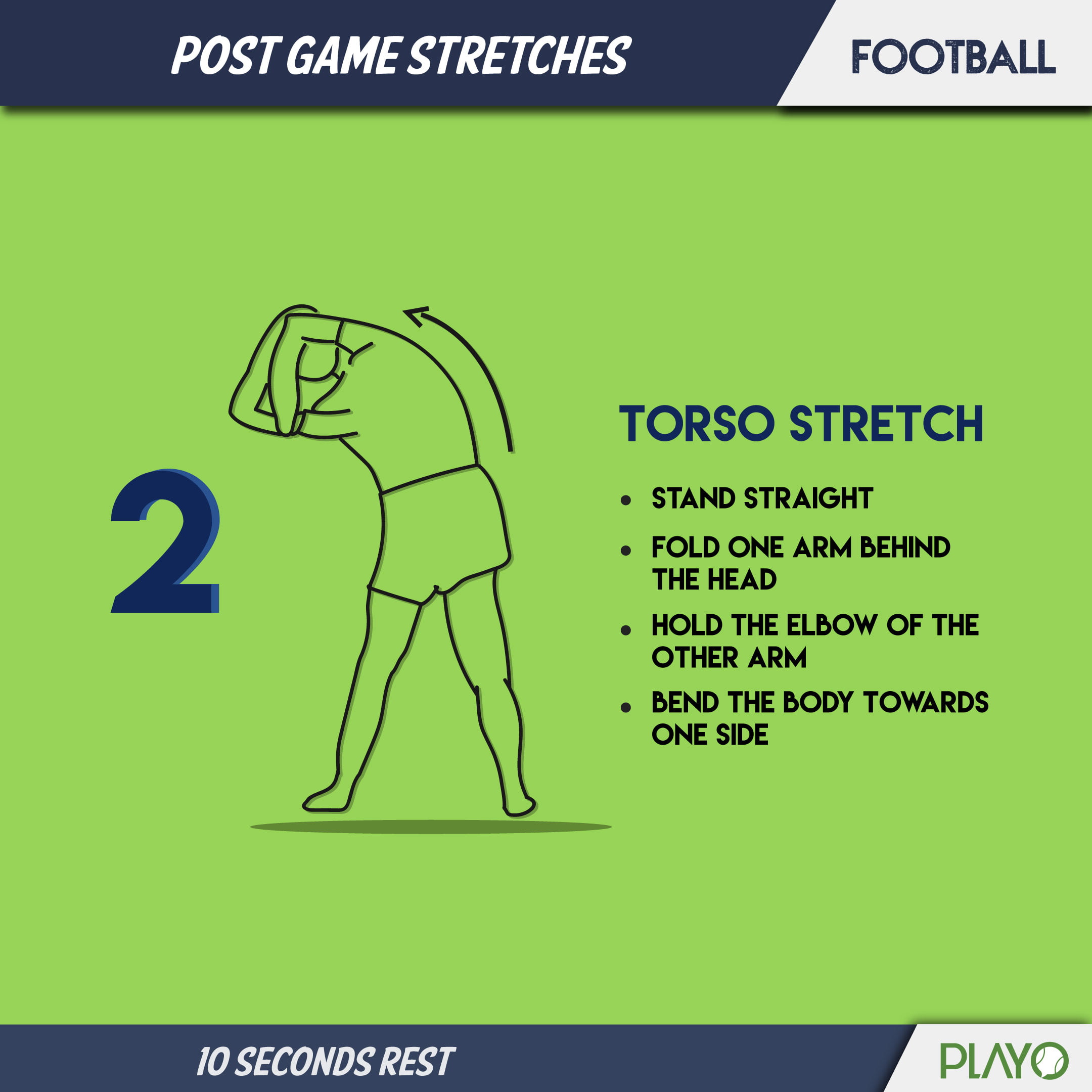 Neck Stretch
Lie down on the ground facing upwards. Bend your knees. Fold your arms behind your head and clasp them using your fingers. Rest your head on the Palm. Now push your head forward such that the neck bends while the back rests on the ground. Stay in that position for 5 seconds after which you need to repeat the steps again.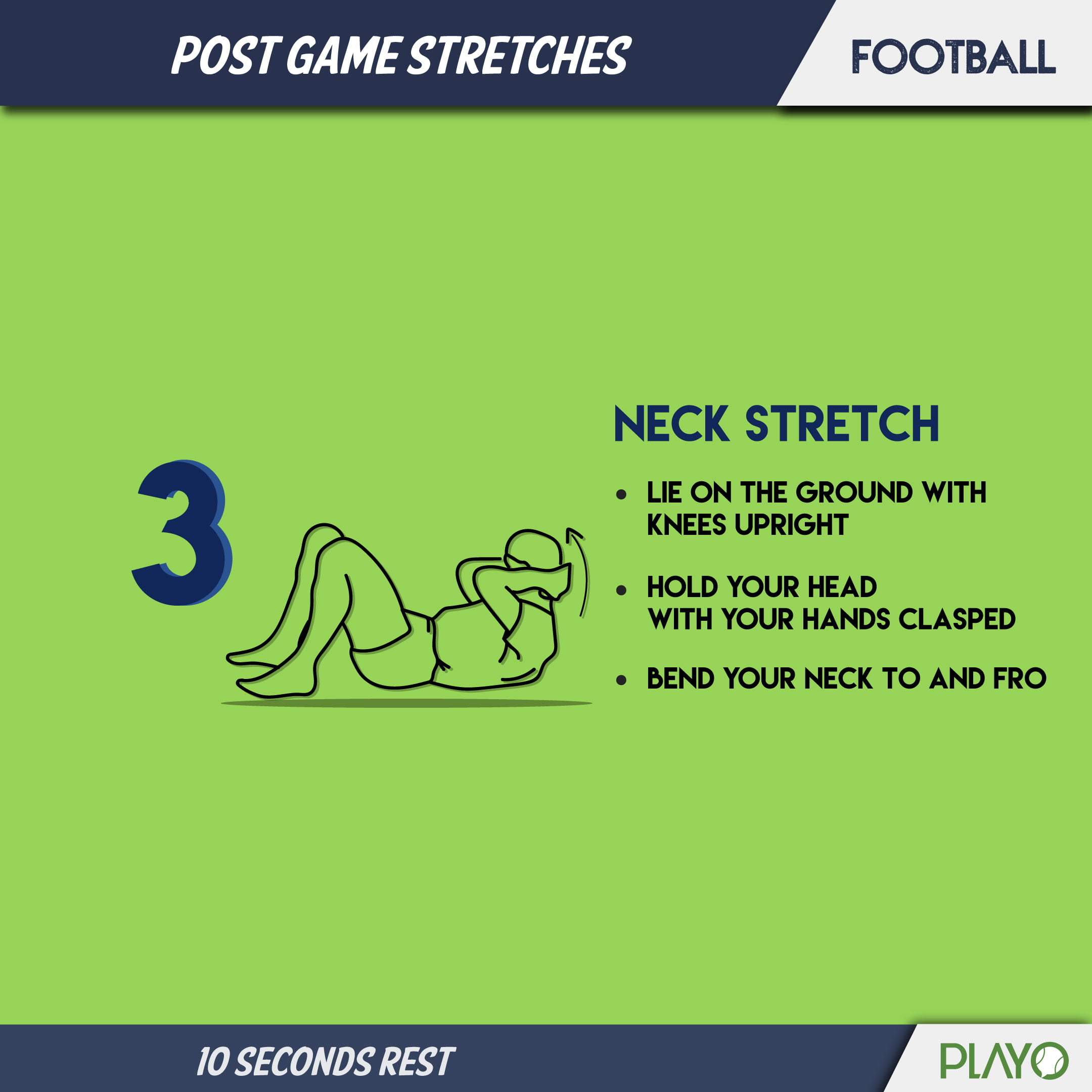 Quadriceps Stretch
If you need balance you can hold on to some support. Stand straight and fold your right leg. Use your right arm to hold your leg and press it closer to the buttocks. Hold it for 5 seconds. Now repeat the same on the left side.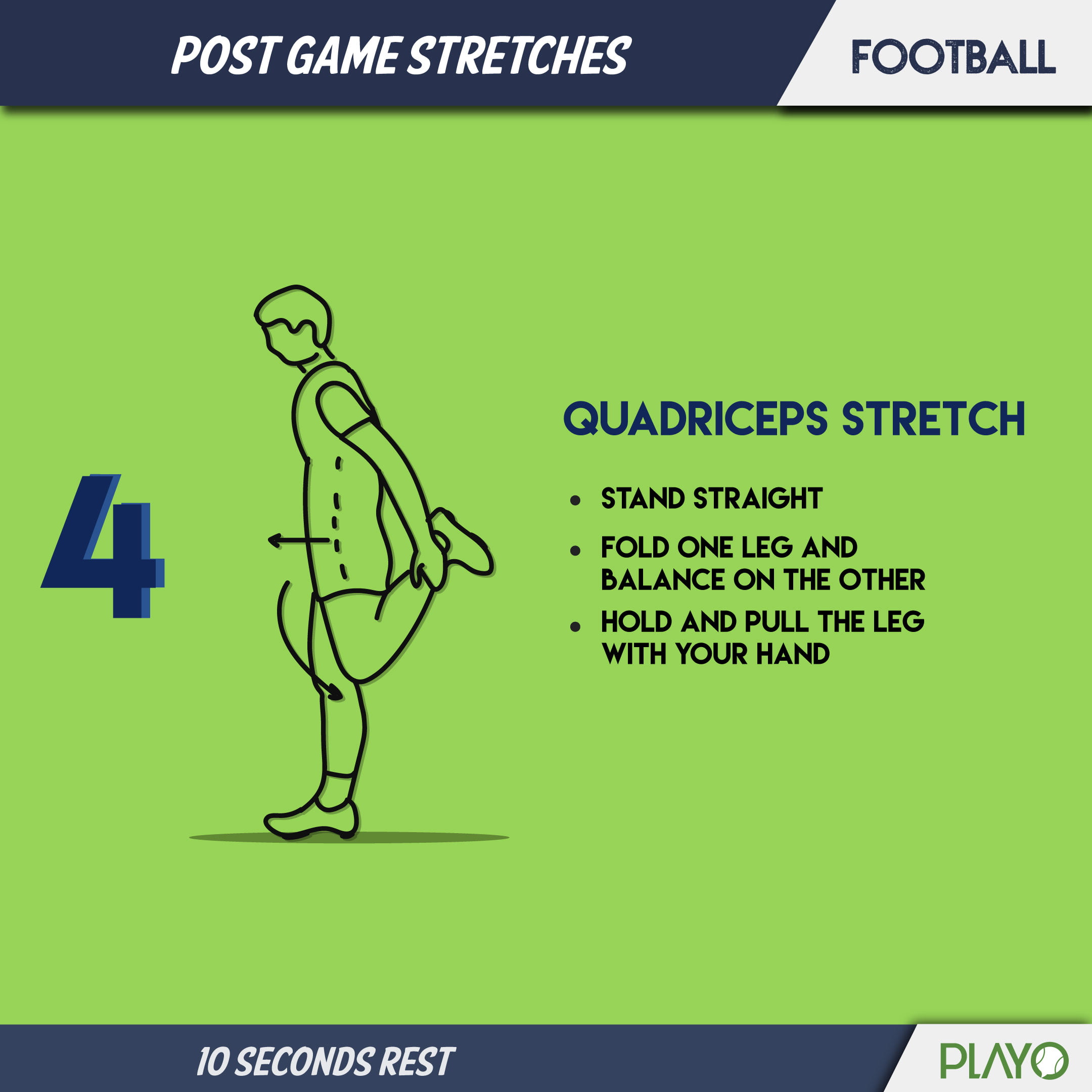 Click on the link for Youtube Tutorial: Quadriceps stretch.
Hamstring Stretch
Sit flat on the ground and stretch your legs out. Fold one leg while the other leg is still stretched. Hold the foot of the stretched leg with both your hands and slightly bend it. Repeat the same step for the other leg.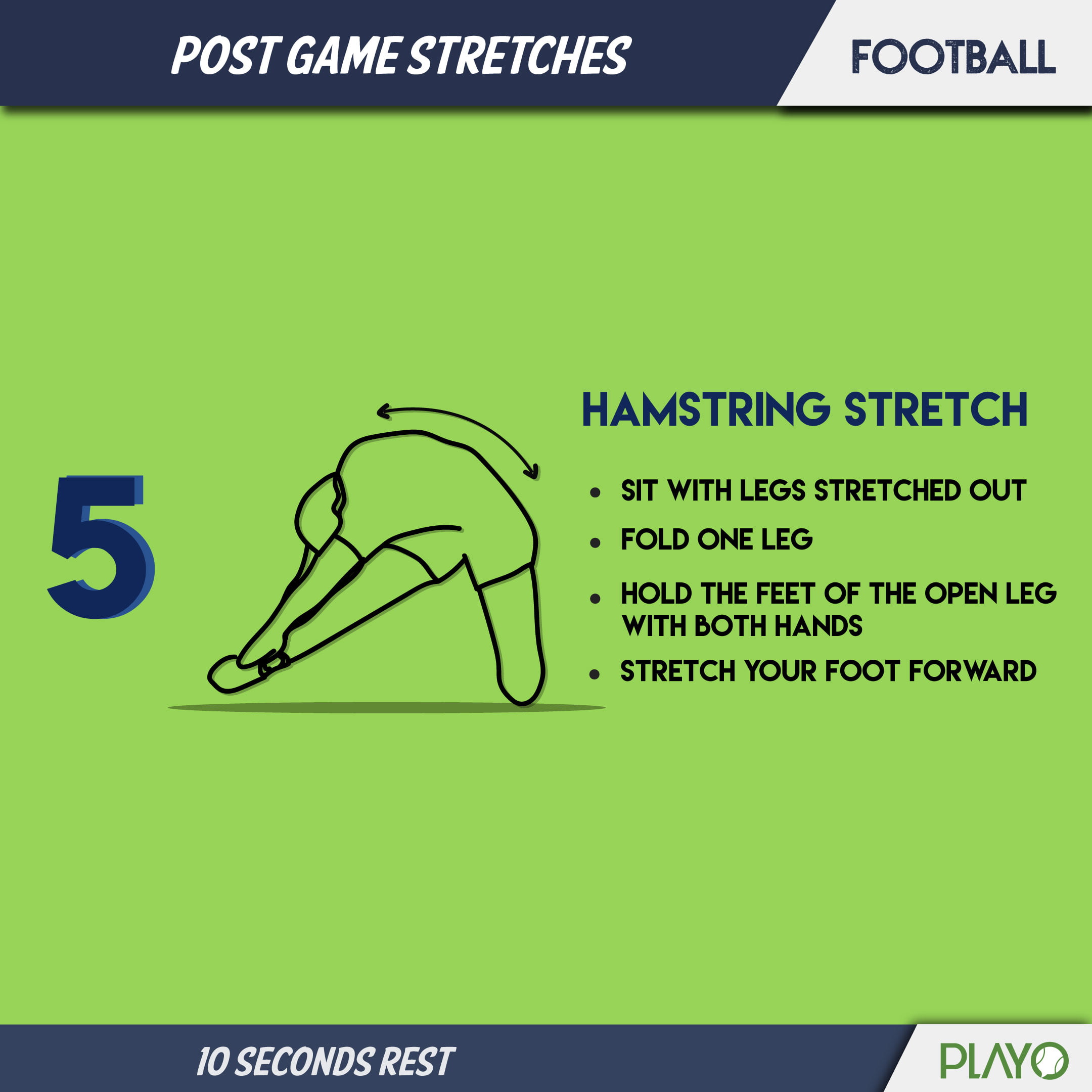 This Youtube turorial gives you an idea about how Hamstring Stretch is done : Hamstring Stretch after Football.
These stretches are just simple practices that you can follow after every football game to ensure good fitness and avoid stress. For best results, these stretches can be done after a good walk, run or work-outs as well.
If you come across any other simple stretches like these, do mention it in the comments
Also check out the Simple Warm-up exercise you can do before your game of Football.
FOLLOW INSTAGRAM FOR SPORTS MEMES AND REELS!