Office shouldn't always be about work. Here are some fun sports at office facilities every office should own!
If you are working too hard, then you definitely need a bit of Leisure time at your office, to kick out all the stress from your nerves. Of course, the Caffeine helps most of the time, but you never know when it could turn out to be depressing. But getting your folks together at work, for an hour or so in between the "Workaholic Period" and engaging in some physical activity can do great wonders.
We have put together a list of the "Must Haves" for every office corner in the city, country and around the world. Go convince your Boss to set up your very own "Sports Arcade" at your Work Space.
Table Tennis Arrangement

This is "No.1" on the list for a reason. It is one of the most loved Indoor sports which also occupies very limited space. It can be absolutely engaging and entertaining and helps you burn a lot of those "Couch Calories".

Image: Recreational Services – The University of Iowa

Foosball Table

Who doesn't love FOOSBALL? All hearts and thumbs up for this ripper of an entertainment. One on one, Two vs Two, Four vs Four – It can be played as you wish. And the amount of "Ooooss" and "Aaaaahsss" you are gonna hear will make you go crazy.

Image:

YouTube

Badminton court

A Sport that never loses its charm, Badminton is everybody's favourite. If you are having a slow and boring day, which doesn't contribute much to your work, take it to the courts with your colleagues, hit out a few shots and get the adrenaline pumping.

Image: IndiaMART

Pool Table

Most of us have seen it in the movies where Pool table stands as a spot of very "Serious Discussions". Since Pool requires a calm and collected nature accompanied with a lot of time, you can ponder on office meetings and discussions while you are at the Pool Table. Don't forget to bring drinks to the site.

Image: www.snookerclub-dropshot.be

Dart Zone

Darts and Drinks – Haha! This sounds cool isn't it? Best Stress buster that doesn't involve much of physical activity but sharpens your mind and takes away all the mental pressure. It is time to get one for your office.

Image: PDC

Bowling Arena

No bigger joy in seeing all the pins knocked down and yelling "Full Strike" will all pride. Bowling is a total winner when it comes to meetings and gathering. It has always kept the spirits up high and is sure to lift your soul when you feel low. This is why your office should have a Bowling arena.

Image: ZryXSW.com

Carrom/Chess Board

Classic games that never get old and boring, Carrom and Chess have captivated the minds of sport lovers ever since Childhood. Often seen as a boredom killer whenever you visit your relatives' place, your office should find a spot for the Carrom and Chess boards.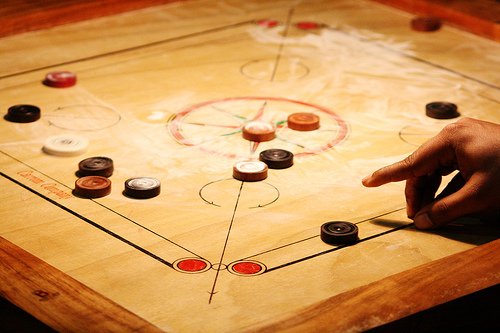 It is time for you to set up an action packed space at your office to get rid of your Couch Potato Lousiness and burn some calories and ideas. Are you ready yet? Get Sporty! Get Playoholic!
You might like this: 5 Adventure Sports you must try atleast once in your life