"Women in Football" might be something that takes you by surprise when it comes to Indian Sports but Maya FC is all about breaking the stereotypes. The stereotypes created around women Football players in the society and give the working women a chance to follow their passion.
Most of us were active participants in sports during our school and college days. Even if we weren't pro's at the respective sports we had chosen to give a shot at, we at least had the chance to be a part of something we loved. Our passion took deep roots at such a nascent stage but once we left college, we never had the much deserved chance to try the sport we most loved. That's when a counsellor came up with an idea of starting an organization for women in India. A community which also helped the working women to follow the sport of their choice. Thus was born Maya and Maya FC.
Maya Football Club and How it all began
Maya is a special community for women which was started two years ago by Mari, a counsellor, which connects and empowers women to follow their passion. They expanded its programs to Maya Outdoors and WHAQ as days passed. As part of the Maya Outdoors program, the Maya FC team was formed and Football became one of the main initiatives under Maya for Women.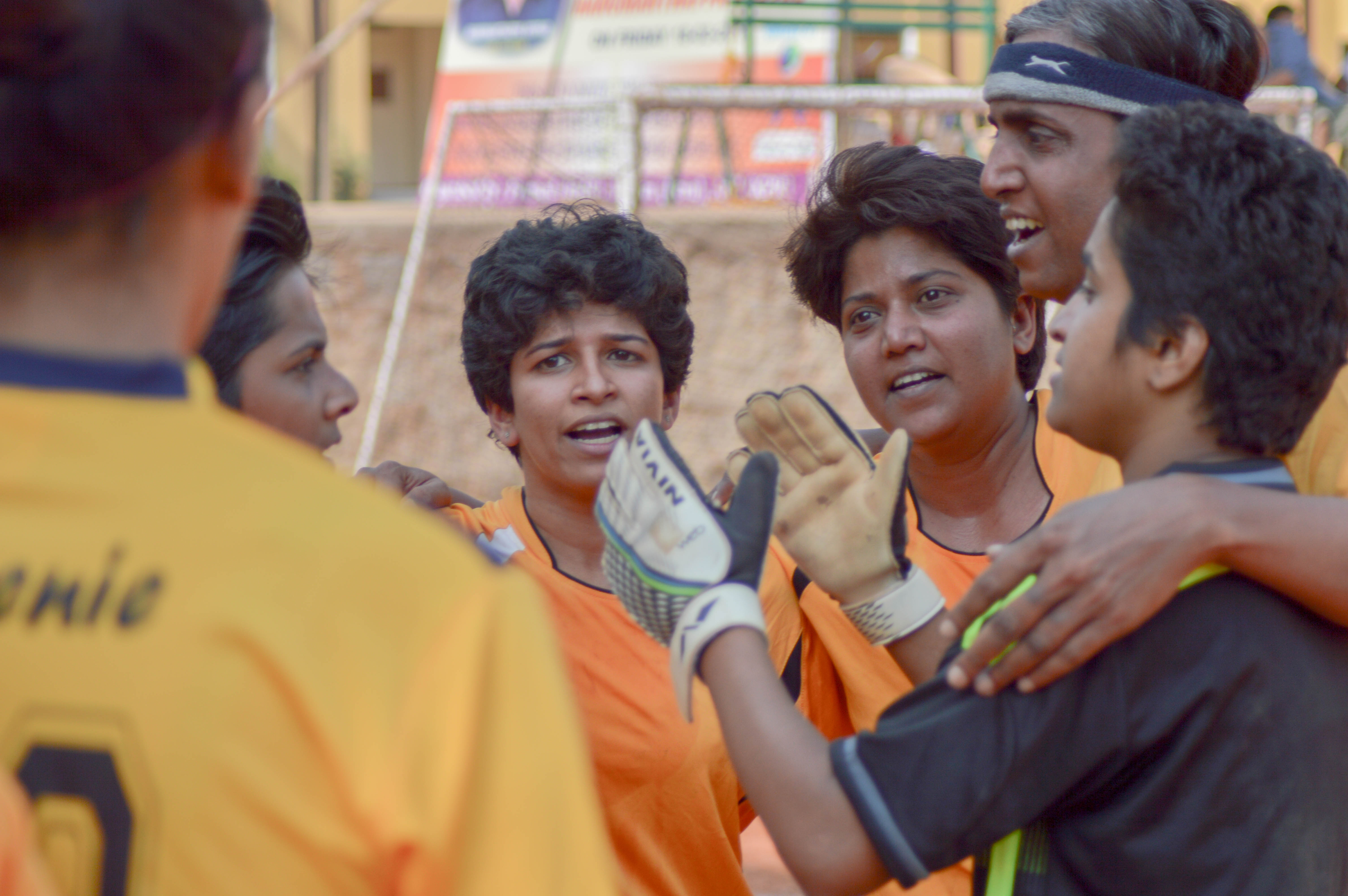 The Maya FC team has been part of various tournaments, showcasing their talent and challenging fellow women competitors at state level tournaments as well. The Maya FC Team, is a women-only Football team. What makes this team even more special is that, the members are all working women. Coached by Queenie, a former national Football player, Maya FC is one of the strongest women force you will see in the city of Bengaluru.
Maya FC is the Football club as part of Maya for Women. These girls come from various backgrounds. It is a great platform for everyone to come together, be educated and use sports as a medium of communication. You can learn more about the person when you play sports together. You also create a family for yourself, away from home. That was the vision for creating Maya Outdoors.
says Queenie, a freelance Graphic Designer and the Head Coach of Maya FC who has represented Maharashtra in Football for 10 years. She was also part of the Women's Football League (Dubai) for 4 years. Moving from Mumbai to Bangalore, she wanted to help women who wanted to pursue their passion in Football, this prompted her to step into Maya and coach the team. Maya FC team, is not only about Football players. There are many multi-skilled ladies who also practice Basketball, Cricket, Frisbee etc. Currently there are almost 25 women part of the Maya FC team.
Entreprenuer, Fashion Designer and a Football Player
While most of us crib about our work hours and how we don't have time for anything, Aloka D'Souza, a member of Maya FC gives us a reason why we should put all our quibbles to rest. A Basketball player at School level and a Football player during college days, she has her own tale to tell.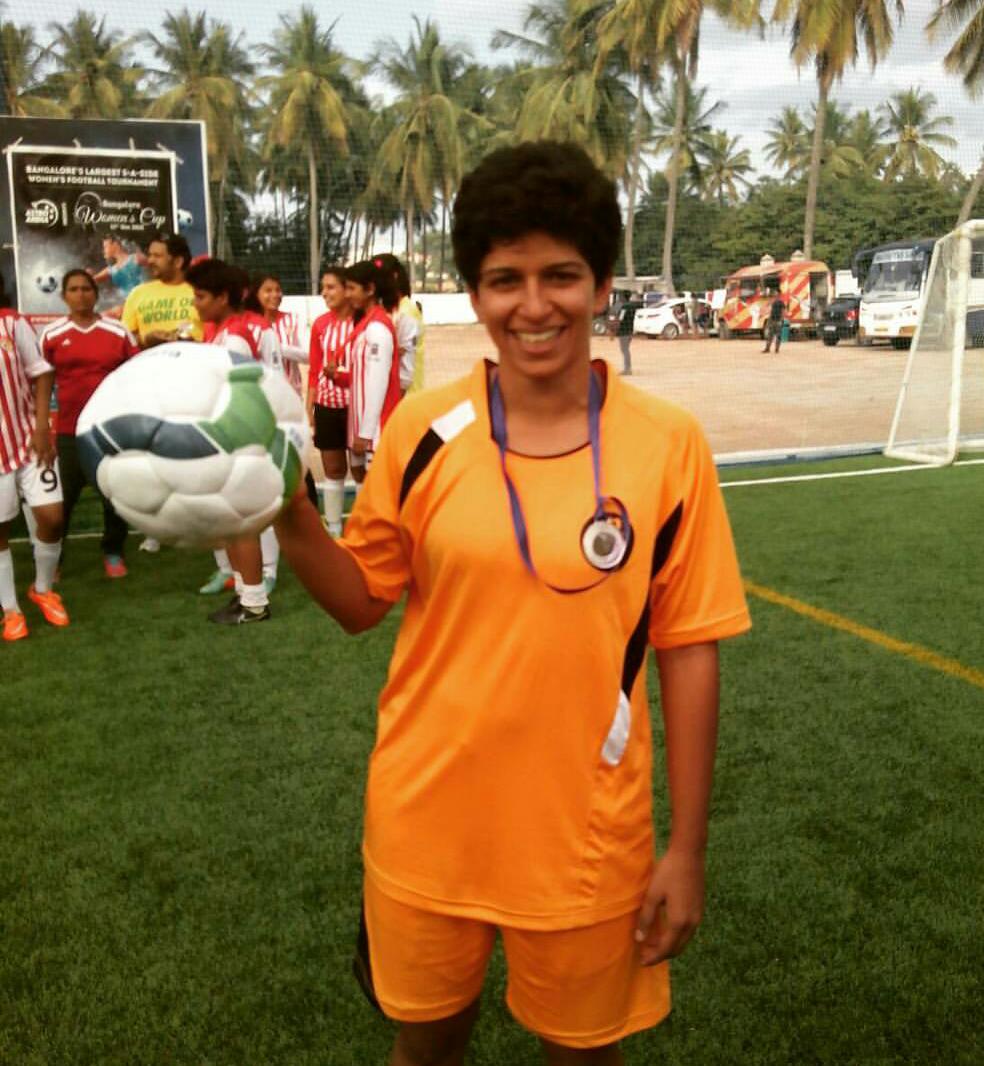 I started playing sports at a very young age and Basketball was my first sport in School. When I moved to college, that's when my Football started. I've played both the sports for Karnataka.
Graduating with a Fashion Designer degree from Mount Carmel College, Aloka never found a way to keep her passion for Football going as it was not easy to find women's Football teams once college was done. This cost her to gain weight and she wanted to revive her relationship with sports. That's when Maya FC happened to her, as she was introduced to Queenie through one of her friend. Later, she attended the trials and went on to even captain Maya FC in due course. Aloka along with Queenie started to steer Maya FC's coaching and their primary aim was for the working women to come and try out the sport even if they have never tried before.
Also read:Â Meet the President of this Bengaluru-based NGO sparking sports in the lives of underprivileged kids
After I finished college, there was no platform to play. There was no team to be part of and suddenly everything came to a standstill. That became quite depressing. For me, I love being part of a team. If i'm not part of a team, I feel lazy and I can't do things better. I have always been bound to a team and after I finished college my health took a complete U-turn, from being fit to gaining so much weight. Later, I got to know about Maya and I asked myself "Why not?".
Aloka and the team started training for tournaments then, practising almost two to three times a week at Sree Kanteerava Stadium. Sometimes they had to rent out space at Tiento Sports for their practice as well. This became an encouragement for other women to come and join Maya FC.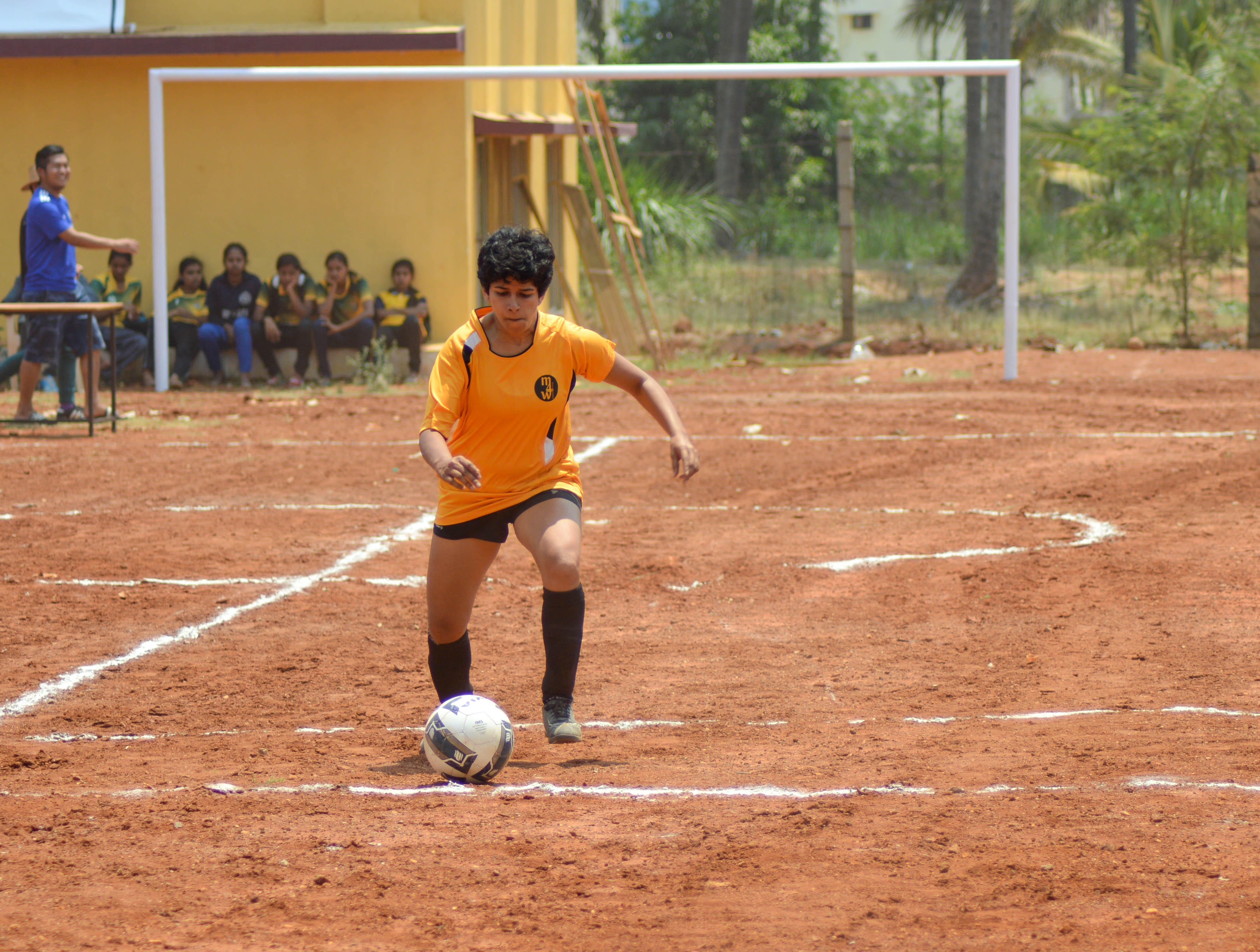 Being a Basketball player at School level, we asked Aloka why she took up Football later. This is what she had to say:
Football has always been a passion for me. The inspiration came from my brother as he used to be so good at it. He also used to teach me to play. But my dad put me in a Basketball camp so that I might gain height. That's how Basketball became a part of my life. Every year I attended various state camps for Karnataka. There were some bittersweet experiences during my college days as far as Basketball was concerned. So I met my Physical instructor and asked if I could give Football a try. I walked up to the Football coach and asked for a trial but he insisted me to try Basketball as I was good at it. Later, the Football coach, called me in as he had seen my movement on the Basketball court. He suggested I would do good in Football. He put me on the team after my very first trial and never took me out of it.
Women's Football in India is still at a nascent stage and not many people appreciate the thought of a woman taking up the sport. Agree or not, this is the scenario of Women's Football in India. Aloka also had one of her experiences to share with us regarding this.
My Dad is a Cricketer and has played for Karnataka as well. Sport runs in our family, so if you ask me about the support at home, I haven't faced any hardships. But once when I went to a function, an Indian Cricketer came up to me and asked me what I do? I told him I'm in college and I play Football. I was wearing a black dress and I was in Heels. He looked at me and he went, "Oh, that's not a sport for women to play". And I had this big argument with him as to how he can make such a remark, Women can do what they wish to do.
Maya FC has always had some special talents. The Goalkeeper of the team, who has never played the sport before that tournament began was awarded the "Goalie of the tournament". With all the talent and hardwork, Maya FC has been growing stronger than ever in the recent years. This encourages the on-lookers to come out and attend the trials to be a part of the team. Maya FC is not only for the young bloods, it is for women of all ages, women who have passion towards the sport and women who don't wish to give up no matter what. Sangeetha, a 42 year-old defender never lets the guard down when it comes to a fight against Maya FC and the other team.
The energy that she brought in, we couldn't deny her the spot of playing the defender in our team. This happened just after one month of her training. We have got that kind of potential
recalls Aloka about Sangeetha's energy and enthusiasm towards playing Football. It was not at all easy for these stars, sometimes they used to push each other into working harder. This while making sure that you still don't miss out on the fun of playing the sport.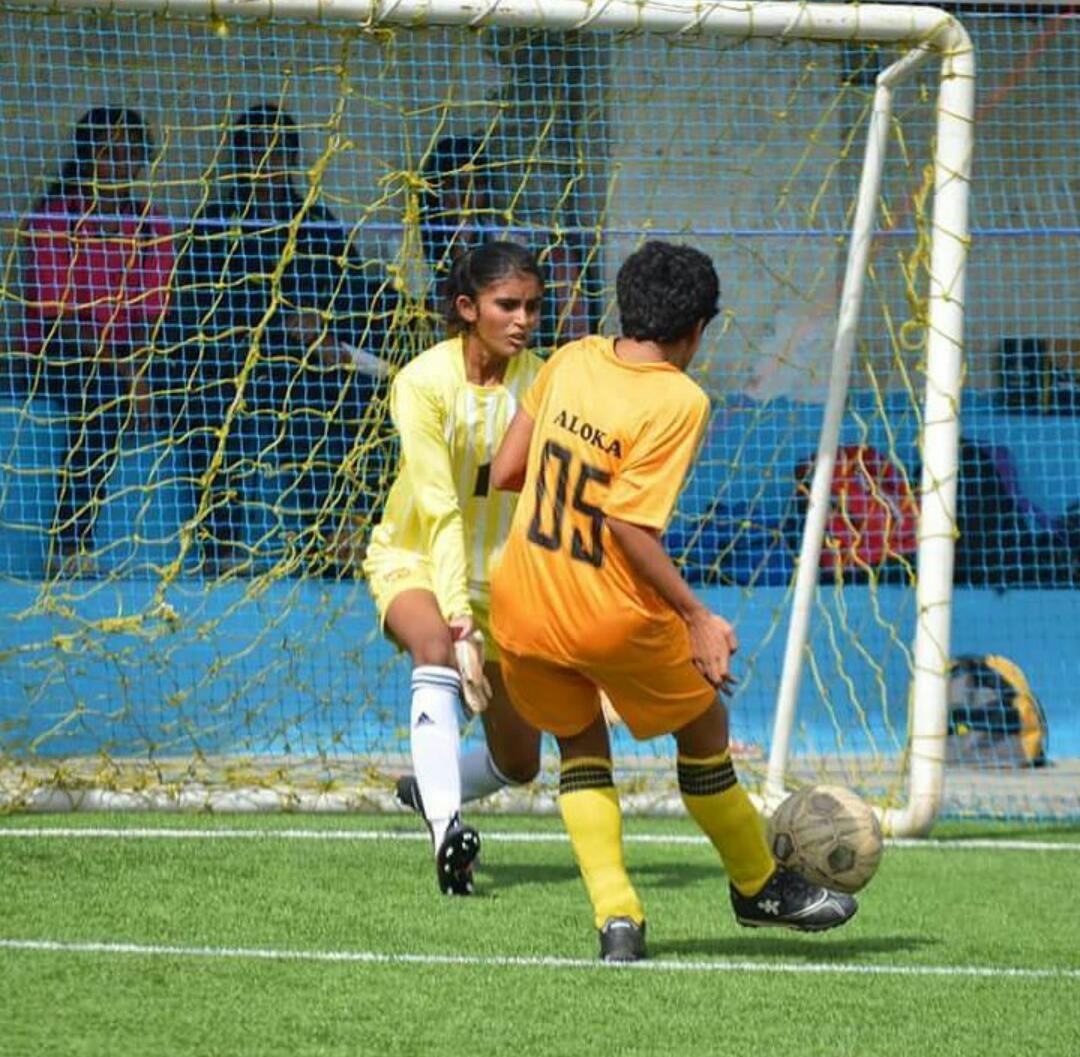 Many women are not used to being part of intensive practice sessions. It is sad that women don't involve in stuffs like these and they should be encouraged. Once a week, we used to have a practice session with our guy friends at Whitefield, to support and encourage us.
says Aloka about Maya FC's intense practice sessions. Aloka is of the opinion that every women should try their hand out at sport and why? It keeps you tough, healthy, active and what not? Not only the women out there, she also insists that every human should be actively involved and support the "Sport culture".
Sport brings a great balance to my life. The fact that I'm an entrepreneur today and running my own fashion studio, the balance that I learnt is all because of Sports. It helped me push my mind and body. No matter what job you do, an active lifestyle brings a lot more to the plate. It makes you realise that winning is not everything.
explains Aloka on how sports has changed her life. So everybody has an idol, a role model and a favourite sports star, we believe. That pushed us to quiz Aloka on her favourite team and role model, the reply was:
I don't really watch Football much but I catch up on the Bengaluru FC games frequently. If you ask me, one of the best players on the local team is John Johnson. Every match his consistency just prevails. I'm not a defender but a striker. Still, his defence just amazes me.
Maya is not just for the women who love Football. It is for every one of you ladies who want to be part of something passionate and big in the society. If you love playing sports and want to be part of a team, then go ahead and contact Maya for Women on maya4women.org, anytime of the day. They would be more than happy to help the budding sportstars of the society. Not only Sports, they also have a WHAQ program supporting the LBT community and Maya Arts, which is an initiative aimed at beautifying Bangalore.
Don't just wait, get outside and start playing your favourite sport today, just like these ladies did.
Check out:Â First Pro Baseball Field in Delhi
Â