Love playing recreational football games with your buddies? We are sure you'd have taken a long time hunting the right pair of football boots. But, no worries. This guide will discuss the significance of choosing the right football boots for different playing surfaces, be it natural grass, artificial turf, or indoor areas. Every surface requires specific features to improve your traction, stability, and overall performance in the game.
Football necessitates skill, precision, and appropriate equipment, and football boots are among the most pivotal gear for you. Nonetheless, not all football boots are identical. The type of playing surface significantly impacts your performance, emphasizing the importance of selecting suitable boots for that surface.
So, what happens if you choose an incorrect pair of football boots? It can have negative consequences especially reduced grip and makes you highly prone to injuries during the game. Therefore, by having a clear understanding of the unique requirements of each surface and carefully choosing from the different types of football boots, you can enhance your gameplay.
With that said, let's understand the differences between the types of football shoes.
Types of football boots based on the surface
Football boots are specifically crafted with various characteristics and studs to accommodate various playing surfaces. Below are the primary categories of football boots based on the type of surface they are designed for.
Firm Ground Boots (FG Boots)
Firm Ground (FG) boots are the most popular football boots. They are specifically made for playing on natural grass fields. These boots have moulded studs or blades on the bottom, which give great grip and stability on firm, dry, and natural pitches.
FG boots have strategically positioned studs that are designed to provide the best grip when running, cutting, and changing directions on the field. The studs come in different shapes, lengths, and patterns, varying depending on the boots' brand and model. Typically, FG football shoes with studs are conical in shape and strike a good balance between grip and mobility.
FG boots offer great versatility, excelling on natural grass surfaces, regardless of whether they are wet or dry. Their stud shape and firmness allow for rapid acceleration and deceleration, crucial for swift movements during games. Being suitable for players in different positions and playing styles, they are a favoured option for intermediate/ practicing footballers.

Please remember that FG boots may not offer the best traction on extremely soft or muddy pitches.
Some top firm ground football boots in 2023 include the –
Nike Zoom Mercurial Superfly 9 Elite
Adidas X Speedportal
Nike Tiempo Legend 9 Elite
Puma Future Z Lazertouch
Soft Ground Boots (SG Boots)
SG boots are specially designed for playing on wet or muddy natural grass surfaces. These football boots studs are longer, typically made of metal or plastic, which can be detached. The longer studs on SG boots allow them to penetrate soft ground. The studs' longer length aids in avoiding slips and slides on the slick surface, guaranteeing stability and control for the player.
SG boots are a superb option for recreational players who often find themselves playing in wet or muddy conditions. These boots provide exceptional traction and prevent mud from clogging up the studs, ensuring optimal performance and reducing the chance of injury.
However, it's crucial to remember that SG boots are intended solely for soft ground surfaces. Utilising them on firmer pitches can lead to excessive stud pressure and heighten the risk of injury.

The most popular soft-ground football boots in 2023 include the
Nike Mercurial Superfly VIII Elite
Adidas Copa Sense.1 SG
Nike Mercurial Vapor 14 Elite SG
New Balance Tekela Pro SG
Artificial Grass Boots (AG Boots)
AG boots are specially made for playing on synthetic grass surfaces. These surfaces typically comprise rubber or plastic fibres, which call for boots with specific stud patterns to achieve the best performance and ensure player's safety.
AG boots have shorter and more studs compared to FG boots. The studs are either conical or hollow in shape, providing optimal traction and stability. These shorter studs help avoid excessive pressure on the turf while offering excellent grip and manoeuvrability.
These boots are designed to enhance players' balance and agility on artificial turf, minimising the chances of slip-ups and accidents. The strategic placement and arrangement of the studs ensure an even weight distribution, thereby reducing the likelihood of injuries like ankle sprains.
Nike and Adidas offer some of the best AG boots, which include the
Nike Phantom GX Elite
Nike Tiempo Legend 10 Elite
Adidas X Crazyfast.1
Adidas Predator Accuracy.1
Turf Boots
Turf football shoes sometimes called Astro turf boots, are specially designed for playing on hard surfaces such as artificial turf or indoor pitches. These surfaces are usually composed of short, thick synthetic grass or carpet and, therefore, require boots with specific features to ensure the best performance and player's safety.
Turf boots have a rubber sole designed with numerous small studs or rubber nubs in various directions. These strategically placed features offer exceptional grip and traction on synthetic turf while also reducing the chances of getting hurt. The rubber sole also absorbs impact and provides cushioning, lessening the strain on the player's joints when making powerful movements.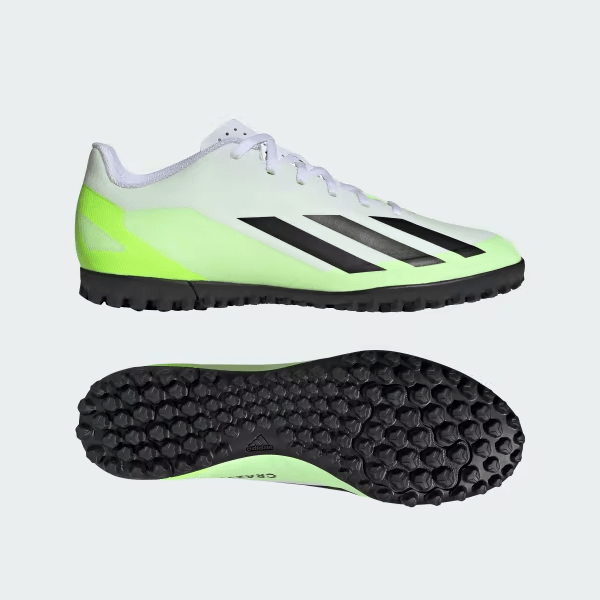 Turf boots are designed with the ability to facilitate rapid directional changes, acceleration, and multidirectional movements that occur in fast-paced indoor or artificial turf games.
You might be wondering how turf shoes are different from AG shoes. Turf refers to a type of artificial grass with very short blades. Turf shoes are designed with shorter cleats that are closely arranged on the sole. On the other hand, artificial grass has longer blades and typically has an artificial soil base. Longer cleats are required for this type of grass, almost similar to multipurpose cleats.
The top-rated football turf shoes in 2023 include the
Adidas Mundial Team
Nike Mercurial Vapor Club
PUMA Ultra Match
Adidas Copa Pure.3
Indoor Court or Futsal Boots
Indoor Court or Futsal boots are specially designed for playing on indoor courts or futsal pitches. These boots feature a flat, non-marking rubber sole that offers excellent grip, manoeuvrability, and traction on smooth indoor surfaces.
The rubber sole prevents scuff marks on the court or pitch. Indoor Court or Futsal boots are lightweight, flexible, and lack excessive cushioning to enhance ball control and speed.
They are a must-have for players who frequently participate in indoor or futsal matches. This is because they provide the ideal balance of grip, agility, and protection required for these specific surfaces.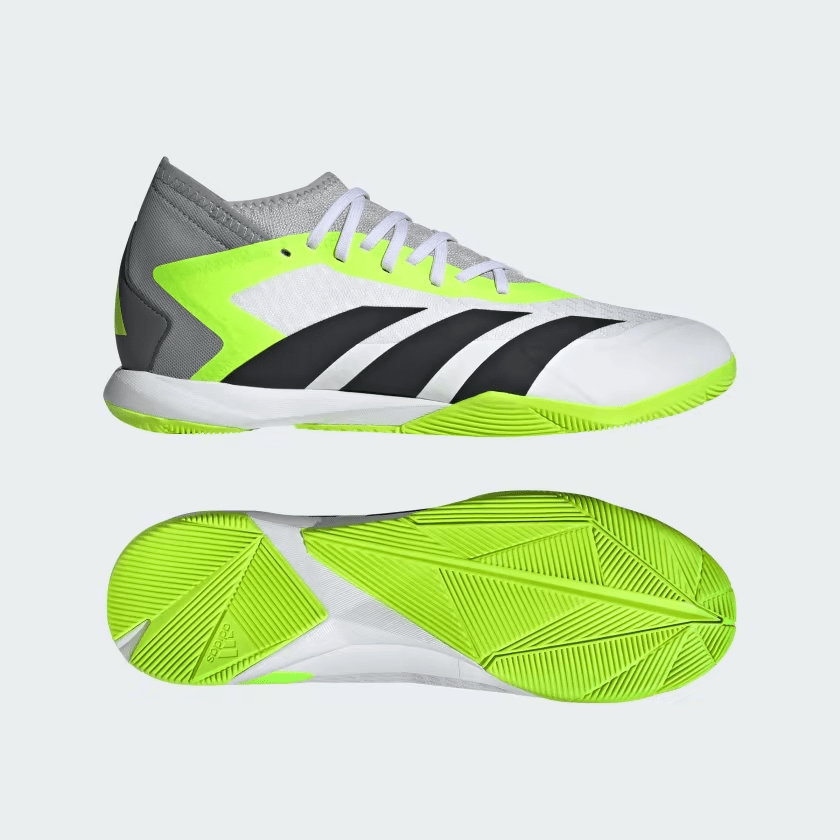 Here are some top-rated indoor court football shoes in 2023
Nike Tiempo Legend Academy IC
Adidas Samba Classic Boots
Adidas Predator Accuracy.3 Indoor Boots
Puma Ultra Play IT Football Boots
Interchangeable Football Boots
Lastly, you have modular or customisable football shoes, also called interchangeable boots, which allow altering the football studs layout to match the playing field.
These boots typically have screw-in or interchangeable studs, enabling players to swap between different stud types and lengths depending on the ground conditions. These boots are perfect for athletes who frequently participate in diverse playing surfaces and require excellent performance and traction.
Choosing the ideal football shoe
So, these are the top styles of football boots based on the playing surface.
When selecting football boots, it is important to consider the players' playing surface, position, playing style, and personal preferences. By carefully considering these factors, you can choose the ideal football boots for yourself.
With the help of this guide, you'd be able to discover the ideal football boots that improve your performance, minimise the chance of getting injured, and offer the required grip and command while playing on the field.
Are you looking to play your next football game with your gang, but can't seem to find a venue? Playo to the rescue!
The Playo app is a comprehensive platform that caters to sports enthusiasts. Whether you're looking for a community of sports lovers, suitable sports venues, skill improvement opportunities, or sports gear, our app covers you. Choose from over 50 sports and top venues near you to prepare for an amazing experience. Download the Playo app now!