We talk with Deepak, who is an integral part of Shuttleboi. He gave us an exclusive insight into his views on life and sports.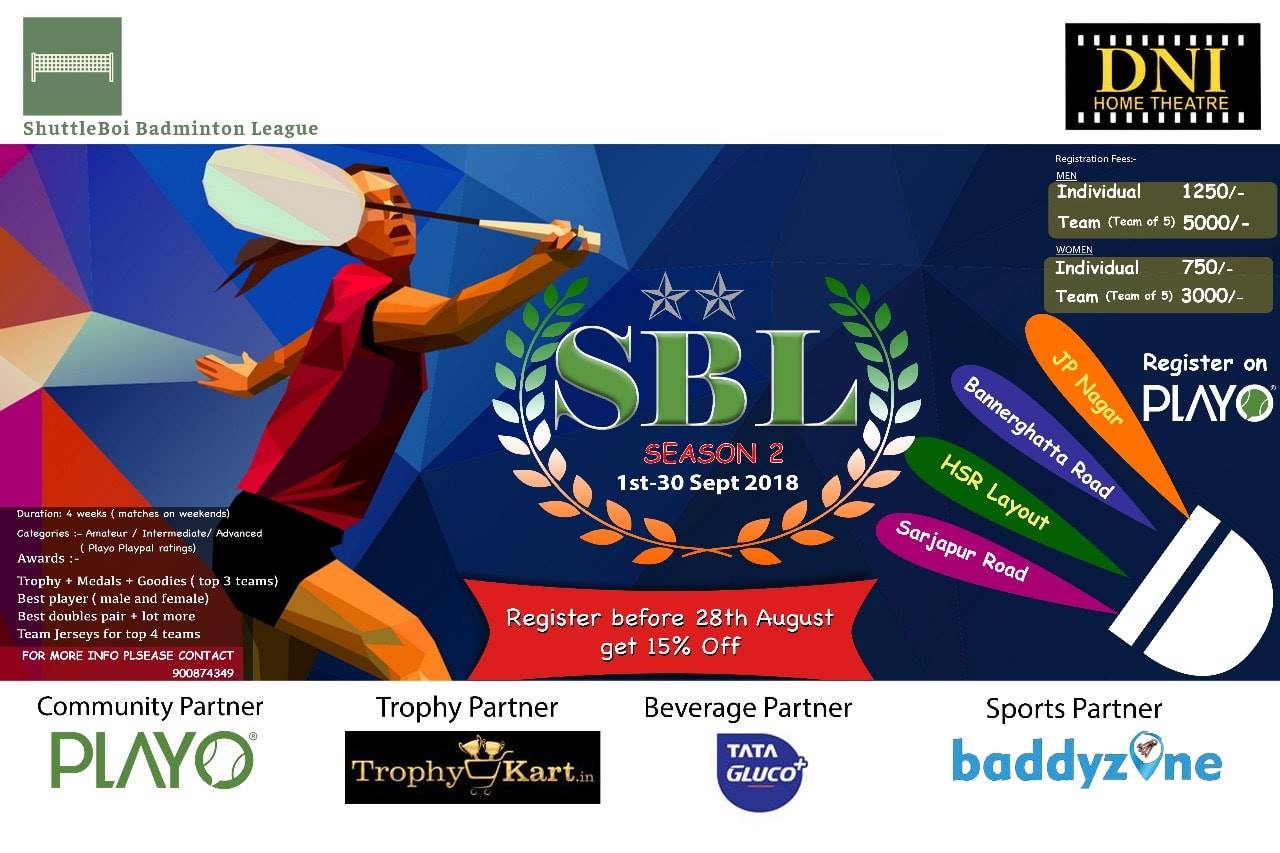 When did you start playing Shuttle?
Deepak: "I used to play badminton during school days. But lost touch once I entered college and later during my professional life. Now getting back to the game after almost 15 years."
2. What impact has this sport made in your life?
Deepak: "Sport has always been an integral part of my life right since childhood. Apart from badminton, I have represented my school in Cricket, Chess and Athletics. Impact of sports has been tremendous in my life.
I was an introvert back then and had trouble socialising with other kids. Sport helped me connect and make friends, be part of teams, boosted my confidence, build team spirit etc. Also learned to never give up through sport."
3. Apart from Shuttle which other sport do you play?
Via
Deepak: "I play cricket, table tennis, chess, volleyball and a bit of football. I am an amateur runner and have taken part in quite a few half marathons. I also trek a bit."
4. Where did you get the idea to start Shuttleboi?
Deepak: "We have a group of friends with whom I play badminton regularly. We book courts, host the game on Playo and play. I wanted to bring in a competitive feel to the games.
Since there are too many tournaments taking place on a regular basis, I wanted to do something different. Hence the idea of a team league. Also, I am a huge football follower and was keen to include elements of global football leagues, IPL, PBL to my league.
5. What were the hurdles that you faced during the journey?
Deepak: "Since season 1 was more of an experiment, we did face few hurdles during the league, like:
Trying to all the participants engaged and make sure they turn up every weekend.

Ensure the league remained competitive till the end.

Drill into the concept of team league into all the players." (Since teams were formed by draw of lots, people had not met their teammates before. Also, everyone was used to just playing their own game and not for the team. Unlike cricket and football where everyone has a set role to play in a match, badminton is more of an individual game. Hence it took a while for teams to gel, plan, practice and play as a team.)
6. How has the journey been so far?
Deepak: "Although it's just been few months, the journey so far has been really wonderful. I have learnt a lot during the course of the season, made a lot of new friends."
7. Would you like to give a few insights on how you want Shuttleboi to be perceived in the near future?
Deepak: "Just like the name, our concept is pretty unique. Shuttleboi Badminton League (SBL) is not a tournament, it's an experience.
Our objectives are to:
Help people rediscover their joy for playing a sport.
Unwind from the monotony of daily work routine.

Provide a platform for people to connect with like-minded individuals and socialize.

Opportunity to build, groom, motivate and lead your own team to glory.

Realise your hidden dream of being a sports star."
8. Please throw some light on the Shuttleboi League?
Deepak: "Many of us have started playing badminton recently. There's hardly any tournament which caters to beginners or amateurs.
Most players at open tournaments are ex-ranking players, coaches, etc. There's no way an average Intermediate player can compete against them.
SBL gives everyone an opportunity to play and compete with players of the same level. We have leagues for every category right from beginner to Intermediate and advanced.
Also, we provide a clear path for growth when it comes to an individual. Today you might be an amateur, tomorrow you have an opportunity to progress to Intermediate or advanced.
We all have goals when it comes to our career. We want to be a manager/ VP/ CEO etc. Same here, we provide you with a platform where even a beginner can progress to be an advanced player.
We are looking to build a multi-tiered league structure where there will be promotions and relegations across all categories.
Eg: Winner of amateur progress to Intermediate. And similarly winner of Intermediate progress to Advanced."
9. Who are the partners of this League?
Deepak: "In season 1 we had Piranha Sportswear, Actofit and Playo as our partners. This season we have BaddyZone, Trophykart, DNI along with Playo and Actofit as our partners."
10. I believe you had previous editions of Shuttleboi, how were they?
Deepak: "This would be season 2 of SBL. Season 1 was held at one location across two Categories (Intermediate and Advanced). We had close to 100 participants across both categories."
11. What are the significant changes you have made or seen between these editions?
Deepak: "SBL season 2 will have few changes compared to season 1.
Multiple locations.

A new category (amateur)

Multiple levels (local and city Championship)

League membership

More awards.

Player rankings/ team rankings/ match videos etc

Created our own YouTube channel."
12. What would your message be to those who have not heard about Shuttleboi yet?
Deepak: "All of us have dreams, ambitious, goals. We all want to be managers someday, the dream of becoming a CEO etc. As human beings we are competitive, we feel happy when we win something. All we want is an opportunity. Same is the case when it comes to sport.
Most of us don't get an opportunity to play with better players. We send a request to someone above our level, we don't get accepted.
Also, we don't get accepted if we send a request to unknown people. So how does one improve and grow?
As per me, there are 3 main things when it comes to improving one's game:
Play more (as they say practice makes a person perfect)

Play with multiple groups, players (people with better fitness/ skills etc)

Learn technical aspects of the game.
Hence SBL is a perfect opportunity for all of you who love the game, want to learn the game, reconnect with the game etc. We have structured our league taking all these things into account.
We provide a platform for you to:
Rediscover the joy of playing the sport

Learn, improve your skills

Means to get fit and healthy in a fun way.

Unwind from daily work routine and stress

Make new friends, socialize

Create, lead your own team

Unleash your competitive self

Fulfil your dream of being a sports superstar."
Want to participate in Shuttleboi League 2?
Consider yourself still a learner? Then register by clicking on this link.
Think, you are catching up but not yet a pro, then you can join the Intermediate league we have for you!
Confident enough to win? Play against other pro players to test yourself by registering here!
The views and opinions expressed in this article are those of the author and do not necessarily reflect the views of our Company, partners and other organizations. While any information provided on our blog is true to the best of our knowledge, we do not guarantee the veracity, reliability or completeness of the information presented. Any advice or opinion is purely for information purposes and should not be construed as an alternative to professional advice.
Comments
comments