"…(it) demonstrated that the spectacle had not died: that the game, in spite of its many flaws, could provide moments of glory that had little to do with just victory or defeat."
– Sports historian Andreas Campomar on the Scorpion kick
In January earlier this year, Arsenal striker Olivier Giroud scored a stunning goal delighting the spectators against Crystal Palace which earned him the Puskas Award – the award for the best goal of the year.
This incredible technique where a player throws his body forward and strikes the ball with the back heel, resembling a scorpion's tail, is popularly known as the 'Scorpion kick'. It is a manoeuvre which obviously requires great skill and athleticism, but do you know the history behind it?
Rene Higuita stuns Wembley
In 1995, an unexciting match was being played out at Wembley between England and Colombia. The English were desperately trying to break down their dogged Colombian opponents in front of a bored and miserable crowd. Out of nothing, there came an audacious moment which would stun the audience, be talked about and imitated for years in playgrounds, and replayed several times on Youtube.
Jamie Redknapp, making his debut, launched a cross into the box but instead, it sailed askew towards the fuzzy-haired maverick keeper, Rene Higuita in the Colombian goal. The linesman had raised his flag for an offside, though the referee hadn't noticed, and it was the simplest thing in the world for Higuita to catch the ball and restart the game. That, however, was not his style. Instead, Higuita dived forward and, with his back arched like a scorpion's tail pre-sting, flicked up both of his heels with immaculate timing to clear the ball. Wembley gasped collectively and thousands watching on had a new hero. The match itself was a dull 0-0 draw but 22 years later, Higuita is still popularly known as the man who invented the 'Scorpion kick', adding another iconic piece of art to the history of the beautiful game.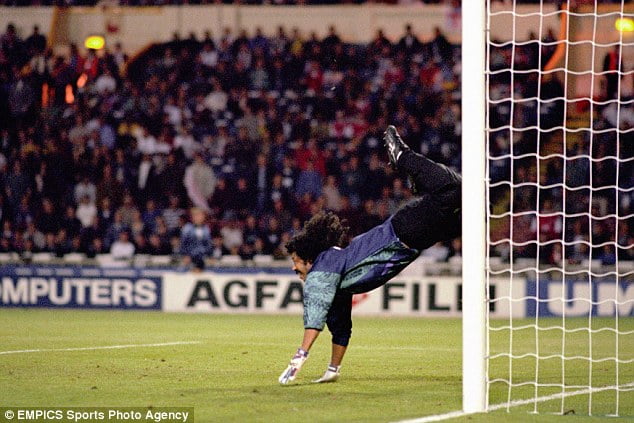 How to perform a scorpion kick?
The scorpion kick is also known as a reverse bicycle kick or back hammer kick. It requires great athleticism besides a heavy dose of good luck. If you're a total beginner trying to perform it, first try a forward cartwheel and throw your body forward, placing the hands on the ground to kick the back heels in front. After you've mastered this particular movement, try kicking a ball which is moving towards you perhaps by having a friend assist you by throwing the ball where you need it. When you're confident about kicking the ball and directing it where needed, you can improvise and try other variants of the Scorpion kick without using your hands for support.
Popular 'Scorpion kick' goals
Zlatan Ibrahimovic scored a scorpion goal at a slightly sideward angle during his time at Paris St. Germain.
Incidentally. Zlatan Ibrahimovic at Manchester United assisted Henrik Mkhitaryan when he scored a remarkable scorpion kick goal against Sunderland on Boxing Day.
 Zlatan, Mkhitaryan, Giroud scorpion goals