TYPES OF SHUTTLECOCK | A badminton shuttlecock, or a birdie, is the projectile flying between both sides of the badminton court. It's a conical shaped object made of feathers that go into a cork base. This cork base is ideal for hitting the shuttlecock off the strings of the racket.
Of course, there are two different kinds badminton shuttlecocks available in the market today.
Feather Shuttlecocks
The more common shuttlecock, or at least the most popular one as it's used in all pro-level games, is the feather shuttlecock. This shuttlecock is frail but incredibly aerodynamic in its design. It's also light and travels through the air very easily. However, these shuttlecocks require a fair bit of power to handle as their light frame slows down its movement through the air.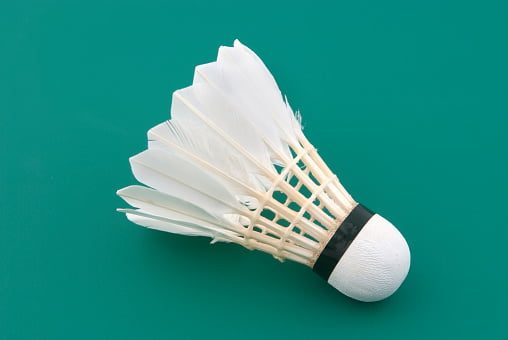 Another major issue with feathered shuttlecocks is that the feathers get damaged very easily. This results in the shuttlecock being twisted out of shape, making it difficult to play with.
It's best to keep them in a humidifier to ensure that the shuttle performs well. If you don't own a humidifier, you can simply place a wet sponge at the feathered end of the shuttlecock.
Types Of Feathers
Most manufacturers use two main types of feathers in their shuttlecocks – goose and duck. Shuttlecocks made using goose feathers tend to perform a lot better and have a higher durability compared to those made with duck feathers. However, some manufacturers still use duck feathers and offer premium-quality shuttlecocks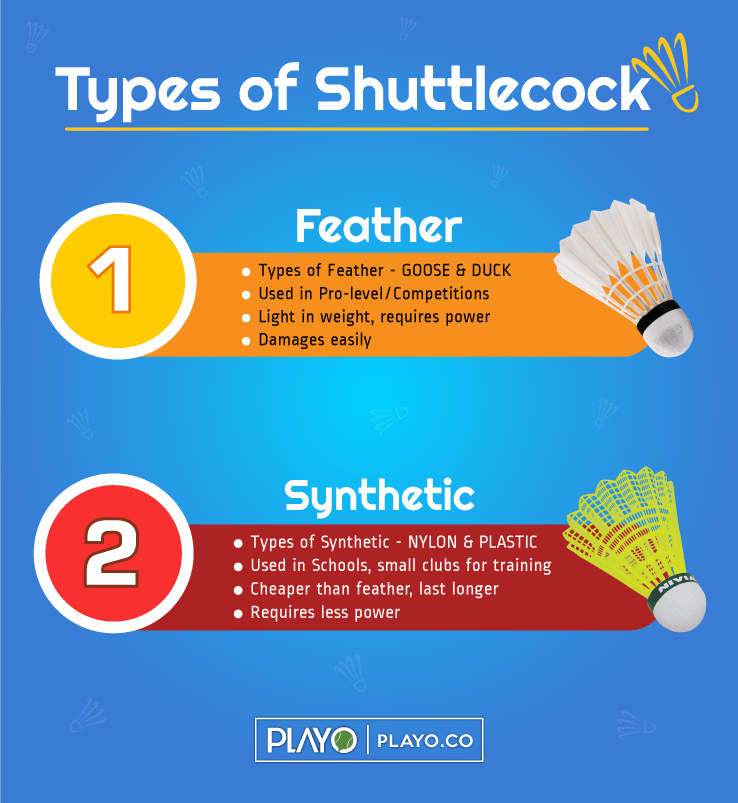 .
You might be interested in:Â 7 Places That Offer Badminton Coaching For Adults In Bangalore
Synthetic Shuttlecocks
Most beginners prefer to purchase synthetic shuttlecocks as they last much longer and are a lot easier to hit than the feathered version. Another advantage of the synthetic shuttlecock is that it's much cheaper than a feather shuttlecock. So if you're just starting out, and would like to practice your shots, it's best to get yourself a synthetic shuttlecock.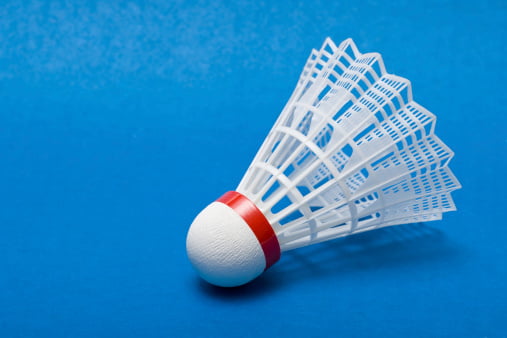 These types of shuttlecocks are usually used by schools and small clubs for training and recreational badminton. However, all competitions use only feather shuttlecocks, so if you're planning to take the game seriously it's best you practice with those.
While a synthetic shuttlecock might last longer, it does not provide the same in-flight stability offered by a feathered shuttle. So if you get used to the synthetic version, it's difficult to suddenly switch to a feathered one.
There are two types of synthetic shuttlecocks – nylon and plastic. They're both relatively the same, so it doesn't really matter which one you pick.
Pick The Right Brand
The type of shuttlecock you decide to use will depend on whether you're a beginner, intermediate, or advanced player. So pick a shuttlecock based on your skill level and how serious you are about the sport.
It's also important to choose the right brand of shuttlecock. Of course, if you're planning to try your hand at the game, any old shuttlecock should do the trick. However, if you're serious about taking up this sport, even as a hobby, it's best to get a premium-quality shuttlecock from a reliable company like Yonex or Wilson.
Have fun!
Also read:Â The 6 Best Badminton Racket Brands And All You Need To Know About Them