These five players have put in phenomenal performances in the 2018 World Cup.
The 2018 World Cup in Russia has been one of the most exhilaration and interesting football World Cups in recent times, with brilliant individual and team performances, and many shocks.
Even before the tournament began in Russia, teams like Italy, Netherlands and the USA didn't qualify, while minnows, Panama and Iceland, qualified for their very first tournament.
There have been huge shocks as well; from defending champions Germany not making it past the group stage and finished bottom of their group after losing to South Korea in their final game. 2010 World Cup winners Spain, were also knocked out by hosts, Russia, who've had a stellar campaign.
Apart from teams dazzling fans in this World Cup, there have also been a few players – some unknown footballers – who've made a name for themselves in this World Cup in Russia.
Here are five players who've surprised us with their performances in the 2018 World Cup:
In football, much like in life, opportunities must be grasped immediately as they seldom come twice – and that's what Colombia's Juan Fernando Quintero did. Given the duty to start behind star striker Falcao for Colombia in their first game against Japan due to 2014 World Cup star, James Rodriguez's injury, Quintero made a superb first impression.
He scored in the first game against Japan, levelling the scores, and became the first Colombian to score in two World Cups. Like his compatriot Rodriguez in the 2014 World Cup, Quintero was not a household name. The Porto star, who is on loan at Argentine side River Plate in the last season, shone once more in Colombia's second game against Poland, providing one assist for Falcao. In the third game against Senegal, he once again provided an assist, this time for Yerry Mina, who scored the only goal of the game.

The diminutive attacker didn't have much of an impact in Colombia's Round of 16 defeat against England, but made a great impression with his dribbling, assists and maturity, and will most likely move to a big club this summer!

Via

Before the start of the tournament, hosts Russia was not in the reckoning to make it past the group stage, but they surprised many with two impressive performances in the three group games.

One key player for Russia has been former Real Madrid player Denis Cheryshev, who has scored three goals in the tournament, including two on an opening day against Saudi Arabia.

The Russian winger came on for Alan Dzagoev in the first game and has made an impression at every opportunity. He scored Russia's second goal in their match against Egypt and was awarded the man of the match, and in Russia's historic Round of 16 victories against Spain, the Villarreal player came on in extra time and even scored a penalty!

Via

Diego Laxalt has made just nine appearances for his country, Uruguay, which will baffle many people who watched his last two performances in the World Cup. The Genoa midfielder has several quality players to compete against in the national team, but it seems like he has reinvented himself in this World Cup.

In Uruguay's group stage game against Russia, Laxalt was used as a wing-back, where he impressed, making marauding runs up the left flank. He was even more impressive in his country's Round of 16 games against Portugal, where he started as a left-back and stifled the offensive threat of Bernardo Silva, Quaresma and co.

He has been linked with a move to the Premier League and Newcastle United!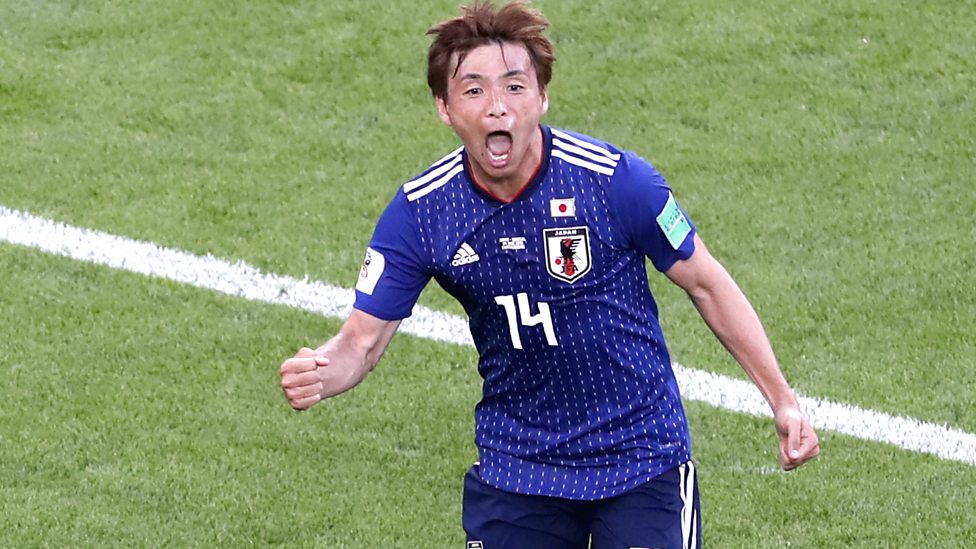 Japan had a bittersweet 2018 World Cup; they qualified by the skin of their teeth from Group H by "fair play" rule, for the first time ever in the World Cup, but were then bundled out by Belgium in the Round of 16 after taking a 2-0 lead.
One of the chief architects of Japan's good work in the World Cup was attacker Takashi Inui, who epitomised the Japanese spirit and never-say-die attitude.
Inui scored twice in the World Cup – once in the group stage and once in their heartbreaking defeat to Belgium – and was a key player going forward for the Japanese. The technically sound Real Betis winger threatened constantly in Japan's opener against Colombia and scored a beautiful, curling goal against Senegal, and a rasping shot in their defeat to Belgium.
Inui is certainly one of the finds of the tournament!
Luka Modric is certainly not an unknown quantity of someone that a football fan wouldn't know; he plays for Real Madrid, after all. Modric has earned plaudits over the years and is one of the unsung heroes in a star-studded Real Madrid side.

But for his country, Croatia, Modric is their star man; he makes Croatia tick, and he's been a vital component for Croatia's progress in the tournament.
The Croatian captain played a huge part in their opening game victory against Nigeria – scoring a goal from the penalty spot. Against Argentina, a side who've better players on paper (and Lionel Messi), Modric ran the show with Ivan Rakitic by his side, showing that he need not be surrounded by the likes of Ronaldo and Bale to take his side to victory.
In spite of missing a penalty in the Round of 16 matches against Denmark, the Croatian stepped up once more during the penalty shoot-out and scored, helping his side to a quarter-final tie. He always had the quality, but to influence your team and take them to victory time after time is the hallmark of a real champion!