The classic football has taken many forms and one of them is the 7-a-side. The ground dimensions have changed, and along with that a few rules. Let's dive in and see the changes we need to embrace.Â
7-a-side can be slightly more tiring than 5-a-side but the fun is unmatched.
What exactly is 7 a side football?
7 a side football, also known as small-sided football, is a modified version of the traditional 11-a-side game. The teams are smaller in this format, with seven players on each side. The 7s football ground size is a smaller pitch and with shorter matches. Its popularity has been increasing due to its accessibility, flexibility, and fast-paced nature.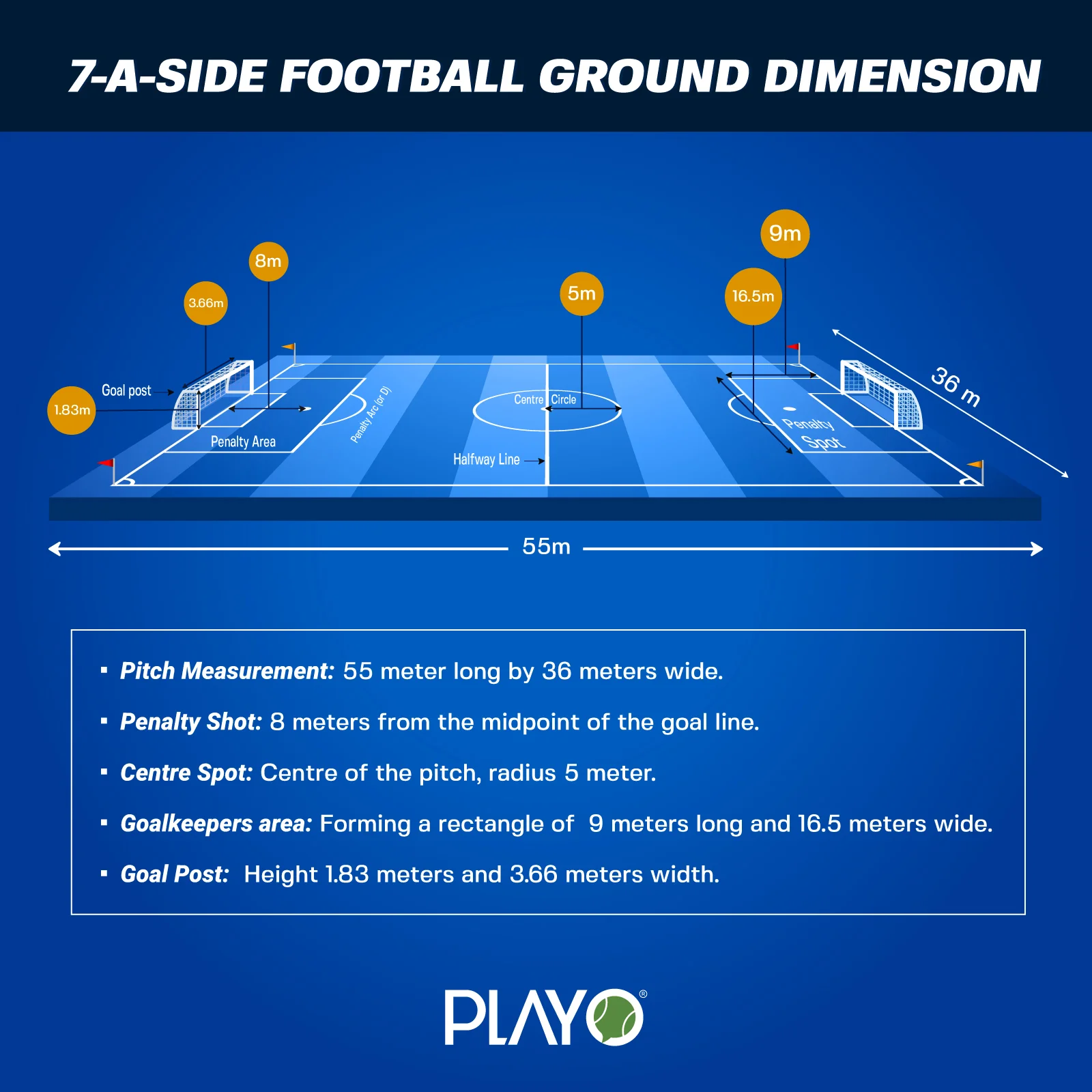 This variant allows players to experience the thrill of football with fewer players and spaces, making it suitable for different age groups and skill levels.
What are the rules involved in 7-a-side football?
7-a-side football has slightly different rules and regulations compared to the traditional 11-a-side game. Here are the main 7 side football rules:
1. Team size: Each team consists of 7 players, including 6 outfield players and 1 goalkeeper.
2. Pitch size: The pitch dimensions are usually smaller while measuring 7 a side football ground size – smaller than a full-size football field.
3. Match duration: Games are typically played in two halves of 25 minutes each, with a short half-time break.
4. Throw-ins: Players must perform throw-ins from the side of the pitch using an overhead throw.
5. Offside rule: The offside rule still applies in 7-a-side football, but the interpretation can vary depending on the specific league or tournament.
6. Fouls and penalties: Like in the 11-a-side game, fouls and penalties are given for infractions such as fouls, handball, and dangerous play.
7. Goalkeepers: Goalkeepers have certain restrictions on handling the ball outside the penalty area.
8. Substitutions: Substitutions are often allowed and can be made freely, usually on a rolling basis.
It's important to note that these rules may have slight variations depending on the specific league or tournament and its governing body.
Why is it important to have a proper football ground for 7 a side football games?
Enhancing player performance and preventing injuries in 7-a-side football relies heavily on a good playing surface. Firstly, a well-maintained and level field allows for predictable ball movement. This allows players to execute passes, dribbles, and shots accurately. Players can improve the quality of their game and their skills by doing so.
Regarding safety, a good playing surface contributes to player safety by minimising the risk of tripping or stumbling. This reduces the chances of sprains, strains, or serious injuries like ligament tears. It also provides a stable footing, allowing players to change direction quickly and safely.
The ball's movement is also affected by the field. The surface's quality and condition affect the ball's speed and bounce. A well-maintained grass pitch or high-quality artificial turf ensures that the ball rolls and bounces correctly. This helps players anticipate and react to the movements accordingly.
The quality of the field's surface also affects players' comfort and fatigue levels. A well-drained pitch eliminates waterlogging, ensuring that players do not have to contend with a wet and muddy surface. This enhances player comfort and reduces the risk of fatigue or weak play due to challenging playing conditions.
The recommended dimensions of 7 a side football pitch
Here are the recommended metrics for a 7 a side football pitch size –
Pitch Measurement: 55 meters long by 36 meters wide.
Penalty Shot: 8 meters from the midpoint of the goal line.
Centre Spot: Centre of the pitch, radius 5 meters.
Goalkeepers area: Forming a rectangle of 9 meters long and 16.5 meters wide.
Football Goal Post Size: Height 1.83 meters and 3.66 meters width.
What is the 7v7 pitch size?
According to The FA recommendations, a 7 a side football pitch size is 60 yards (54.86m) long and 40 yards (36.5m) wide. In contrast to 5-a-side games, the penalty areas in 7-a-side games are rectangular and measure 18 yards (16.5m) wide and 10 yards (9m) from the goal line.
What is the 7 a side football goal post size?
The size of a 7v7 goal is 12″ x 6′ or 3.6m x 1.8m. The dimensions of the goalposts can differ depending on the age group and type of game being played. The size of the football goal is also influenced by the size of the overall 7v7 pitch size, including the run-off area.
What equipment and facilities are required on a 7 a side football ground?
The quality of a football ground is also determined by the facilities available. Here are some you shouldn't miss out on –
1. Goalposts: It is crucial to have sturdy goalposts with appropriate dimensions for 7 a side football. These goalposts should also have nets to catch the ball securely.
2. Balls: High-quality footballs suitable for 7 a side games are necessary. These balls should be durable, properly inflated, and meet the size and weight requirements for the age group using the ground.
3. Markings: The pitch should have clear and visible markings. Players should be able to properly identify the halfway line, penalty areas, centre circle, and goal boxes. These markings help players and officials during the game.
4. Changing rooms and facilities: The ground should have suitable changing rooms for players to prepare and store their belongings. Facilities like showers and restrooms should be available for players' convenience.
5. Lighting: For nighttime games and events, adequate lighting is essential for visibility and safety. Properly positioned floodlights or stadium lights should be installed to illuminate the playing area effectively.
6. First Aid: A first aid kit and proper medical facilities should be readily available in case any player injures themselves.
7. Referee facilities: Designated areas or rooms should be available for referees to prepare and conduct their duties. They can use this space for pre-match meetings and equipment storage.
These amenities ensure that the 7 a side football ground offers a wonderful experience for all parties involved.
What safety measures need to be considered?
Regarding 7-a-side football grounds, ensuring safety should always be a top priority. Authorities must place visible signage throughout the facility, including emergency exits, first aid locations, and other important information. Additionally, a fully stocked first aid kit and trained professionals must be easily accessible on-site.
Players must be encouraged to wear appropriate protective gear, such as shin guards, to minimise the risk of injuries.
Considering the 7s football ground size, crowd management is another important factor, especially during high-intensity matches. Authorities also have to use barriers and designated spectator areas to prevent interference with the game and maintain a safe distance from the playing area.
Lastly, establish well-defined emergency procedures, including evacuation plans and protocols for incidents like severe weather or injuries.
Future trends in 7-a-side football grounds
The development of artificial turf technology will progress, resulting in more lifelike and high-quality surfaces. These will focus on advancements in synthetic materials, enhancing the player's experience by delivering superior ball control, minimising the risk of injuries, and increasing durability.
Embedded sensors and cameras will become increasingly common in 7-a-side football grounds, introducing innovative technologies. These advancements will accurately monitor player movement, gather performance data, and deliver instant analysis to coaches and players – which can also improve fair play.
As we are more climate-conscious than ever, there will be an increased emphasis on environment-friendly 7-a-side football fields, utilising sustainable materials, water conservation techniques, and energy-efficient lighting systems. These eco-friendly measures will help to decrease the environmental impact of the sport.
The focus will be on offering improved facilities for both players and spectators, such as comfortable seating, modernised changing rooms, upgraded food and drink options, and more. Lastly, enhanced accessibility for individuals with disabilities will be a primary goal – sport is for everybody!
7 a side football rules: The simple version
There is no offside rule.
The goalkeeper is only supposed to pass the ball to other players only using a hand.
Headers are allowed.
The goalkeeper may only kick the ball if he wants to save it.
Charging tackles are awarded a yellow card.
Conclusion
Simply put, 7 a side has seven players on each team and the game is played for 60 minutes with 15 minutes break. The rules are similar to 5-a-side and even this is played as an informal game.
Creating an enjoyable and safe playing experience depends on a well-designed and properly maintained 7-a-side football ground. The design of the pitch, including dimensions, markings, and surface quality, greatly influences the flow of the game and the player's skill level. Proper maintenance ensures a level playing surface, reducing the risk of injuries from trips or falls.
Regular upkeep, such as grass care, goalpost checks, and pitch markings, guarantees that the ground remains in optimal condition for play. Adequate drainage systems prevent waterlogging, allowing the pitch to be playable even in bad weather.
Furthermore, a well-designed and maintained football ground enhances player enjoyment by providing a consistent playing experience. The overall atmosphere and experience for both players and fans is elevated with predictable ball movement, proper lighting, and comfortable spectator areas.
By prioritising the maintenance of 7-a-side football grounds, a safe and enjoyable environment can be established – one that encourages skill development minimises the risk of injuries, and contributes to an overall positive playing experience.
Are you a football fan? You must be looking for venues to practice your skills or simply have fun! Playo can help you out.Download Playo to easily book sports venues across Bangalore, Mumbai, Chennai, Delhi NCR, Pune, Hyderabad, Vijayawada, Visakhapatnam, Guntur, Kochi, Dubai, and Doha. Find the best venues and players around you and skill up your game!