The Indian contingent made history by winning a record number of medals at the World Dwarf Games held in Toronto.
The seventh edition of the World Dwarf Games observed this 21-man team winning 37 medals, including 15 gold medals. The athletes were honored during Independence Day celebrations in Toronto on August 15.
Held at the University of Guelph in Ontario province, the 7th Edition of the World Dwarf Games was held over a week from 4th August to 12th August. This event saw participation from around 400 athletes from 24 countries.
The United States finished on top of the medals table with 293 medals, including 116 gold. Dressed in blue, the strong Indian team was called on stage to loud applause as India's consul general to Toronto, Dinesh Bhatia, praised the Indian team on August 15 during the Independence Day celebrations.
Joby Mathew, who won two gold medals, three silvers, and one bronze, said, "I had a wonderful experience. I participated in Badminton Doubles, Badminton Singles, Shot Put, Javelin, Discus Throw, and Powerlifting.
"We are very proud to be Indian athletes." Arunachalam Nalini, another multiple medal-winner (winning five, including gold) said, "This is our Olympics, the little peoples' Olympics". The sports minister, Vijay Goel, took it to twitter commenting, "Brilliant! So proud of the contingent"
For this event, most players had to take loans to travel to Canada. However, this did not affect them from giving their best for their country. The team's manager and Coach Shivananda Gunjal said, "We want to give a gift to the country on Independence Day. Coming here, we have been given so much respect, we are very proud of that. We are happy to give 15 gold medals to the country on August 15."
A social non-profit organization, Sringeri Vidya Bharati Foundation (Canada), organized the team's visit to the consulate. Brinda Muralidhar, a representative of the foundation, said, "Having learned of their wonderful accomplishments at the Games and how proud they were for bringing honor to India, I so wanted them to be part of the Independence Day celebrations here in Toronto."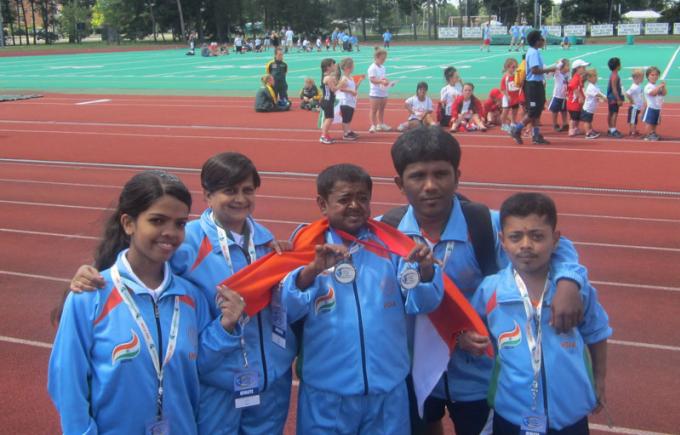 The Toronto Transit Commission (TTC) also pitched in. Muralidhar said, "The team wanted to experience a subway ride. We were so happy and honored when the TTC offered free rides to and from Bloor (Street, where the Indian consulate is located) in honor of the athletes."
Such recognition, though, is rare for these athletes. One of them, CV Rajanna, who won three gold medals, had to handle all their paperwork and logistics through the trip. "We have no support from the central government or state governments or any sponsors," he said.
Despite such hurdles, their competitive spirit prevailed. Rajanna, for instance, won the 200 m sprint gold while the fastest man at the meet, winning the 100 m, was also an Indian, Devappa More. As they arrived in Toronto on their way to India, they were unable to afford hotel rooms in the city and sent out a plea for assistance on Facebook.