How to become a better winger | Wingers in football are the most important players on the pitch as they are the chief creators in the team, and the best players usually play out wide.
Here, we take a look at what is required to become a better winger in football:
1) Up your stamina and fitness
As a winger, you will be doing a lot of running up and down the pitch in attack and defence, hence it is imperative that you have great fitness and stamina. Wingers, unlike other positions on the pitch, have a lot of responsibilities.
Build your fitness with cardio exercises as well as well as a lot of jogging to gradually build up stamina. It is vitally important that you warm-up before games as you will be putting your core muscles through a lot of strain.
It is also important that wingers are smart when on the pitch, using their energy in spurts so that they can last the game and not run around like headless chickens. If the ball is far away, do not run to chase the ball down if you know that the defensive team and the man on the ball has options to play the ball to.
2) Increase your Speed
Most wide players need to have speed and great acceleration to get past opposition defenders. While everyone is not gifted with pace, you can train to be good with running with the ball at your feet and using your energy where required.
Time yourself running with and without the ball, and improve steadily by training hard every day. There is no substitute for hard work. If you aren't the fastest, you could train yourself to be a yard quicker by anticipating balls that come to you and getting a headstart on the defenders.
3) Dribbling and Technical ability
Another important facet that every good winger should have is dribbling ability. As a winger, you are required to beat the defender and pace isn't the only way that you can go past a defender.
Develop good close control skills, as well as a few tricks, and use them to beat the defender. Source.
It is also important that you use the right tricks, feints and flicks when you have the ball. Too many tricks with no end product will frustrate your teammates, while dribbling from your own half can be a risky thing, too.
A one-two with your teammate, or a stepover, can be sufficient to get past a defender; mixing things up by using different tricks at different times is also a good tactic to use.
It is also important that you develop a good first touch and learn to control the ball better. A good first touch can help set you up for a run or even a cross with little time, which can catch out the opposition.
4) Shoot and cross better
You could have all the tricks and flicks in the bag, but if you cannot cross or shoot, you might as well become a freestyle footballer.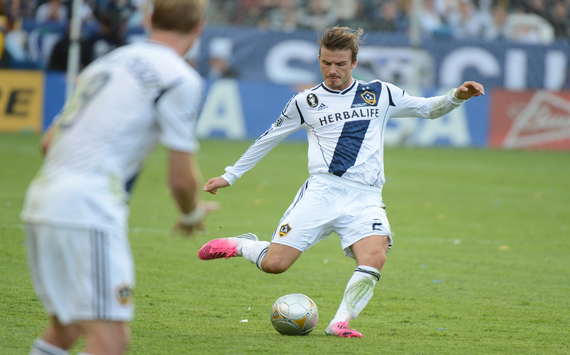 A good crosser of the ball, like David Beckham, need not even require pace or dribbling skills as a deadly cross can bypass the opposition's midfield and defence.
Always keep an eye out for runs from forwards and look to cross or pass it the first time. Wingers are the link between the midfield and the strikers, hence you will have to be inch perfect with your passing and crossing.
Train yourself to shoot from distance as well, from various angles. A good dribbler combined with a fierce shot can be a deadly goal threat.
5) Making the right runs and positional awareness
It is important that a winger is technically and tactically astute. When with or without the ball, wingers will have to make the right runs in behind the defence.
While wingers are expected to hug the touchline and bombard down the flanks, mixing it up by running inside could confuse the opposition's defence as the full-back who is defending you will not know if he has to track your run or stay in position.
Getting in behind the defence without the ball by timing the run perfectly can also be a great way to attack quickly. Source.
Be aware of where and when the midfielder is going to pass the ball and make the right runs; as a winger, you should always remember to stay onside while making runs behind the opposition's defence.
While wingers these days are afforded a lot of freedom, they are usually reserved for great players who can make a huge impact when roaming around the pitch. It is imperative that you stick to your position and stay compact, helping the team keep its shape.
6) Tracking back
As mentioned previously, a winger will have to duties up and down the pitch. When you don't have the ball and your defence is under the cosh, track back and help retrieve the ball and stay in shape.
Defend by closing down the opponent, whether it is the opposing full-back or the winger, and staying goalside.
7) Be unpredictable
Don't be a one-trick pony! Develop a few tricks, learn to drift into spaces, and use your pace effectively. The goal is to trick the opposition defenders into being unpredictable.
Drift inside, take a shot from distance, put on the afterburners and beat the defender with pace, or even make a run inwards and play the ball to your full-back on the overlap. Source.
Don't do the same things as being predictable makes it easy for the opposition defenders to play you. Learn the weaknesses of your opposition's defence and use that to your advantage.
8) Discipline
A key trait to possess not only as a winger but a footballer, a disciplined player can be successful on the pitch.
This not only means tracking back and helping the defence, but also abiding by the tactics set forth by the coach, not getting frustrated if you're kicked and tackled by the opposition defenders, or losing your head when things aren't going your way.
Conclusion
Wingers play a key role in football and it is important that they have a well-rounded game to have a great impact on the team.
While crossing, shooting and dribbling are vital ingredients for a good winger, the ability to find spaces to run into and to find weaknesses in the opposition's defence are also important.
FOLLOW US ON INSTAGRAM FOR SPORTS MEMES AND REELS!