All you need to know on how to score more goals fluently in 5-a-side football.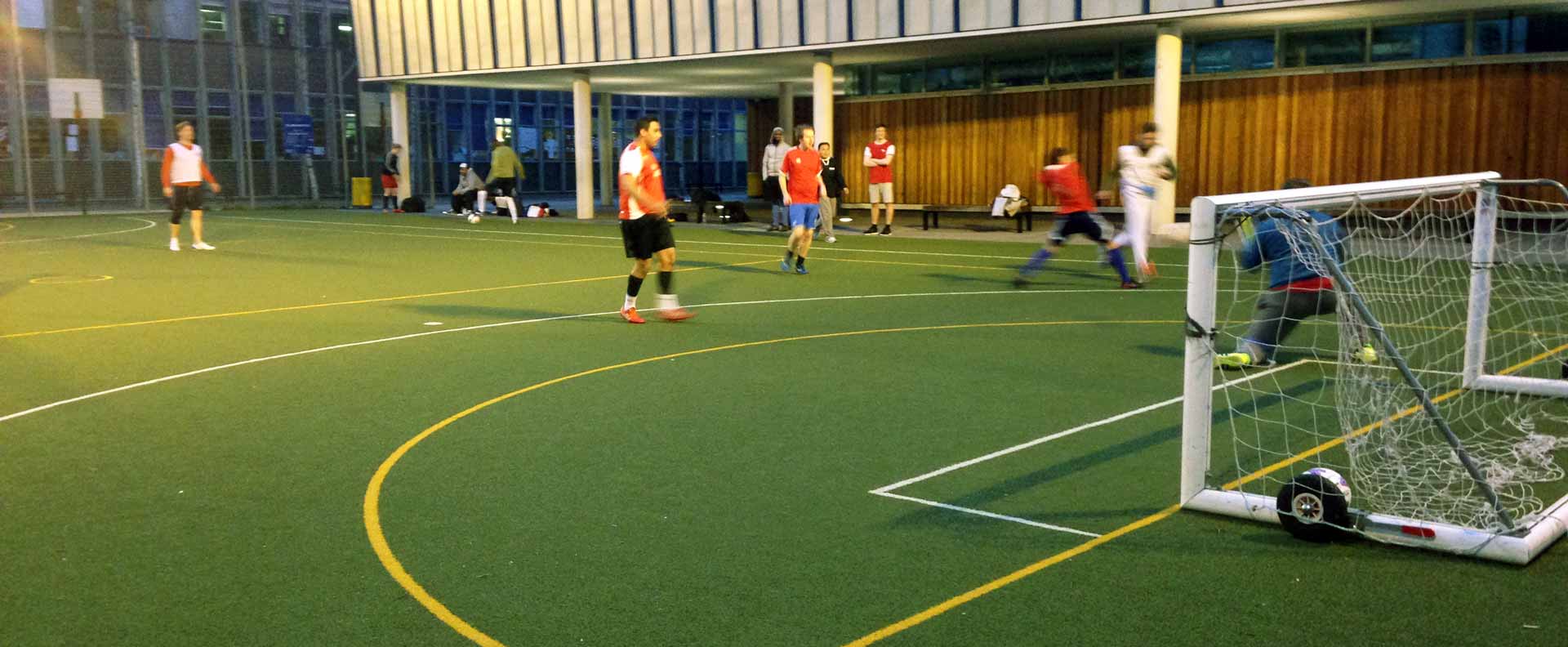 With the size of the goal significantly smaller than 11-a-side football, and a short pitch, attackers may not always be lucky and get on the scoresheet when playing 5-a-side football.
Here, we give you a few tips to become a better attacker and score more goals in 5-a-side football.
1) Attack as one
Rule #1 in 5-a-side football is to play as one, be it in attack or defence. You may be an attacking player, but you need the other three outfield players (and even the goalkeeper, at times) to be successful in front of goal.
Create strategies and tactics prior to the game, and stick to them. Being on the same wavelength as the rest of your teammates is vitally important if you want to be a good attacker.
2) Don't try to dribble to goal
You don't have the time or space to be a Cristiano Ronaldo in 5-a-side football.
While you may evoke some laughs with your tricks and flicks, you may not do much in front of goal if you're trying to take it from your goalkeeper to the goal.
3) Quick passing
The key to being great in 5-a-side is quick, accurate passes. Learn to pass well – short and long, as well as 1-2 passes, passing in triangles and opening up the opposition's defence, as well as passing from the back.
Ensure that you can pass with both feet, as well as develop back heel passes and flicks to catch out the opposition. Train with your teammates to receive and pass the ball with both feet, at varying speeds.
4) Improve your first touch
A great first touch can confuse any defender or goalkeeper as well as set you up well for a shot on goal. A good first touch also allows attackers to be one step ahead of the opposition, while also giving your teammates the opportunity to pass from the distance at pace.
5) Power and accuracy in shooting
A powerful shot is very useful in 5-a-side football, but it probably won't help you find the goal if you aren't accurate in front of goal (kicking it above or to the sides of the goal will probably result in harsh words and menacing glances from your teammates).
Learn to shoot with power from distance, while also finding accuracy. Practice by hitting into the corner of the goal as goalkeepers often find it tough to stop those shots, as well as low shots, which can catch out goalkeepers.
You can shoot using your toe to generate speed on the ball while shooting using the inside of your foot will give you greater control and accuracy.
6) Be effective in front of goal
Do not try stepovers or tricks in front of goal, when one-on-one with the goalkeeper. Thinking quickly as the goalkeeper may rush at you or the opposition defender may close down on you.
Have a pragmatic approach in front of goal by placing shots to the corners of the goal or taking a quick shot. Do what you're good at rather than trying something outlandish.
Always keep an eye around you to see if there are opposition defenders near you and outwit them with a quick feint and shot.
7) Win the mental game with the goalie
When faced with the prospect of staring right at the goalkeeper in a one-on-one situation, it is essential that you remain calm and do what you're good at – either a shot on goal or a quick pass to a teammate.
It's as much about technique as it is about winning the mental game with the goalkeeper. Read him carefully and place or hit with power after he makes a move, or on noticing space that he's left uncovered.
A good touch is vital in front of goal.
8) Create space
A yard of space in 5-a-side football is enough for a good attacker to make the most of and score a goal or create a goalscoring opportunity.
https://www.youtube.com/watch?v=m6aaxiEPZrs
Drift away from your man, and make clever runs to catch out the opposition. Don't make the same runs over and over again as you will end up becoming too predictable.
Communicate with your teammates and gesture to them where you're going to make a run or where you want it to be played.
9) Shoot more!
The small size of the pitch means that you will get more chances to get to the opposition's box and an opportunity to shoot.
https://www.youtube.com/watch?v=-nqEuUD_GCY
Back yourself to shoot and shoot with confidence. Ensure that you've got your basics and technique right, and be composed in front of goal.
But, refrain from shooting from the halfway line when there are teammates in better positions on the pitch!
FOLLOW US ON INSTAGRAM FOR SPORTS MEMES AND REELS!